Klondike Fever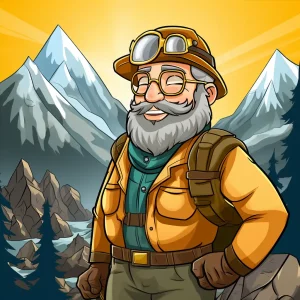 If you're ready to strike gold, then Klondike Fever is the online slot game for you! This game offers more features than a Swiss Army knife (and it's way less likely to injure you). You've got Wilds that are more explosive than my Uncle's Fourth of July fireworks display, Scatters that will make you feel like a high roller, Magic Spin that will leave you spellbound and a Mine Bonus that is the icing on the cake.
The Wild symbol is represented by a set of bombs, which makes it much more exciting than the standard boring old Wild symbol. The Scatter symbol is a bag of coins that will transport you straight to free spin heaven. And I don't know about you, but I love a good Magic Spin. It's like getting the superpower to spin without limits, except without having to fall into a vat of radioactive waste. And finally, the Mine Bonus features three attempts at glory. You don't even have to grab a shovel – this mine is filled with winnings.
Mining for Gold in Klondike Fever
Hold on to your pickaxes and get ready for a mining adventure in Klondike Fever! With a background set inside a mine, the game is packed with thrilling symbols like barrels of gunpowder, dynamite sticks, gold nuggets, and picks. The graphics are so realistic, you'll feel like you're actually in a mine yourself – but without the annoying coworkers.
Featuring symbols that were drawn with taste and coherence, the game also has sound effects that'll make you feel like you're deep in the mining world. There might not be any background music, but who needs it when you've got the sound of explosions and clanging pickaxes to keep you company?
25 Winning Lines and RTP: A Match Made in Klondike Fever
Klondike Fever offers 25 ways to win, making it easier to hit the jackpot than finding gold in the Yukon. The game is set on a 5×3 grid and has an RTP of 95%, which is about as common as a bear in Alaska. This means you won't be left out in the cold by the odds.
And just like a cozy winter coat, this uniformity allows even new players to jump right into the game without having to spend all their gold coins. In no time, you'll be singing 'gold, gold, gold' just like those eager miners from the Klondike era.
Let's Get Spinning with Free Spins Feature!
Who doesn't love free things? In Klondike Fever, players can access free spins by getting the Scatter symbol, which is represented by a bag of coins. And let's be honest, who doesn't want more coins? You can get up to 20 free spins, which is enough to make any slot lover's day. There's also an extra free spin mode called Magic Spin – it's like getting the cherry on top of your sundae.
Overall Game Experience:
Klondike Fever is more addictive than gold digging- and it pays better too! With a range of special features, this game keeps players on the edge of their seats. The graphics are so real, you'll need a helmet to mine your way out of the screen, and the sounds are purr-fectly immersive- guaranteed not to drive you crazy. The game mechanics are as easy to understand as a teenager's texts, making it accessible for players of all levels. In short, Klondike Fever is the perfect game for those who want to strike it rich in the world of online slots. After all, why work with a pickaxe and shovel when you can spin your way to success?
FAQ
What is Klondike Fever?
Klondike Fever is an online slot game developed by Capecod that allows players to experience the thrill of mining for gold in Klondike.
What is the RTP of Klondike Fever?
The RTP of Klondike Fever is 95%.
What is the game grid for Klondike Fever?
The game grid for Klondike Fever is 5×3.
Are there any special symbols in Klondike Fever?
Yes, there are special symbols in Klondike Fever, including the Wild symbol, which can replace all other normal symbols, and the Scatter symbol, which gives access to free spins.
How many winning lines are there in Klondike Fever?
There are 25 winning lines in Klondike Fever.
What are the special features in Klondike Fever?
The special features in Klondike Fever include free spins, Magic Spin mode, and Mine Bonus.
What are some similar slots to Klondike Fever?
Similar slots to Klondike Fever include Red Tiger Gaming's Golden Offer and Microgaming's Liquid Gold.
Is there background music in Klondike Fever?
No, there is no background music in Klondike Fever.
What we like
Variety of special features (Wilds, Scatters, Magic Spin, Mine Bonus)
Engaging mining-themed setting and graphics
25 winning lines and 5×3 game grid
Straightforward game mechanics
What we don't like
No background music, only mining sounds
RTP of 95% is average