Holy Diver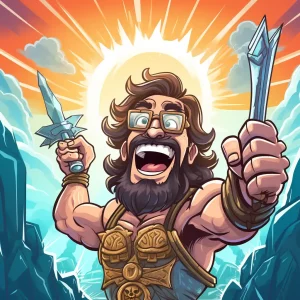 Saddle up, partner! Holy Diver from Big Time Gaming is revolutionizing the game with its Reel Adventure feature and the Megaways system. This six-reel game offers a whopping 586,971 ways to win. Can you count that high?
Players can unlock a whole array of bonuses such as Shields of Fortune, Chests of Fortune, and Free Spins. Plus, they get to meet the Knight, who we believe is more attractive than Sir Lancelot himself.
The Knight collects gems and fights shadowy figures (probably jealous of his good looks) to open treasure chests filled with bonuses such as Flaming Wilds, Sword Bonus, and Standard Symbol Bonus. With so many exciting features, Holy Diver ensures that every spin is a thrill ride of adventure and rewards.
Winning Big with Holy Diver Megaways!
If you're looking for a chance to strike it rich, Holy Diver Megaways has got your back with a whopping RTP of 96.54%!
Get ready to rock and roll with flaming wilds that turn ordinary symbols into wacky wilds and potentially increase your chances of winning! And if that's not enough, the game features multipliers that go all the way up to 343x, meaning you could potentially win enough to buy a small island in the Pacific (that's how we bought ours).
The Bonus Round is where the real magic happens, with more opportunities for bonus spins and reel expansion than we've seen on any other game. And with super high variance, it's anyone's guess how much you could walk away with, but trust us, it could be HUGE.
Theme and Design
Prepare to rock out with Holy Diver! The game reels are so legit they might as well be from the Middle Ages. And the background music? Nothing but the best metal jams from the '80s. This game is a perfect marriage of medieval Europe and heavy metal music. And who wouldn't want to fight as a Knight on top of a hill?
Bet Big or Bet Small: Betting Options in Holy Diver
Feeling lucky? Holy Diver has got you covered! You can bet anywhere from a measly $0.40 to a not-too-shabby $20.00 per spin. That's right, folks, you can either go all in with your life savings or just test the waters with some pocket change. Either way, the game's Autoplay feature lets you sit back and relax while the fun unfolds, with up to 100 automatic spins at a time.
But don't let the easy-to-navigate interface fool you. Holy Diver delivers a high return to player (RTP) rate and multiple jackpots to keep you on the edge of your seat. With numerous ways to win, you'll be thanking your lucky stars that you made that big (or small) bet!
Get Ready to Rock with Holy Diver
If you like living on the edge and crave high-risk thrills, then Holy Diver is the perfect game for you! This slot has all the elements that will get your heart racing—danger, excitement, and of course, mega-sized payouts.
The graphics and sound effects are amazing, with an '80s heavy metal theme that'll have you headbanging in your seat. And with numerous ways to win and a high RTP, the game offers plenty of opportunities to strike it big.
Whether you're a seasoned slot player or a newbie, Holy Diver will keep you on the edge of your seat for hours on end. So don't wait any longer and join the adventure!
FAQ
What is the RTP of Holy Diver slot?
The RTP of Holy Diver slot is 96.54%.
What are the features of Holy Diver slot?
Holy Diver slot offers features such as Shields of Fortune, Chests of Fortune, Free Spins, and Reel Adventures.
How is the Holy Diver Bonus Round triggered?
The Holy Diver Bonus Round is triggered by acquiring 4 gems – 1 of each color – from the chests opened by the Knight.
What do you get from the chests opened by the Knight?
From the chests opened by the Knight, you can get Standard Symbol Bonus, Sword Bonus, Fireball Bonus, and Gem Symbol Bonus.
What is the maximum bet amount in Holy Diver slot?
The maximum bet amount you can place on Holy Diver slot is $20.00 per spin.
What are the winning ways in Holy Diver slot?
Holy Diver slot has 586,971 ways to win, depending on the number of symbols that appear on each reel.
Is autoplay feature available in Holy Diver slot?
Yes, Holy Diver slot has an autoplay feature for up to 100 spins.
What makes Holy Diver slot exciting?
The Bonus Round where multipliers, free spins, reactivation, and reel expansion combine to create huge win potential make Holy Diver slot exciting.
What we like
Exciting gameplay features like the Reel Adventure and Megaways system
Multiple bonuses and high multipliers
Generous payouts with an RTP of 96.54%
Appealing medieval and heavy metal theme
What we don't like
Limited betting range
May not be suitable for players who prefer low volatility slots