Hellcatraz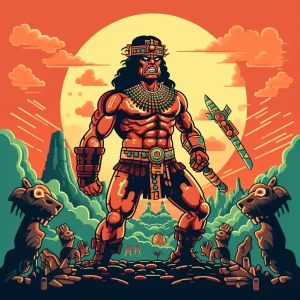 If you're ready to break out of the boring slot games, give Hellcatraz a try. This 6×6 grid slot machine packs a punch with its 46,656 paylines and an RTP of 96.46%. And with bets ranging from 0.20 to 20 coins, you can bet on getting maximum fun for your buck.
To make things even more exciting, Hellcatraz offers a Super Free Spin function, which gives players the chance to rack up serious winnings. Just keep your fingers crossed that you don't end up on the wrong side of the law.
Winning at Hellcatraz is all about creating combinations of three or more symbols on the game board, but don't worry, it's not hard time. Just make sure to land the icons from left to right, and cascading reels will do the rest, bringing in new symbols to increase your chances of winning big.
Paylines: Do the Math, You Have More Chances to Win!
Don't count on breaking out of Hellcatraz with just a few paylines, as this game offers a whopping 46,656 of those bad boys! That's more than enough to make you feel like a millionaire, even if you only hit a few winning combinations. So why stick to the same old basic slots when you could be living on "pay-line easy street" with Hellcatraz.
With so many paylines, the amount of potential winnings is enough to make any slot player swoon. Packed with endless opportunities to strike a big win, Hellcatraz gives players the chance to create winning combinations that are as unique as the stripes on a zebra. So saddle up partner and get ready for a wild ride through this high-paying slot game!
The Symbols in Hellcatraz
Forget about orange jumpsuits and inmate rebellion – the only crimes you will be guilty of in Hellcatraz are winning big! This cool and quirky slot game takes inspiration from the notorious Alcatraz prison and features hilarious symbols such as a menacing mafioso and a stern prison guard. You will also encounter classic prison-themed icons such as Cards, Handcuffs, Badges, and Sharks. Lastly, the Scatter symbol adds a mysterious touch to the game and is the key to unlocking some of the best bonus features.
Graphics
Let's take a trip down memory lane. Remember the 80s? Hellcatraz's graphics do a fantastic job of throwing us back to this groovy period. We're talking neon-colored clothes, permed hair, and killer music. With slightly dated graphics, the game intends to keep things old-school while offering players the chance to win big.
The choice to rely on 8-bit graphics is undoubtedly unique and may catch the attention of more experienced gamblers. It's like getting a little bit of Street Fighter with your slot game! But don't worry if that doesn't ring a bell; the graphics are designed to be straightforward and should be easy to pick up.
The graphics on Hellcatraz may provide players with an arcade-style experience, which is unusual in modern-day slot machines. Who needs fancy, high-tech graphics when we can have a classic, charming look instead?
Bonus Features: Extra Fun Built In!
So, you think you've got what it takes to crack the Hellcatraz code? With its thrilling bonus features, this game will keep you on the edge of your seat as you play. First up, we've got the Super Free Spin function which is like getting a freebie from your favorite auntie. You know, the one who always hands you candy and cash at family gatherings? Yeah, that's exactly the feeling you'll get from this feature.
Next, we've got the Cascading Reels which will give you that 'new car' smell in the form of brand new symbols. Don't ask us how that works, we're not car mechanics. But what we do know is that Cascading Reels can seriously boost your chances of winning big.
And if you're feeling lucky, the W symbol will totally have your back. It replaces other icons so you can form those lucky combos and score sweet victories. The Scatter symbol unleashes the Lockdown Bonus feature, giving you free spins and upping your chances of hitting it big time. Just think of it as a prison break in reverse – instead of breaking out, you're breaking in to win cash!
FAQ
What is the theme of the Hellcatraz slot?
The main theme of the Hellcatraz slot is that of Alcatraz prison.
What is the bet range for the Hellcatraz slot?
The bet range for the Hellcatraz slot is between 0.20 and 20 coins.
What is the maximum prize that can be won on Hellcatraz?
The maximum prize that can be won on Hellcatraz is 51,840 times the bet.
What is the RTP of Hellcatraz?
The RTP of Hellcatraz is fixed at 96.46%.
How many paylines does Hellcatraz have?
Hellcatraz has a grid structure of 6×6 and a total of 46,656 paylines.
What symbols are included in Hellcatraz?
Hellcatraz includes symbols of Cards, Handcuffs, Badges, Sharks, as well as Wild and Scatter symbols.
What is the Super Free Spin function in Hellcatraz?
The Super Free Spin function in Hellcatraz allows for maximizing the value of the prize won.
What is the volatility level of Hellcatraz?
The volatility level of Hellcatraz is high.
What we like
High number of paylines for increased winning potential
Unique 8-bit graphics offer a retro arcade-style experience
Exciting bonus features including Super Free Spin and Cascading Reels
Lockdown Bonus feature triggers free spins for big wins
What we don't like
Graphics may not appeal to new players
Limited betting range from 0.20 to 20 coins