Golden Hen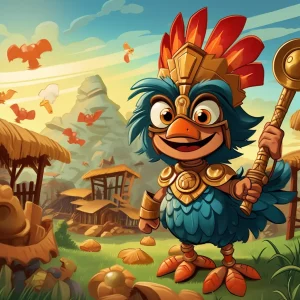 Are you ready to step into the world of farmyard fun and win big with Golden Hen, the online slot game developed by NextGen Gaming? Get ready to be clucked over by this dazzling game that features symbol-filled reels and farmyard animals. With up to 243 ways to win on each spin and a non-progressive jackpot of 2,000 coins, Golden Hen is no cock-a-doodle-doze of a game.
But that's not all, folks; this game also offers wild and scatter symbols that can help you receive even more wins, free spins and an RTP of 97.22%, which is enough to make you feel like a real winner, even if you can't tell a rooster from a hen. So, why 'egg'sactly are you waiting for? Let's get cracking on Golden Hen!
243 Ways To Win In Golden Hen Slot Game
If you're looking for a fun and easy-to-play slot game, look no further than Golden Hen. This casino slot game from NextGen Gaming boasts 243 fixed paylines, increasing your chance of winning with every spin. That's right, folks – no more worrying about paylines, just pure and simple gameplay!
But don't let the fixed paylines discourage you, my fellow gamers. Golden Hen isn't here to mess around. With its medium-volatility rating, the game offers frequent wins, which means you won't have to wait long to hear that sweet, sweet jingle of coins. Sure, the wins may not be as big as in high-volatility slots, but who needs that when you have a chance to win at every turn?
And let's be real, who doesn't love a good chicken-themed slot machine? With Golden Hen, you'll be cheering on your feathered friend every time the reels spin. You might even catch yourself clucking in excitement when you hit that jackpot!
So, in summary, Golden Hen offers players 243 ways to win, frequent and exciting wins, and a fun and feather-filled theme. Don't be a chicken, give it a spin today!
Farmyard Setting and Symbols
Golden Hen, more like Golden Egg…too far? Either way, this game is set on a farmyard, complete with reels that look like a chicken coop. Although, it really should be called Golden Coop then. As for symbols, you can expect to see a range of feathered friends, from the humble chick to the elegant standard hen. And what's a hen pen without eggs, right? That's why the developers made sure to include an egg symbol too. And if you thought that was all, they even threw in a feathered dreamcatcher symbol, because hens need to catch their dreams too.
Now, no farm would be complete without a deck of playing cards, so expect to see the typical poker values of 9, 10, J, Q, K and A. Bet you never thought you'd see a hen playing cards, did you? Don't be chicken, give this game a go and see how lucky the coop is feeling today!
Non-Progressive Jackpot of 2,000 Coins
Golden Hen, the slot game that will make you think you're in a farm with a twist! This game offers a non-progressive jackpot of 2,000 coins that is just egg-cellent. Well, technically it's won when players land 5 of the standard hen symbols on adjacent reels, but I'm sure you'll find that easy-peasy-lemon-squeezy.
I mean, who wouldn't want to win 2,000 coins just like that? It's more than enough to buy yourself a whole farm of your own. Or at least a few chickens. But hey, don't get too excited, remember this is not a progressive jackpot, so don't go counting your chickens before they hatch.
However, if you're the kind of person who believes that the eggs you buy in the supermarket don't taste as good as the ones you get from your farm, then you're in for a treat. This non-progressive jackpot will take you to a whole new level and it won't even require you to wake up at 5 am to feed the hens.
Get Your Game Clucking with These Wild and Scatter Symbols!
If you're looking for a slot game that will get you crowing with excitement, then Golden Hen is definitely worth checking out. This game features a range of fun and whimsical symbols, including the wild rooster and the scatter golden chicken.
But what's the big deal about these symbols, other than their poultry-inspired designs? Well, the wild rooster actually has the power to substitute for any symbols on the reels, helping you to form winning combinations more easily. And as for the scatter symbol, getting three or more of those golden chickens across the reels can trigger the free spins bonus – giving you even more chances to win big.
So whether you're a chicken fanatic or just love a good slot game, Golden Hen is definitely one to try out. Who knew that a rooster and a chicken could be so profitable?
DOUBLE THE FUN: Free Spins and Double Wilds on Golden Hen
Ah, the classic casino game. If you love your reels and can't get enough of your slots, then Golden Hen might just be the one for you. We've reviewed this golden game, and we're ready to share our thoughts with you!
Golden Hen's free spins feature is triggered when players land three or more golden chicken symbols. And let's face it, who doesn't love golden chickens? They're not just good for your stomach, but also for your wallet! During free spins, both the wild and the scatter symbols are combined into a single, super-powered icon. Now that's what we call a chicken fusion!
The combined icon activates not one, but TWO sets of wilds on the reels! Yes, you heard that right – double the fun that could lead to double the payout. Can we get a cluck, cluck, hooray?
Now, if you're able to land a 5 of a kind payline, those double wilds can award you with a 5x multiplier. Talk about free money! Trust us, it's enough to make anyone want to run around like a headless chicken, just like in the good old days.
RTP Percentage Soars to 97.22% in Golden Hen: Payouts have never been higher!
Golden Hen is a game that always leaves players clucking with excitement. With an RTP percentage of 97.22%, it's no surprise that this game has become a favorite among online slot game enthusiasts.
For those who may not be in the know, the RTP percentage refers to the percentage of the total money wagered on a game that is returned to the players. With an RTP percentage of 97.22%, Golden Hen has one of the highest payout rates among online slot games in the industry. This means that you could give a hen your spare change, and she might even come back with a solid gold egg. Okay, maybe not solid gold but pretty close, say a diamond-encrusted solid yolk?
What all this means is that you can expect to see some truly impressive payouts when you play Golden Hen. On average, for every $100 that you bet on this game, you can expect to see $97.22 in winnings. That's a whole lot of eggs, bullion or bill notes depending on what you're into, so get your chicks in a row for the big blast, and let's take the game for a spin!
FAQ
What is the theme of Golden Hen?
Golden Hen has a farmyard setting complete with a chicken coop full of hens.
How many paylines does Golden Hen offer?
Golden Hen offers 243 paylines on every spin.
What is the RTP percentage of Golden Hen?
Golden Hen has an RTP percentage of 97.22%.
What is the minimum and maximum bet for Golden Hen?
The minimum bet for Golden Hen is 0.25 and the maximum bet is 250.00.
What is the non-progressive jackpot for Golden Hen?
The non-progressive jackpot for Golden Hen is 2,000 coins.
What are the symbols in Golden Hen?
The symbols in Golden Hen include the golden hen, standard hen, feathered dreamcatcher, chicken at dawn, farm, chicken, chick, egg, and card values 9, 10, J, Q, K and A.
What are the features of Golden Hen?
The features of Golden Hen include wilds, scatters, and free spins.
What is the function of the wild symbol in Golden Hen?
The wild symbol in Golden Hen can substitute for any single icon on the board, which includes the scatter symbol.
What we like
243 ways to win
Farmyard setting and symbols
Non-progressive jackpot of 2,000 coins
Free spins and two sets of wilds
What we don't like
Medium-volatility slot
Limited variety in symbol selection