Giza Infinity Reels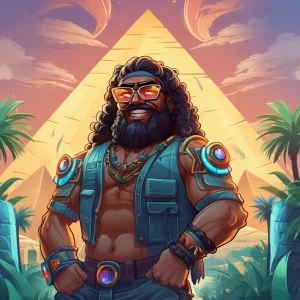 Looking for an online slot game that offers big potential wins and excellent gameplay? Look no further than Giza Infinity Reels, with its impressive RTP of 96.45%!
That's right, this game pays out above average, making it a top pick for players who want to extend their gameplay and increase their chances of taking home a big win.
With odds like that, you'll be feeling like a pharaoh in no time! And you won't be alone in your quest for riches – the game's fun and quirky design, complete with cartoon mummies and scarabs, is sure to get a chuckle out of even the most serious players.
So why not give it a go and see if the pyramids hold the key to your next big win? Who knows, you might just end up with more gold than King Tut himself. But seriously, don't forget to gamble responsibly!
Unleashing the Maximum Win Potential
Giza Infinity Reels by Reel Play is an exciting and visually-pleasing online slot game that rewards players with the potential for big payouts. The base game spin gives players a chance to win up to 1,245 times the amount they bet, which is enough to make any player happy.
But the real fun and excitement in Giza Infinity Reels lies in the Free Spins feature. With a maximum win potential of 10,000 times the bet amount, players have the chance to rake in a massive payout. It's enough to make you dance like an Egyptian!
If you're lucky enough to hit the jackpot, you can treat yourself to a Nile cruise or even book a trip to the Pyramids of Giza. But don't worry if you're not quite ready to book your trip just yet – Giza Infinity Reels offers plenty of entertainment and opportunities to win big in the meantime.
Gameplay Mechanics
Giza Infinity Reels is one of the most innovative slot games that I have ever played. The game starts with just 3 reels and 4 rows, but don't let that fool you! With each winning combination, a new reel is added to the game without any limits. And the best part? The multiplier keeps increasing with each additional reel, giving you the opportunity to win huge rewards!
Just like life, the game is all about adding more and more, and the infinity reels mechanics by ReelPlay ensures that every new addition will only increase your chances of winning. It's like building a tower of Jenga, but instead of worrying about it crashing down, you get more opportunities to win big!
One thing that I love about Giza Infinity Reels is that you don't have to worry about complicated pay lines. Instead, you just need to match five or more symbols in a row, and voila! You're a winner (hopefully). I have to admit, it's a refreshing change from the typical slot games out there.
Overall, this game is a must-play for anyone who loves to take risks and enjoys slots with new and unique features. Just remember, the more reels you add, the more likely you are to trigger an avalanche of rewards (or break the game). So, sit back, relax, and enjoy the infinite potential that Giza Infinity Reels has to offer – just make sure you don't run out of snacks and drinks!
Graphics
Giza Infinity Reels is based on ancient Egyptian mythology, with graphics that are top-notch and stunning. If you're someone who loves graphic-intensive games that take you to a different world, then this is the game for you.
The 3D graphics design is so mesmerizing that you can get lost in the game for hours. The depiction of the ancient Egyptian world is flawless, and the details in the graphics take the game to a whole new level.
With the Great Pyramid in the background and exciting symbols like the Ankh crosses and the Eye of Ra, Giza Infinity Reels is a visual masterpiece. The designers have put in a lot of time and effort into making the game look beautiful.
You'll forget that you're playing a game because the graphics are so immersive that you'll feel like you're in ancient Egypt yourself. This game is a perfect example of how graphics can enhance the overall gaming experience.
If only real-life looked this good – I'd never leave my house! Jokes aside, Giza Infinity Reels' graphics are some of the best I've seen in a slot game. You'll be hooked on the game just by the graphics alone!
The Soundtrack is the Perfect Companion for Your Time Travel to Ancient Egypt
As you land onto the mystical reels of Giza Infinity Reels, the first thing that would strike you is the perfectly fitting soundtrack. The developers have done an excellent job by incorporating mystical music and sound effects that immediately take you back to the times of ancient Egypt.
The soundtrack not only complements the game's theme but also enhances the level of excitement and immersion, making players stay glued to the game. Plus, if you close your eyes while playing the game and focus on the music, it would feel like you are time-traveling to Ancient Egypt. Who said slot games can't be a form of escapism, right?
And let's take a moment to appreciate the sound effects. When you hit the spin button, the sound of reels spinning is so gratifying that it would make you feel like you are at an actual casino. And when you hit a winning combination, the sound of coins pouring down is so satisfying that you could listen to it for hours.
In conclusion, the soundtrack of Giza Infinity Reels is more than just an accompaniment to the game; it's a whole experience in itself. So, turn up the volume, let the sound take you on a journey to Ancient Egypt, and who knows, you might end up winning big.
Volatility: Not for the Faint-Hearted
If you're a thrill-seeker looking for a wild ride, Giza Infinity Reels is the game for you. With medium/high volatility, you can expect smaller wins more frequently, but every now and then, lady luck might be feeling extra generous and bestow upon you a big pay-out.
But let's be real, if you've ever been to a casino with high hopes of striking it big, then you know that the thrill of the chase can be addictive. And that's what Giza Infinity Reels provides – the perfect balance between calculated risk and reward.
Just like climbing the pyramids while running away from a pack of angry camels, Giza Infinity Reels is not for the faint-hearted. So, buckle up, hold on tight and hope for the best!
Unleashing the Power of Free Spins
When it comes to online slot games, there's nothing more exciting than unlocking the free spins feature. And boy, oh boy, does Giza Infinity Reels deliver on that front!
If you manage to land a winning combination with the pyramid symbol, you're in for a treat. The game will award you ten free spins, giving you ample opportunities to increase your winnings.
The multiplier in this feature can go as high as five, which means you can potentially multiply your winnings beyond your wildest dreams! Who wouldn't want that?
If you're lucky enough to land the pyramid symbol again during the Free Spins feature, you'll get four extra free spins. That's like getting a free cookie after devouring a delicious meal! The extra spins provide even more chances to bag those winnings and leave the game feeling like Pharaoh of your own online casino.
So what are you waiting for? Give Giza Infinity Reels a spin and watch as the power of free spins unfolds before your very eyes.
Compatibility
Giza Infinity Reels is compatible with just about anything but your grandma's toaster. I mean, seriously, who even still has one of those in their kitchen? But I digress. Players can enjoy this game on any device they own, including mobiles and tablets. And don't worry, Apple fanboys and Android aficionados alike can play together in sweet, sweet harmony. It's like a tech utopia!
And let's talk about how smooth this game is on all devices. It's as seamless as a freshly Zambonied ice rink. Have you ever played a game that was so clunky and slow that you wanted to throw your device out the window? Yeah, me too. But not with Giza Infinity Reels. No sir. This game runs like a well-oiled machine. So go ahead, play on your toaster… if you still have one. I guarantee it'll run like a dream.
FAQ
What is the RTP of Giza Infinity Reels?
The RTP of Giza Infinity Reels is 96.45% which is higher than average for an online slot.
What is the maximum win on Giza Infinity Reels?
The maximum win on Giza Infinity Reels is 10,000x your bet during the Free Spins feature.
What is the minimum bet on Giza Infinity Reels?
The minimum bet on Giza Infinity Reels is 20 cents per spin on all devices.
What is the maximum bet on Giza Infinity Reels?
The maximum bet on Giza Infinity Reels is 25 Dollars per spin on all devices.
What is the unique feature of Giza Infinity Reels?
The unique feature of Giza Infinity Reels is the Infinity Reels mechanic which expands the reels with each win and increases the multiplier. There is no limit to how many times the reels can expand.
What is the maximum multiplier on Giza Infinity Reels?
The maximum multiplier on Giza Infinity Reels is 5x during the Free Spins feature.
What symbols pay the highest on Giza Infinity Reels?
The symbols that pay the highest on Giza Infinity Reels are Anubis and the pyramid, paying 5x your stake if you land 5 or more in combination.
What devices can Giza Infinity Reels be played on?
Giza Infinity Reels can be played on devices that run on iOS, Android or Windows operating systems.
What we like
High RTP of 96.45% for better winning potential
Impressive maximum win of 10,000x your bet in the Free Spins feature
Beautiful graphics with stunning 3D design based on Egyptian mythology
Compatible with all devices, providing easy access to players
What we don't like
Medium/high volatility may not suit all players
Base game spin maximum win of 1,245x your bet may not be high enough for some