Gem Machine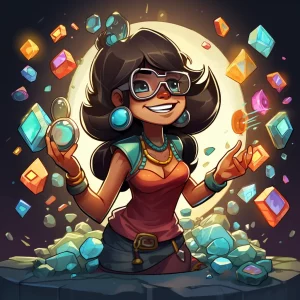 Are you ready to experience a unique and unsettling game interface with Bally's Gem Machine slot game? The game can be found embedded in a machine with brass gears and pistons that move rhythmically in the distance, making you feel like you are in a crazy inventor's laboratory. Don't worry, the actual gameplay is much more straightforward!
The Gem Machine game's weird and intriguing design elements stick out, and we can't help but wonder how the developers came up with it. Perhaps they took inspiration from Dr. Frankenstein's laboratory or just sampled too much of the jackpot juice during game testing (just kidding!).
The bottom of the machine is filled with various colored fluids that light up when the player places their bets to create an immersive gaming experience. It feels like we are stepping right inside a science-fiction movie!
The game's sound design also enhances the gaming experience. It adds an extra layer of excitement and suspense to the gameplay, keeping you on the edge of your seat, especially in the bonus mode. The rhythmic and compelling music makes us want to keep spinning those reels and getting that sweet, sweet jackpot.
All in all, Bally's Gem Machine slot game has a fantastic game interface with immersive design features that keep its players coming back for more. So, are you ready to hit that jackpot? It's time to spin those reels and see where the machine takes you!
Exploring the Unique Features of Gem Machine Slot Game
Looking for something fun and different in the world of online slot games? Well, look no further than Gem Machine! This game stands out from the rest with its unique features and exciting gameplay.
For starters, Gem Machine offers a flexible number of reels, allowing players to activate or deactivate as many as they want. This level of customization is something you won't find in other slot games. And it gets better – instead of using symbols, Gem Machine offers direct winnings which makes it far easier to understand the payouts. A straight-forward approach in the world of online slots is a refreshing change that any player will appreciate.
With Gem Machine, players can win by playing just one reel, but they increase their chances when they activate multiple reels. This small yet significant change in the gameplay makes the overall experience of Gem Machine so much more thrilling than other slot games. It is not a coincidence that this game is rapidly growing in popularity.
The lack of complexity in the gameplay of Gem Machine is what makes it so unique in the slot game world. If you're new to online slots and want to try something other than the standard slot games with multiple symbols and complex rules, then Gem Machine is the perfect escape. It is fun, fresh, and offers a unique playing experience that anyone would enjoy.
So go ahead, sit back, and hit spin on your first Gem Machine playthrough. You won't be disappointed, and who knows – you might just hit the jackpot!
Gameplay and Simplicity of Gem Machine
Gem Machine is like a gem itself. Small and shiny, but it packs a punch. The game has a straightforward and easy-to-understand gameplay. Even newbies will love playing it. All you have to do is place your bet, sit back, and cross your fingers to hit that jackpot. With no complicated combinations of symbols, Gem Machine makes it easy for players to focus on having fun and winning big.
Gem Machine doesn't mess around with fancy features. Instead, it keeps things simple by only requiring players to play one reel and increasing their chances of winning by adding more reels. It's like the game is saying, 'Why make things complicated when we can just keep it simple, silly?' Sometimes, players may only be awarded one free spin, which can be frustrating if they don't win big during that time. But hey, one free spin is better than none, right?
Overall, Gem Machine's easy-to-understand gameplay and simplicity make it a game accessible to everyone. Whether you're an experienced player or new to online slots, you'll enjoy playing this slot at your leisure. So what are you waiting for? Give Gem Machine a try and see for yourself why simplicity is the ultimate form of sophistication.
Make a sparkling win with Gem Machine
You don't have to be a gemstone expert to recognize the value of a precious stone. But, trust us, when you play Gem Machine, you'll feel like one! Bally has hit the jackpot with this game, offering a unique and visually-stunning machine that is sure to get your heart racing.
But it's not just about the aesthetics. The gameplay is straightforward and easy to understand, making it perfect for players of all levels. The possibility of winning big in a one-shot game is all the more captivating. In fact, it's so exciting that we wouldn't be surprised if you started daydreaming about quitting your day job and retiring to a tropical paradise island.
Okay, maybe we're exaggerating just a bit, but we can definitely say that Gem Machine is worth giving a try. So, gather your favorite snacks, pull up a chair and let the gems roll.
Similar Slot Games to Gem Machine
Are you a gem enthusiast looking for more slot games to play? Well, you're in luck! There are plenty of online slot games that use gems in their design. Here are some of our top picks:
Aztec Gems Deluxe by Pragmatic Play is a great choice for those looking for a game with a similar theme to Gem Machine. Except, this game takes you on a journey through ancient Aztec ruins and allows you to uncover treasures. However, just like Gem Machine, the game also relies on traditional gameplay mechanics that slot enthusiasts will love.
Another exciting gem-themed game to try is Gem Rocks by Yggdrasil. This game features a series of giant rocks with gems embedded inside and offers players a unique cascading reel format that can lead to some significant payouts.
If you're a fan of colossal gems, then Habanero's Colossal Gems is perfect for you. This game is designed with huge, sparkling gemstones and features a reel set up that can lead to plenty of opportunities to win big.
Lastly, Quickspin's Arcane Gems is an enchanting game that also incorporates a gemstone theme. This slot game features an innovative wheel-based bonus feature that can lead to vast payouts.
Despite the many options available in the market, Gem Machine still manages to stand out with its unique gameplay mechanics and straightforward design. It's a game that's perfect for players who prefer traditional slot playing experiences.
FAQ
What makes Gem Machine different from other slot games?
Gem Machine is different from other slot games because it does not use symbols to determine winnings, but instead relies on finding corresponding prizes along the reels. Additionally, players can choose to activate or deactivate any number of reels they want during the game.
Is it easy to understand the game mechanics of Gem Machine?
Yes, it is easy to understand the game mechanics of Gem Machine. The straightforward gameplay makes it easy for both seasoned players and beginners to get used to the mechanics.
Can players win by playing only one reel in Gem Machine?
Yes, players can win by playing only one reel in Gem Machine, although the chances of winning increase with the increasing number of reels played.
Are there other slot games similar to Gem Machine?
Yes, there are other slot games similar to Gem Machine, such as Pragmatic Play's Aztec Gems Deluxe, Yggdrasil's Gem Rocks, Habanero's Colossal Gems, and Quickspin's Arcane Gems.
What is the theme of Gem Machine?
The theme of Gem Machine is gems and wealth. The game uses various colored gems to determine winnings.
What is the visual interface of Gem Machine like?
The game grid is embedded in a machine with an unsettling appearance, with various colored fluids found at the bottom, while brass gears and pistons move rhythmically in the distance.
Is there a bonus mode in Gem Machine?
Yes, there is a bonus mode in Gem Machine in which rhythmic and compelling music can be heard. Players can also win free spins and corresponding prizes during this mode.
What are the practical takeaways from this review of Gem Machine?
Gem Machine is a highly unique slot game that differs greatly from other games due to its mechanics and use of direct winnings. It is also easy to understand and offers both seasoned players and beginners a chance to win. There are other slot games similar to Gem Machine available as well.
What we like
Unique game interface with captivating design
Different from other online slot games
Straightforward gameplay for all players
Chance to win by playing only one reel
What we don't like
Limited free spins in bonus mode
May not be suitable for players seeking complex gameplay