Fruity Gold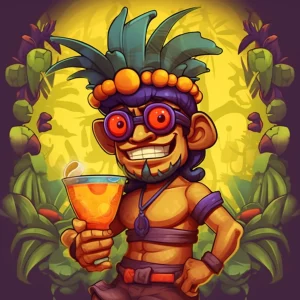 Fruity Gold may not be the most extravagant slot game out there. But sometimes, when you're in the mood for something traditional, you just need a good old-fashioned fruit slot game. This is where Fruity Gold shines.
With its 3×3 reel layout and 27 paylines, Fruity Gold's gameplay is both easy to understand and accessible to all players. You don't need to be a seasoned pro to have fun with this one. But don't let the simplicity fool you; Even though it doesn't have any extra spins or fancy animations, it can still provide a nice little boost to your bankroll.
Think about it: If life has been feeling a bit too complicated as of late, sometimes you just need a break from all the complexities and enjoy something straightforward and predictable. Plus, with no bonus rounds to distract you, you can focus all of your attention on the juicy, colorful fruit symbols and spin until you hit the ultimate jackpot.
Symbols
When it comes to Fruity Gold's symbols, it's business as usual for a classic fruit slot game. The fruity symbols all have one thing in common: a wholly nominal value. Don't expect any of them to make you rich, as Melons and Grapes are the highest paying fruits with a payout of six times your bet. If you're lucky enough to land some Plums or Oranges, you'll get four times your original stake. And if you're really down on your luck and the only symbol you manage to land is a Lemon or Cherry, you'll only walk away with a maximum return of 2x.
Fruity Gold has some surprises up its sleeve in the form of special symbols. The Lucky 7 and Bell are excluded from the low-paying fruit symbols and offer much better payouts of 30x and 10x respectively. There are also Mysterious symbols, Wilds, and Double Wilds, which can all be utilized to earn multipliers ranging from 2x to 300x. The Double Wilds are especially valuable as they can substitute for all the fruit symbols and improve your payline with a 2x multiplier.
Looking to mix things up? Fruity Gold has the perfect solution in the form of the Joker figure. It has a similar effect to the Double Wilds, but sadly doesn't have the power to double your stake. Still, it can make all the difference when you're looking for variety and excitement in your slot games.
Graphics
Prepare yourself to enter a world that's both simple and refreshing. The graphics in Fruity Gold are not only minimal but also extremely satisfying. It's almost like you're playing the game on a vintage slot machine, without even leaving your house.
Some might say that the graphics in Fruity Gold are a bit excessive, but we beg to differ. The creators have captured the essence of a classic slot game perfectly and have even improved on it with the detail and precision of modern technology.
The recreated background is devoid of any frills and reduced to the basics, which makes it easy to navigate through the game without any distractions. The sounds are equally simple, yet they follow the regular functioning of a slot game, setting the mood perfectly. They might be the same old ones that we've seen over and over again, but in Fruity Gold, they look more luscious and tastier than ever before.
All in all, the graphics in Fruity Gold provide an immersive experience that is both nostalgic and refreshing. It's one of those rare instances where less is definitely more!
Features
Fruity Gold is a retro version of a slot game and comes without any of those fancy frills, like extra spins, free spins, animations, or any functions that require a Ph.D. to figure out. But don't be fooled, this game still packs a punch.
Experienced players will appreciate the presence of Double Wilds, Wilds, and multipliers ranging from 2x to 300x. It's kind of like a superhero movie without all the lame love scenes – you get straight to the action.
While Fruity Gold may not have any surprises or special rounds that can drastically change your life in terms of winnings, these features provide players with ample opportunities to win significant prizes. It's like a reliable old car that always gets you where you need to go – no GPS, no backup camera, but it gets the job done.
So, if you're looking for a flashy, glitzy slot game that will wow you with all sorts of overly complicated bonus rounds that you need a degree in engineering to understand, Fruity Gold is not for you. But, if you're looking for a simple, retro slot game with enough features to keep things interesting, then give Fruity Gold a spin. Who knows, you might just strike gold!
Theme
Fruity Gold's theme is traditional, like the time-honored practice of eating fruit to help with digestion. And just like fruit, this game is easy to digest as well. But don't worry, Fruity Gold won't make you feel guilty like that extra slice of cake you had for breakfast. In fact, the game is designed to make you feel good. It features fruits, which is an aspect that many have come to love and appreciate about slot games for years, even in land-based casinos.
The game brings back the old-typical atmosphere of a real casino, where many passionate players played in the flesh. Of course, these days, the real action is online since no one wants to risk getting trampled by a stampede of enthusiastic gamblers. So, settle in for some virtual fruit-salad and enjoy the ride.
It remains a brilliant video slot, with nice features, but to dream big, you'll only have to rely on multipliers and Wild symbols. As they say, the better the fruit, the sweeter the juice. And with Fruity Gold, you'll find that the wild symbols are like the sweet, juicy grapes of the game. They're ready to make this fruit cocktail vibrantly explosive. So take a spin and see if you can hit the jackpot while feeling peachy-keen.
FAQ
What is the theme of Fruity Gold?
The theme of Fruity Gold is traditional and features fruits.
What is the reel structure of Fruity Gold?
Fruity Gold is a video slot game with a 3×3 reel structure, totaling 27 paylines.
Are there any special symbols in Fruity Gold?
Yes, there are special symbols in Fruity Gold. These include Double Wilds and Joker figures.
What is the maximum multiplier in Fruity Gold?
The maximum multiplier in Fruity Gold is 300x.
Does Fruity Gold have free spins?
No, Fruity Gold does not have free spins or any special rounds.
What is the highest paying symbol in Fruity Gold?
The Lucky 7 symbol is the highest paying in Fruity Gold, offering 30x your bet.
What is the minimum and maximum bet in Fruity Gold?
The minimum bet in Fruity Gold is 0.10 coins, and the maximum bet is 100 coins.
Is Fruity Gold a good game for experienced players?
Yes, Fruity Gold is a good game for experienced players who want to relive the traditional slot experience.
What we like
Straightforward gameplay with no surprises or special rounds
Ample opportunities to win significant prizes with multipliers and Wilds
Traditional fruit symbols that many players love and appreciate
Brings back the old typical atmosphere of a real casino
What we don't like
Lack of extra spins, free spins, animations, or any special functions
Graphics and sounds may be too minimal and lacking in detail