Enchanted Kingdom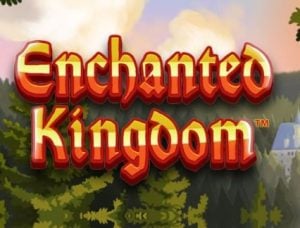 Step into the mystical world of Enchanted Kingdom, a delightful slot game featuring an enchanted forest filled with cute animals and charming plants. Everything is so vibrant with colors that you would think that you've accidentally swallowed a pack of skittles!
The graphics are simple but stunning. Don't expect any out-of-the-box 3D animations or intense special effects – this game is more about enjoying the basic yet appealing visuals. I guess you could say it's like a piece of candy – simple, sweet, and enjoyable.
Overall, Enchanted Kingdom is a joy to watch and play. The whimsical graphics and magical forest theme will have you feeling like you are in a fairy tale. It's like you took a stroll in the local park, and before you knew it, got transported to a fantasy world. Just keep in mind, if you start seeing little flying unicorns around your house after playing this game, you might have played a bit too much.
Gameplay And Features
Are you a novice player looking for a simple yet entertaining slot game? Look no further than Enchanted Kingdom! With five reels, three rows, and 30 fixed paylines, this game has everything you need to start your online slot journey.
But don't be fooled by its simplicity – Enchanted Kingdom still packs a punch when it comes to potential wins. With a minimum bet of just 30 cents and a maximum of 150$, there's something for everyone. And with a token value that ranges from 1 cent to 5$, you can adjust your betting level according to your budget.
With medium variance, you can expect to win quite frequently, even if the prizes aren't always life-changing. But hey, sometimes it's the small wins that keep us going, right?
So why not take a trip to the Enchanted Kingdom and see for yourself what all the fuss is about? Who knows, you might find yourself walking away with a nice little win and a smile on your face!
Symbols and Payouts
Get ready to explore the Enchanted Kingdom slot game, where you will find all sorts of whimsical symbols worth discovering. Keep an eye out for the magical castles that can transport you to a fairy-tale world, or the cute squirrels that can be your loyal sidekicks on your slot journey.
But the real treasure of this game is the stunning princess symbol, who acts as the game's wild card and can help you win even more rewards. And let's be honest, who wouldn't want to be rescued by a beautiful princess? This unique symbol offers the highest payout of all and could make your slot dreams come true.
And wait, there's more! The crown symbol serves as the game's scatter symbol. If you're lucky enough to land three or more of these precious items on the reels, you'll activate the coveted bonus round and unlock free spins. Plus, each win during these bonus spins is multiplied, giving you even more chances to rake in big bucks. So, keep your eyes peeled for those crowns and get ready to rule the Enchanted Kingdom!
Betting Options And Rtp
Let's talk about money, honey! Enchanted Kingdom offers a betting range of 30 cents to 150$, making it accessible to both low and high rollers. It's like the slot game version of Goldilocks and the Three Bears, where you can choose the wager that's just right for you.
The token value has a wide range from 1 cent to 5$, giving you the freedom to customize your betting style. Feeling rrrisky? Go all out and bet big. Feeling cautious? Play it safe with a smaller bet. It's all up to you, baby!
And while we're on the topic of money, it's essential to note that Enchanted Kingdom has a theoretical return to player (RTP) of 96.19%. That's not too shabby, my friend. It falls within the average of most slot games, ensuring you have a fair chance of winning some moolah while you play.
Lastly, Enchanted Kingdom is characterized by medium variance, which means you'll receive a steady stream of payouts without too many dry spells. It's like dating someone who always texts you back promptly – reliable and consistent.
Availability and Network
Are you tired of searching for a new online slot game? Well, have no fear because Enchanted Kingdom is here! This game has been around for a while as a land-based version, but it has just made its way into online casinos. And let me tell you, it has not lost any of the magic that made it so popular in the first place.
Enchanted Kingdom is part of the Play4Fun network, which means you have plenty of opportunities to try your luck at this game. Whether you're at home or on-the-go, you can easily access it on your computer or mobile device.
FAQ
What is Enchanted Kingdom?
Enchanted Kingdom is a WMS slot game that features a magical forest theme with fairy creatures, hidden treasures and magic. It is a traditional slot with 5 reels, 3 rows and 30 paylines.
Where can I play Enchanted Kingdom?
Enchanted Kingdom can be found in online casinos that are part of the Play4Fun network.
What is the minimum and maximum bet in Enchanted Kingdom?
Bets in Enchanted Kingdom can be placed starting from a minimum of 30 cents up to a maximum of 150$, with a token value ranging from 1 cent to 5$.
What is the theoretical return to player (RTP) of Enchanted Kingdom?
The theoretical return to player (RTP) of Enchanted Kingdom is 96.19%, which falls within the average of most slot games.
What is the volatility of Enchanted Kingdom?
Enchanted Kingdom is characterized by medium volatility, allowing players to obtain small and frequent wins, with some chance of getting valuable prizes.
What are the symbols in Enchanted Kingdom?
All symbols in Enchanted Kingdom are thematic and include magical castles, squirrels, frogs with crowns, mushrooms with red hats, crowns and a princess which acts as the Wild symbol.
What is the bonus feature in Enchanted Kingdom?
The bonus feature in Enchanted Kingdom is the free spin mode which is triggered by 3 or more scatter symbols. Each win in the bonus round is multiplied by x3, and the appearance of the scatter symbol during free spins awards an additional 20 free spins every time.
Is Enchanted Kingdom suitable for novice players?
Yes, Enchanted Kingdom is a simple slot with no surprises and could be excellent for novice players.
What we like
Magical and enchanting theme
Sharp and brightly colored graphics
Simple gameplay for novice players
Medium variance with frequent wins
What we don't like
Lacks special effects and 3D animations
Free spins bonus round can be challenging to trigger