Druidess Gold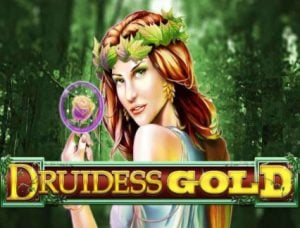 Druidess Gold may not be as well-known as other slot games, but don't be fooled—it's no less impressive than its competition. In fact, it is packed with 1,296 ways to win! Yep, you read it right. That's 1,296 ways to line up your lucky symbols and hit that jackpot!
This game has more features than you can shake a stick at. It has scatter symbols, locked wilds, free spins, mega spins, and yes, even a bonus round. With all these features, your chances of winning are better than ever before!
Let's talk about the winning combinations now. Winning combinations pay from left to right, except for the scatter symbol. You might think it's a bummer, but wait a minute… the scatter symbol pays both ways! That's right—left to right and right to left! It's like hitting two birds with one stone, but in a good way.
Bottom line? Druidess Gold is an exceptional slot game. It's got everything that a slot-lover could wish for: multiple ways to win, exciting features, and high chances to win big. You don't want to miss playing this game and having some fun! Don't forget to crank up the volume and enjoy the background music!
Bonus Rounds and Symbols
Have you ever worn a Ring of Protection whilst playing a slot game? Well, in Druidess Gold, the Ring of Protection is not only a symbol on the reels but it also has the power to unlock the incredible bonus game. Once five or more of these shiny rings appear, get ready to enter the free spin phase! Brace yourself, because this phase will shower you with extra wilds, and if you're lucky enough to land 12 wilds, congratulations! You have just unlocked the mega-mega spin feature, which will give you even more chances to win big.
You don't want to miss out on another bonus opportunity triggered by three or more Druidess Gold wilds. You'll have an even greater chance of hitting it big and filling up your piggy bank, so keep your eyes peeled for those wilds.
If you're feeling adventurous and ready to meet the Druidess in person, the bonus rounds and symbols in this game will have your head spinning (in a good way!). It's no surprise that Druidess Gold has quickly become a fan favorite among online slots enthusiasts. And let's face it, who doesn't love a good bonus game? So put on your lucky charm, cross your fingers, and give Druidess Gold a spin today!
Theme and Design
Get ready to delve deep into a mystical world where druids reign and magic is in the air with Druidess Gold! This innovative slot game offers players an enchanting experience, with its stunning graphics and magical design.
The game's reels are adorned with symbols ranging from candles and swords to ravens and alchemists, all contributing towards the mystical atmosphere of the game. The druidess herself takes centre stage as the wild symbol, adding an extra layer of magic to your gameplay.
Just like any good spell, Druidess Gold is quite addictive, you'll lose yourself in its charms before you know it. With enough good luck and magic on your side, you might even hit the jackpot and walk away with a golden treasure trove of winnings!
Get ready to win big!
Let's talk about the number of ways Druidess Gold will boost your bankroll. With a whopping 1,296 ways to win, this slot game offers experienced gamblers something different and exciting. You can't deny the rush of adrenaline that comes with betting on a game with this many winning possibilities. Even better, the coin limit/value options start at a mere 0.01 – the same price as a stick of gum at the corner store. So, this game is perfect for gamers on a budget who still want to win big.
Credits per spin range from 50 to 250, meaning the sky is the limit for your earnings on a single spin. Bear in mind, however, that you're more likely to get struck by lightning, bitten by a shark, and hit by a meteorite all at once than hit the jackpot on your first spin. But, with so many ways to win and a low entrance fee, it's hard not to feel lucky wearing your lucky stockings while playing Druidess Gold.
Reelfecta Reel: This is Some Next-Level Stuff!
Hold on to your seats, folks! The Druidess Gold slot game is going to blow your mind with its unique Reelfecta Reel feature! Never heard of the Reelfecta Reel before? Well, it's basically a square reel positioned in the center that gives you 16 symbols to play around with. It's like having four reels in one! No big deal, right? Wrong! It's a big fricken' deal because you can make crazy combinations with it and win big bucks!
And that's not all! Druidess Gold features the super cool Ring of Protection bonus that can only be triggered within the Reelfecta Reel. So, when you hit five or more bonus symbols in the Reelfecta Reel, the Ring of Protection bonus is activated, and you get a chance to increase your winnings exponentially. It's like the cherry on top of an already delicious ice cream sundae.
Overall, Druidess Gold is a slot game that is both fun and lucrative. The Reelfecta Reel and Ring of Protection bonus features are next-level stuff that will leave you feeling spellbound. So, what are you waiting for? Try it out and see for yourself!
Unleash the Power of Wild Card and Multipliers
Who doesn't love a good wild card? In Druidess Gold, the wild card is none other than the mystical druidess herself. She's got all the tricks up her sleeve and can help you create winning combinations by substituting for other symbols. And if that wasn't enough, she also brings in multipliers to increase your chances of winning big.
Hit 12 wilds and you're in for a wild ride with the mega-mega spin feature. Trust us, it's aptly named – the potential for huge wins is astronomical. You might even say it's…druidiculously good!
Now, you might be wondering about the Ring of Protection. Fear not, young adventurer. While the wild card can't substitute for the Ring of Protection, it's still a valuable symbol to look out for. This powerful ring can help you gain extra lives and prolong your journey in this mystical land. So keep your eyes peeled and fingers crossed!
FAQ
What is Druidess Gold?
Druidess Gold is an online slot machine with a mystical fairy tale theme which offers 1,296 ways to win through its bonus function.
What makes Druidess Gold different from other slot games?
Druidess Gold has a unique Reelfecta reel which allows for a series of combinations composed of the 16 symbols found in the game.
What are the symbols in Druidess Gold?
The symbols in Druidess Gold include candles, swords, wands, spellbooks, ravens, alchemists, the druidess wild, and the Ring of Protection.
What is the Mega Spin feature?
The Mega Spin feature is unlocked when you hit 12 druidess wilds, leading to a huge win.
How many ways to win does Druidess Gold offer?
Druidess Gold offers 1,296 ways to win through its bonus function.
What is the Ring of Protection Bonus?
The Ring of Protection Bonus is triggered when five or more bonus symbols land in position, unlocking a magical gameplay phase with series of free spins.
What is the coin limit/value in Druidess Gold?
Coin limit/value options start at 0.01 and go up to 0.25.
Which game is almost identical to Druidess Gold?
Pixie Gold, created by Lightning Box Games, is almost identical to Druidess Gold.
What we like
1,296 ways to win
Exciting bonus rounds and symbols
Mystical and enchanting theme
Reelfecta Super Reel for more combination possibilities
What we don't like
Not suitable for low budget players