Atlantis Megaways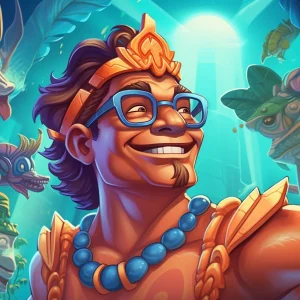 Are you ready to dive deep into the mysteries of Atlantis? Then get ready to play this incredible casino slot game, Atlantis Megaways! With cascading wins, this game is sure to keep you hooked and addicted. If you land a winning combination, the symbols will disappear, allowing additional symbols to fall into place and potentially create more winning combos. Oh, it's like playing a game of Tetris and winning at the same time – how fun is that?
But there's more! Atlantis Megaways comes with a respin bonus feature that triggers when you land four scatter symbols, offering even more chances of winning big. And speaking of scatters, they don't just bring cash prizes, but they also activate the free spins feature.
The cherry on top? The wild symbol – it can substitute any other symbol on the reels, except for the scatter, to help form winning combinations. Now, that's one wild ride!
The Jackpot Respins feature offers up to four jackpot prizes, making this slot game all the more exciting and rewarding. So, what are you waiting for? Dive into the deep blue sea and unearth the treasures of Atlantis with Atlantis Megaways!
Get Ready to Count: Number of Ways to Win at Atlantis Megaways
Get your abacus ready because Atlantis Megaways is here to blow your mind with up to 117,649 ways to win! That's more ways to win than you have fingers and toes. Don't believe us? Count them yourself – just make sure you have enough fingers!
But all jokes aside, the number of possible winning combinations in this game is truly something to behold. Whether you're a seasoned pro or a newbie, you'll be on the edge of your seat with every spin, wondering just how many ways you'll get lucky this time around.
So go ahead, take a chance and see what luck has in store for you with Atlantis Megaways. Who knows, you might just win big and be able to retire to your own private island, where you can count all the ways to win to your heart's content!
Top Value of Payout
If you're looking for a slot game that offers a chance at some serious cash, you should definitely check out Atlantis Megaways. With a top value of payout of 2000x your bet, this game has the potential to make your wildest dreams come true – as long as you're okay with living in Atlantis, of course!
And let's talk about Poseidon, the most profitable symbol in the game. He pays out a whopping 100x for six of the same – that's enough to make you feel like a god! While the other image symbols aren't quite as lucrative, they still pay out between 1.2 and 5 on the winning bet for the optimal result of six matches. So, while you might want to hang out with Poseidon, don't write off the other symbols just yet – they could still help you take home some serious cash.
Overall, if you're looking for a fun and exciting slot game with the potential for big payouts, Atlantis Megaways is definitely worth checking out. Just remember to wear your water wings – you never know when Atlantis might decide to flood the reels!
Betting Range
Hold on to your tridents, folks! The betting range for Atlantis Megaways is $0.20 to $100.00 per spin. You don't have to be a billionaire like Aquaman to enjoy these underwater treasures. Just start with a small bet if you're feeling shy, and ramp it up as you start winning more than those pesky seahorses.
Personally, I like to start betting low, but then I get greedy and aim for the big jackpots. It's like being an underwater Indiana Jones, but without the hat and whip. I mean, who needs a hat when you're already underwater, am I right?
Exploring the Mysteries of Atlantis
Hold your breath, my friend. We are diving deep down into the mysterious and magnificent world of Atlantis Megaways. The slot game is designed with an underwater theme that makes you feel like you are taking a dive into the undiscovered depths of the ocean.
The game features stunning visuals with symbols of sea creatures that are beautifully designed with a lush color scheme. You can almost feel the liquid fizz of the ocean bubbles on your nose! The game designers have used a watery palette of blues with great effect, giving the game a realistic feel that immerses you completely.
The background of the reels is where the real magic happens. Atlantis Megaways has captured the essence of an underwater city with great accuracy. The background ranges from the lightest blue to the deepest midnight color, allowing the decorative elements of the playing card icons to stand out against the magnificence of the ocean world. You can see the pillaged world of the lost civilization, and the view that you get is nothing but jaw-dropping. The game is decorated with imposing structures and statues that add to the overall beauty of the game.
All in all, Atlantis Megaways is a game with a stunning backdrop that is full of mystery and adventure. You will fall in love with the beautiful world that the game creates, and you're sure to feel a sense of wonderment each time you play it!
The Megaways Magic
Hold your breath and dive into the magical world of Atlantis Megaways, the game that takes you on an underwater adventure like no other. Home to the Megaways technology, this game packs a punch with cascading wins on up to 117,649 ways to win. Yes, you read that right!
For those who love chasing big wins, Megaways technology is a godsend. The feature brings on an explosion of wins that start from the leftmost reel and extend all the way to the right, giving players a whopping mix of up to 117,649 ways to win on each spin. That's like having the ocean all to yourself!
The game's row of four reels at the top adds to the players' excitement. These reels carry symbols that lock into your win result and can raise your chances of bagging the next win. And as they say, the ocean is full of treasure just waiting to be discovered.
Now, you may be thinking, "what about the big bucks?". While megaways slots usually don't offer symbols worth their weight in gold, the consecutive wins can make up for it with every spin offering the possibility of more than one win. With a little bit of luck, you might just uncover the treasures of the deep.
So grab your diving gear, mask and snorkel, and get ready to experience the thrill of Atlantis Megaways- where the magical megaways technology awaits you and your thirst for adventure.
Information Menu and Game Rules
So, you're ready to explore the depths of the ocean and uncover the hidden treasures of Atlantis? Fantastic! But before you dive in, let me give you some insider tips on the information menu and game rules.
First off, the menu symbol with three dashes might look a bit suspect, like it's trying too hard to be cool. But don't worry, it's just trying to fit in with the hipster crowd. Select it and voila! You'll find everything you need to know about Atlantis Megaways – payouts, game rules, and information on bonus features.
Reading game rules might be boring for some people, but hey, it's important to know what you're getting yourself into! And if you're lucky enough to trigger a bonus feature, you'll want to know what all those bells and whistles mean. It's like getting directions to a secret treasure map.
So, if you want to increase your chances of hitting the big jackpot and set off for your underwater adventure feeling like a seasoned pro, don't skip the information menu and game rules. Who knows, you might even discover a hidden easter egg or two (or three if you count the one hidden in your fridge).
Unleash Your Inner Explorer with the Jackpot Prizes
Looking for a chance to go treasure hunting in a mythical lost city? Look no further than Atlantis Megaways! Not only does this game offer exciting gameplay and stunning graphics, but it also provides an opportunity to strike it rich with the Jackpot Respins feature.
With the chance to win one of four jackpot prizes (10x, 50x, 250x, and a whopping 2000x your original bet), players will want to keep their eyes peeled for treasure chests. When three or more scatters appear on the reels, they stay in place for three exciting respins while the remaining positions are up for grabs. And with each treasure chest that lands on the reels, the respins reset to three, giving you even more chances to win big.
But let's be honest – the real treasure in this game is the opportunity to crack open a chest and claim that elusive 2000x prize. Who needs a map and compass when you have Atlantis Megaways? You might just find yourself feeling a bit like Indiana Jones himself – minus the fedora and bullwhip, of course.
So what are you waiting for? Saddle up and set sail for the sunken city of Atlantis – the Jackpot Respins feature is just waiting to be plundered.
FAQ
What is Atlantis Megaways?
Atlantis Megaways is an online slot game developed by ReelPlay that takes players on an adventurous journey through the ruins of Atlantis and features a respin bonus, cascading reels, and medium volatility.
What is the RTP of Atlantis Megaways?
The RTP of Atlantis Megaways is 96.10%.
How many ways are there to win in Atlantis Megaways?
There are up to 117,649 ways to win in Atlantis Megaways.
What is the maximum value for a bet in Atlantis Megaways?
The maximum value for a bet in Atlantis Megaways is $100.00 per spin.
What is the main bonus feature in Atlantis Megaways?
The main bonus feature in Atlantis Megaways is the Jackpot Respins, which is triggered by six or more scatters and offers the chance to win one of four jackpot prizes.
What is the most profitable symbol in Atlantis Megaways?
The most profitable symbol in Atlantis Megaways is that of Poseidon, which pays 100x for six of the same.
What is the range of bets in Atlantis Megaways?
Bets in Atlantis Megaways range from $0.20 to $100.00 per spin, offering players a range of choices.
Does Atlantis Megaways offer an autoplay mode?
Yes, Atlantis Megaways offers an autoplay mode that allows players to set up the game for a hands-free adventure on the reels.
What we like
Offers up to 117,649 ways to win
Cascading wins and a respin bonus feature
Scatters that bring cash prizes and a wild symbol
Jackpot Respins feature with up to four jackpot prizes
What we don't like
Megaways slots do not offer extremely lucrative symbols
Not suitable for players with small budgets