Astro Cat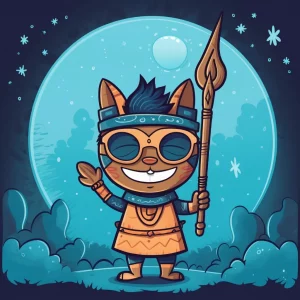 Astro Cat presents a whopping 1296 ways to win format, which means you have over a thousand chances to land a winning combination on every spin! Plus, with a minimum bet of only 0.50 coins at a value of 0.01, you won't have to break the bank to join in on the fun. But don't get too comfortable with the low bet; you can increase exponentially up to a bet multiplier of 5 times.
There are no paylines to select which increases your odds, so it's simply a matter of hitting the spin button or if you're feeling lucky, you can hit the auto-spin button once your desired bet is selected. The basic gameplay action relies on a bonus system that builds in intensity to offer big combination prizes. If you're looking for a game that offers a generous return to player (RTP), then Astro Cat is for you. However, the hit rate is not as high, so don't be surprised if it takes a few spins to hit that big win.
Overall, Astro Cat is a fun and exciting slot game that offers plenty of chances to win big. So, if you're ready to join the feline space expedition, grab your space helmet and get ready to blast off into the cosmos!
Theme
Astro Cat takes the term 'eclectic' to a whole new level. It's like taking a trip to Japan, China, and outer space all at once. This is the kind of cultural mixing you haven't seen since your cousin's wedding, but way more fun! The reels are framed with symbols of Chinese tradition, which adds an extra layer of luck – or at least, that's what your forgetful aunt will tell you next time she swears she's wearing her lucky koi fish earrings.
As you spin the reels, you'll see a variety of symbols that seem to come from different parts of Asia. There are bonsai trees, lucky frogs, Chinese fans, and even koi carp. And of course, you can't miss the cat: an anime-inspired feline that knows how to replace all the right symbols. It's like having a fluffy, four-legged luck charm on your side!
If you're a fan of Japanese anime or have a love for Asian culture and space exploration (or really, if you just want to experience something wild and unique), then you'll love Astro Cat. This game is a mash-up of a million different things, but somehow, it works. Maybe that's why the cat is always smiling – it knows that in Astro Cat, anything is possible.
Reelfecta System: The Insanely Fun Way to Win Big
If you're anything like me, you'll see the Reelfecta system and be both confused and intrigued. Sure, it looks like one of those math puzzles you had to solve in elementary school, but Astro Cat makes it work. Two small reels on either side of a massive 16-position grid reel in the center? Who would have thought it?!
But don't worry, dear reader, using the Reelfecta system is much easier than it looks. Essentially, it plays like a regular 5×3 slot, but with 1,296 winning combinations instead of the standard 243. And let's be real, winning is what matters, right?
Whether you're a casual player or a seasoned slot fiend, Astro Cat's Reelfecta system is definitely worth a spin. And hey, who knows? Maybe its unique, out-of-this-world format will be the key to unlocking that big payout you've been dreaming of.
Boost Your Wins: Wild and Scatter Symbols
Astrobots, get ready to soar through the galaxy! Looking for big opportunities to boost your slot winnings? Look no further than Astro Cat and its wild and scatter symbols!
The Astro Cat wild symbol is the ultimate all-star. It replaces all the symbols in the game and can help create winning combinations. This wild symbol will show up on the reels to give you a better chance to win big, so keep your eyes peeled for the feline Astro Cat to show up and help you on your voyage through space.
If you want to launch a fireworks display of your own, then you're going to want to keep an eye out for the scatter symbol. It is a fireworks symbol, which only appears on the outer reels of the Reelfecta. When you see five or more of them on the same spin, you know that you've entered the Free Spins feature, and you'll be rewarded with up to 13 free spins to help you reach even greater heights of winnings!
We're not kidding around when we say that the Astro Cat is one of the coolest and most rewarding casino slot games you'll ever find. So why not take a chance and try your luck with Astro Cat's wild and scatter symbols today? Who knows, you might just end up as the king or queen of the universe of slot gaming!
Free Spins: Get Ready to be Rewarded!
If you're like most Casino players, you know how thrilling it can be to activate a game's Free Spins Feature. So, you might be wondering – what can Astro Cat's Free Spins do for you?
Well, wonder no further! Once you unlock this Feature in Astro Cat, you can anticipate up to 13 free spins. And, just like hearing the distant sound of an ice cream truck on a hot summer day, it only gets better from there.
That's because during the Free Spins Feature, the Reelfecta will showcase either a +1 Wild Cat or a poison symbol. Depending on which one lands, you're in for some serious fun (or a serious payout). For example, if the +1 Wild Cat lands, an extra free spin will be unlocked, and the Wild will freeze in place. This allows you to even further optimize your chances of winning big. And, you can keep unlocking more free spins as you go along – up to an impressive 12 additional ones! Especially for fans of cats, this is the purrfect Free Spins feature.
However, if the poison symbol appears, your fun's over. But, fear not! You'll still be rewarded with a payout that's twice your bet. Plus, there's no chance of receiving the poison symbol within the first three free spins, so don't worry about that happening early on.
Sometimes, it's hard not to feel like a lucky cat when playing Astro Cat's Free Spins Feature. Filling 12 outer positions with Wild Cats triggers an even more exciting version of this Feature – the Mega Spin. During this, all extra Wilds are put into place, shining a light on some pretty spectacular possibilities for immense payouts. So, if you're looking for a slot game that will keep you hooked for hours on end – and make you feel like a winner before you even start – then Astro Cat has got you covered!
Bet Amounts
Astro Cat is a game that truly understands the diverse needs of players. One of the biggest reasons for that is how you can place your bets. The game allows you to bet from as little as 0.50 coins at a value of 0.01. So, whether you're feeling like a high roller or simply in the mood for some casual gaming, Astro Cat has got you covered.
Are you a little adventurous? Well, then, you'll be glad to know that the bet can be increased exponentially! Take a deep breath and go all in for a chance to win a big payout.
Do you want to take your gameplay to the next level? Then, you can also choose a bet multiplier of up to 5 times. That's right, you can amp up the fun and increase your chances of hitting the jackpot by a whopping five-fold!
Oh, and don't worry. No matter what your betting style is, we promise we won't judge. So, whether you're a high roller or a penny pincher, come and try your luck with Astro Cat – the game that caters to all your betting needs.
Mega Spin Feature
Let me tell you something about Astro Cat's Mega Spin feature that will make your head spin! Filling 12 outer positions with Wild Cats will create 1 giant wild with 16 symbols, triggering a Mega Spin with all the extra wilds in place. And let me tell you, it's mega! I mean, who wouldn't want to spin that? It's like a slot game within a slot game, and it's absolutely purr-fect for all the cat lovers out there.
But the fun doesn't stop there. This feature offers players the chance to hit big combination prizes, and by big, I mean astronomical! You could be swimming in cash like a cat, just lounging around, licking your paws, and watching the winnings roll in. It's like Astro Cat is giving you a paw-some high five.
So, what are you waiting for? Give it a spin and let Astro Cat take you on a wild, purring adventure that's unlike any other. Who knows, you might just land that Mega Win that will have you meowing with joy.
FAQ
What is Astro Cat?
Astro Cat is a Japanese anime and Asian-themed online slot game with a Reelfecta system comprising two 2×3 reels next to a 16-position grid reel in the center.
What devices can I play Astro Cat on?
Astro Cat can be played on both desktop and mobile devices.
What is the minimum and maximum bet for Astro Cat?
The minimum bet for Astro Cat is 0.50 coins with a value of 0.01, while the maximum bet is $1250 per spin.
How many ways to win does Astro Cat have?
Astro Cat has 1296 ways to win.
What is the RTP of Astro Cat?
The RTP of Astro Cat is generous.
What symbols do I need to look out for in Astro Cat?
Look out for the Astro Cat wild symbol and the fireworks bonus symbol. The poisoned glass symbol should be avoided during free spins.
How do I trigger the free spins feature in Astro Cat?
Landing 5 or more fireworks bonus symbols on the same spin will trigger the free spins feature in Astro Cat.
What happens during free spins in Astro Cat?
During free spins in Astro Cat, the +1 Wild Cat symbol can appear and award additional spins while freezing wilds. The Reelfecta feature can create 1 mega spin with 16 symbols if the whole center box is filled with wilds. The poison symbol will immediately end free spins.
What we like
1296 ways to win format
Eclectic theme blending Japanese anime, Asian culture, and space exploration
Reelfecta system adds a unique twist to gameplay
Free spins feature with the potential for big wins
What we don't like
Hit rate is not as high as some other games
Limited betting options for high rollers