Manhattan Goes Wild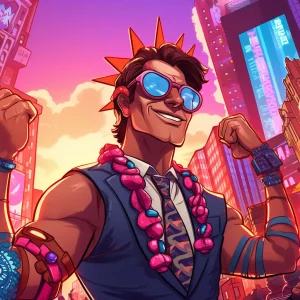 If you're ready to hit the jackpot and party like it's 2021, Manhattan Goes Wild is the perfect high-volatility online slot game for you!
With 243 ways to win, an RTP of 96.16%, and customizable Autoplay, you'll have every chance to turn your desktop into the Vegas strip.
This five-reel game is suitable for all gamers, beginners and experts alike, with a betting range of 0.10 to 100 per spin.
But let's get to the real fun – the unique wild symbol that spreads like an infection among other symbols. That's right – it's time to let loose in Manhattan and get wild! Plus, full reel wild stacks up the excitement!
And there's more – the bonus feature offers free spins and an extra-spin meter that can lead to huge payouts. Keep spinning and watch your winnings climb.
So, what are you waiting for? Let's hit the town and go wild with Manhattan Goes Wild! With a maximum payout of 20,000x on a single spin, you won't regret it!
Design and Theme of the Game
Get ready to travel back in time to the roaring 30s in the city that never sleeps! Manhattan Goes Wild, developed by Nolimit City, offers a perfect blend of vibrant atmosphere, iconic graphics, and entertainment. This online slot game is a thrilling opportunity to experience the glamour of New York in its golden days, where you'll feel as though you're strolling down Times Square while gambling away your riches.
The game's developers have done an impressive job at capturing the electric buzz of the city by incorporating the art deco design, as well the lively jazz tune that accompanies the gameplay. With its supercharged wild symbol, Manhattan Goes Wild always keeps things interesting and throws exciting surprises your way. As you watch the stunning skyscrapers, feel the wind in your hair, and hear the hustle and bustle of the city – you'll forget that you're not actually there.
Customization and Suitability for All Types of Players
If you're a high roller or a penny pincher, Manhattan Goes Wild has got you covered! With bets ranging from 0.10 to 100 per spin, this game is perfect for players of all levels. You're free to customize your paylines as the per-line ratio is locked at 1-1. The Autoplay feature is a lifesaver, as it means you can shower while the game plays itself. Plus, you can set win and loss limits and the number of automatic spins!
But be warned, this game isn't for the faint of heart! The high volatility may have novice players shaking in their boots, but the potential to win the 20,000x jackpot on a single spin is enough to make anyone feel like a king (or queen!) of Manhattan.
Autoplay and RTP: More Than Just Letters
Ready to let the good times roll with Manhattan Goes Wild? This slot game boasts a sweet 96.16% RTP, meaning you can expect some pretty hefty payouts if Lady Luck is on your side. And with the Autoplay feature, you can sit back and relax while the game does the work for you. Just customize the number of spins and win/loss limits to your heart's content, and let this city slicker take you on a wild ride. Don't worry, we won't judge if you let out a few woohoo's along the way. 😉
Get Wild with Manhattan Goes Wild: Understanding the Functions of Wild and Scatter Symbols
Looking for some high-stakes fun in the city that never sleeps? Look no further than Manhattan Goes Wild, the online slot game that'll have you feeling like the true king of New York. But to really succeed, you need to understand the functions of the game's wild and scatter symbols.
First up, the wild symbol. This one's a real game-changer, as it can replace all other symbols except for the scatter. It's like the ultimate wingman, helping you create winning combinations left and right. But that's not all: the wild symbol can even transform Bugsy and Betty symbols into golden wilds, taking your winnings to the next level.
And speaking of the scatter symbol, you definitely want to keep a close eye on that bad boy. Get three or more scatters to land anywhere on the reels, and you'll trigger the Manhattan Freespins bonus. During this bonus round, you'll start accumulating high-yielding symbols in the 243 Win Ways counter. Once it's full, that symbol becomes a golden wild and awards you an additional spin. Who knew causing chaos in Manhattan could be so lucrative?
Manhattan Goes Wild: Get Your Freespins and Cocktails Ready!
Ready to hit the town with Manhattan Goes Wild? This slot game has not one, but two bonus features to keep you entertained. First up, we have the Manhattan Freespins bonus. Simply land a trio of scatters and watch the high-paying symbols accumulate until they turn into golden wilds! It's like a high-end salon treatment for your bankroll.
But why settle for just one bonus when you can have two? That's where Manhattan Spins comes in. Land three or more cocktail glasses and all the high-yielding symbols start stacking up in win counters. And once you've hit your limit, those symbols become permanent wilds. It's like getting VIP treatment at the hottest club in town!
Comparison with Other City-based Slot Games
If you are a big fan of city-based games, you have got to check out "Manhattan Goes Wild". While Portomaso Gaming's "New York New York" might feature symbols inspired by iconic New York landmass and Saucify's "Tails of New York" might feature various four-legged friends, "Manhattan Goes Wild" outshines them all with its unique design. With an infectious wild symbol and bonus features that will leave you wanting more, this game is one of a kind.
Not to mention, you can never really go wrong with a slot game based on the city that never sleeps – after all, you can play it anytime, anywhere, day or night, just like New York!
FAQ
What is the RTP of Manhattan Goes Wild?
The RTP of Manhattan Goes Wild is 96.16%.
What is the maximum payout of the game?
The maximum payout of Manhattan Goes Wild is 20,000x the bet amount.
How many paylines does the game have?
Manhattan Goes Wild has 243 paylines.
What are the betting options?
The bet values range from 0.10 to 100 per spin.
Are the symbols in 3D animation?
No, the symbols are not in 3D animation, but they have lights and sparkles when they are part of a winning result.
Does the game have an Autoplay feature?
Yes, the Autoplay feature is highly customizable and you can set win and loss limits as well as the number of automatic spins.
What is the Manhattan Freespins bonus?
The Manhattan Freespins bonus is a feature triggered by three or more scatter symbols, during which only high-yield symbols are collected in the 243 Win Ways counter. When it fills up, the selected symbol becomes a golden wild for that spin and assigns an extra spin.
What are some similar slot machines to Manhattan Goes Wild?
Similar slot machines to Manhattan Goes Wild include New York New York by Portomaso Gaming and Tails of New York by Saucify.
What we like
High-volatility gameplay with 243 ways to win
Customizable Autoplay feature
Wide range of betting options suitable for all players
Unique wild symbol and bonus features
What we don't like
High volatility may deter novice players
Limited options for customizing paylines