Lucky Tree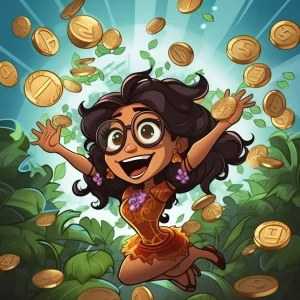 Are you tired of playing complicated slot games that require you to take out a second mortgage just to understand the rules? Lucky Tree has got you covered! With a 5×3 screen and only 15 symbols to keep track of, even a trained monkey could play this game (no offense to the monkeys out there, we love ya!)
Plus, with a medium volatility and an RTP of 96%, you'll have a good chance of winning some coin without having to wait for the stars to align. Or, if you're more of a risk-taker, you can always bet big and pray to the slot gods for a huge payout. Hey, it could happen!
Lucky Tree has some tricks up its branches!
Who doesn't love a tree that rains down coins? In Lucky Tree, whimsy and big wins intertwine–as coins come showering down from the branches providing extra chances to hit it big. Just watch out – this feature overrides the automatic spins – so hold onto your hats!
Keep an eye out for the elusive cat symbol – it's a scatter symbol that unlocks access to the bonus mode where even more treasures await. And don't forget the dragon symbol – this wild icon can replace any boring old symbol, leaving you all fired up and ready to win!
Cat Jokes and Dragon Pranks in Lucky Tree Slots
Looking for something new and exciting? Try Lucky Tree – a slot game that will have you purring in contentment! The game features a feline scatter symbol that pounces onto your screen and unlocks the bonus mode. Players can choose between three red boxes filled with either free spins or instant credit prizes.
But what makes Lucky Tree truly special is the dragon wild symbol. This sly beast can cheat its way onto your screen and replace any normal symbol in the game, helping you build winning combinations. And, if you're lucky enough to get him during the free spins bonus round, you might just strike gold!
Prepare Your Eyes for the Delightful Visuals of Lucky Tree
Lucky Tree's graphics are so visually stunning that you'll feel like you're in a magical forest. Trees that grow coins? Yes, please!
However, the sound effects can sometimes fall flat. But hey, who needs sound when you have coins falling from trees, right?
Get Lucky with Unique Asian-Themed Slot Game
Are you tired of the same old boring Asian-themed slot games? Lucky Tree is here to shake things up with its lucky tree theme and hilarious bonus modes featuring cats and dragons. It's a refreshing change from titles like Tree of Fortune and Tree of Riches that take themselves too seriously.
What sets Lucky Tree apart from the competition is its attention to detail and unique charm. The lucky tree symbol is woven throughout the game, bringing a sense of peace and calm to even the most high-stakes spins. And if that's not enough to reel you in, the cat and dragon bonus modes are sure to have you laughing out loud at your screen.
So why settle for mediocrity when you can have Lucky Tree? It's the perfect addition to any slot player's collection, especially those who enjoy exploring the nuances of Asian culture through the exciting world of online gaming.
FAQ
What is Lucky Tree?
Lucky Tree is an online slot game by Bally that is set in an East Asian theme with a lucky tree symbol giving the game its name.
What is the game screen like?
The game screen is 5×3 with 15 symbols shown on each spin, making it easy to understand without a large initial investment.
What is the RTP?
The RTP of Lucky Tree is 96%, which is perfectly in line with market standards.
Is the game volatile?
Lucky Tree has a medium volatility, so players can expect a good number of wins without waiting too long.
Are there any special functions in the game?
From time to time, coins fall from the tree, covering certain symbols on the screen, giving the possibility of additional wins. The cat is a scatter symbol that allows access to the bonus mode, while the dragon is a wild symbol that can replace any other normal symbol in the game.
What games are similar to Lucky Tree?
Similar games to Lucky Tree include Tree of Fortune by iSoftbet, Tree of Riches by Pragmatic Play, and China River, also by Bally.
What are the graphics like?
The graphics of Lucky Tree are visually stunning with a background of a tree of coins and a game screen rich in colors and interesting symbols.
What is the sound quality like?
The sound quality of Lucky Tree is not uniform, and the sounds that follow the various spins and combinations don't exactly fit well with the atmosphere of the game.
What we like
Easy to understand gameplay mechanics
Medium volatility for a good number of wins
Coins falling from the Lucky Tree for additional wins
Visually stunning graphics and symbols
What we don't like
Automatic spins are blocked during the coin falling feature
Sound department could be improved