Lucky Links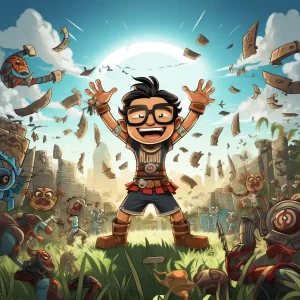 Are you ready for a slot game that will make you feel lucky? Lucky Links is just what you need! This 5-reel, 20-payline game will have you feeling like a high-roller in no time, with bets ranging from 10 cents to $250 per spin. And that's not all – wins pay both ways, so you can win from left to right AND right to left! If that's not lucky, we don't know what is.
Lucky Links features a special linked symbol stacks feature that will lock in place for subsequent respins. It's like having a lucky charm right on your screen! Who needs a rabbit's foot when you have Lucky Links?
Lucky Links: The Low Variance Feature that Packs a Punch
The Lucky Links feature might just be the luckiest thing that ever happened to you. And with the low variance of the game, you're in for some frequent triggering. Each spin offers the chance to win up to 352 times your bet! That's like finding a leprechaun riding a unicorn – it's rare, but it's worth it!
The feature is activated when linking symbol stacks line up horizontally, and boy does it pack a punch. It locks in place and offers some nifty subsequent respins. And the best part? If even more linking symbols land, the respins just keep on coming! It's a slot game feature that's like an endless pot of gold – or at least until the reels stop spinning.
Is Lady Luck on Your Side?
Get ready to hit the jackpot with the low variance slot game, Lucky Links. Its consistent payouts have players buzzing, and for good reason. This game offers a chance to win big with every spin, with up to 352 times your bet up for grabs.
Whether you are a seasoned player or just starting out, the winning potential of Lucky Links is worth the gamble. With regular payouts, you may just find yourself coming out on top.
Mobile Optimization
Who needs to download anything when you've got Lucky Links? This slot is mobile-optimized and ready to go at all times. No more waiting for pesky downloads. The game's graphics and animations are so impressive, you'll forget you're not playing on a desktop! And don't worry about any lag either – this game runs like a well-oiled machine on all devices.
Visual Appeal: Purple Haze or Lucky Streak?
Get ready to be immersed in a world of purple madness, horse shoes, acorns, and triple red sevens. Lucky Links knows how to bring a touch of good fortune to your screen with its visually stunning graphics. The beautiful color scheme makes the game easy on the eyes, so you can keep your focus on scoring that big win.
The symbols selected for the game are top-notch and give that warm, fuzzy feeling of good luck. The four-leaf clovers might not bring you any instant riches, but they sure do add to the charm of the game. The animations are smooth and crisp and will make you forget you're sitting at home staring at your computer screen.
Overall, Lucky Links hit the jackpot when it comes to visual presentation. The designers should get a raise for incorporating so many lucky symbols and making the game a feast for the eyes. So, if you're tired of boring, generic games, give Lucky Links a go and enjoy the high-quality graphics.
Betting Range: Bet Big or Go Home!
Are you a casual player or a high-roller at heart? Well, no matter which category you fall into, Lucky Links has got you covered with its betting range. You can start with a minimum bet of just $0.10 and work your way up to a maximum bet of $250.00. That's right, folks, you can either play it safe or go all out in the casino world. So, bet big or go home!
Consistent Cash Flow
Are you tired of playing slot games that only pay out every blue moon? Look no further than Lucky Links! This game is like a steady paycheck that never disappoints. It's so reliable, you'll think it went to charm school. Sure, the wins might not be huge, but who needs a Lamborghini when you can buy a whole bunch of tacos instead?
Graphics and Animations
Hold on to your seats, folks! The graphics and animations on Lucky Links are downright stunning. I mean, have you ever seen such a beautifully designed online slot game? My eyes are in awe and my heart is fluttering with excitement.
The symbols are straight out of a lucky charm catalogue. Hearts, clubs, diamonds, spades – check. Four-leaf clovers, horseshoes, acorns, and triple red sevens – check, check, and check! The designers at Lucky Links have gone all out to make sure that players are visually stimulated while playing this game.
FAQ
What is Lucky Links?
Lucky Links is an online slot game created by Just For the Win in collaboration with Microgaming that features a Lucky Links feature where linked symbol stacks lock in place with subsequent respins.
What are the betting limits for Lucky Links?
Players can bet anything from a minimum bet of $0.10 up to a maximum bet of $250.00 on this fabulous online slot game.
What are the symbols in Lucky Links?
The symbols on the reels include hearts, clubs, diamonds and spades, alongside good luck symbols such as four-leaf clovers, horse shoes, acorns, and triple red sevens.
What is the Lucky Links feature of the game?
The Lucky Links feature is triggered frequently because it is a low-variance offer – it offers wins up to 352 times your bet on each spin, which is not bad at all.
Does Lucky Links have any special symbols?
There are no special symbols on the reels other than the game logo, which gives you 7.5 times your bet for 5 on a payline.
Is Lucky Links available on mobile devices?
Yes, Lucky Links is mobile-optimized so no download is required to play the game.
What is the RTP of Reel Baron?
Reel Baron has an RTP of 95.81%.
What are some other similar slot machines to Lucky Links?
Other similar slot machines to Lucky Links are Reel Baron and Rhyming Reels Jack & Jill, both by Microgaming.
What we like
Frequent triggering of Lucky Links feature
Regular payouts with low variance
Mobile-optimized gameplay without downloads
Fantastic visuals with top-notch graphics and animations
What we don't like
Limited betting range
Wins may not be very big