Lucky Halloween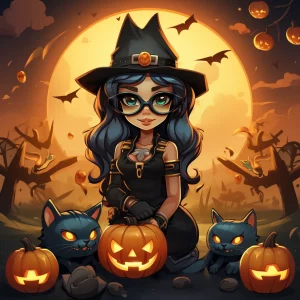 Looking for a frightfully good time? Feast your eyes on Lucky Halloween, a delightful yet spooky casino slot game brought to you by Red Tiger Gaming. This game will transport you into a world of ghouls, ghosts and monsters!
Get ready to be amazed by the eerie graphics, spooky sound effects and fun features. This game has captured the essence of Halloween perfectly, and we guarantee that it will give you a shiver down your spine!
Gameplay: Get Lucky with These Paylines
Looking for some spooky fun? Look no further than Lucky Halloween and its 20 paylines waiting to be explored. And let's be honest, we could all use a little luck these days.
Feeling bold? Jack up your bet with the + button or play it safe with the – button. Either way, Lucky Halloween caters to every budget, with stakes ranging from a mere 0.20$ to a whopping 500.00$. That's more than enough to ensure that all players, from penny pinchers to high rollers, can join in on the Halloween fun.
Symbols
What would Halloween be without symbols like bats, pumpkins, and black cats? Lucky Halloween embraces the holiday spirit with these spooky symbols and more. Don't be scared when the special symbols appear- they're here to help you win big! With wilds, mega wilds, and multipliers, the game offers players a chance to seriously boost their payout. Keep your eyes peeled for the Pumpkin symbol – not only is it a wild, but it also pays out a frighteningly high 400x your bet for 5 symbols on the reels. The Motorcycle also offers a thrilling payout of 320 times your bet for 5 symbols, while the Witch Hat provides a magical 160x payout for the same. The Blindfolded Black Cat pays out 140 times your bet for 5 symbols, the Bottle with Magic Potion offers a bewitching payout of up to 120 times your bet, and the Enchanted Cupcake serves up a sweet 100x your bet for 5 symbols. And don't forget the card symbols – even they offer a devilish payout of up to 80 times your bet.
Special Features
Hold onto your pumpkin hats because Lucky Halloween's Pumpkin Biker is the MVP of the special features. This two-wheeled terror will transform regular reels into primo reels, complete with high-value symbols and big wins. And if that's not enough pumpkin action for you, the Pumpkin Biker can even toss in massive 3×3 wild pumpkins onto the reels – talk about a smashing good time.
Enter the Full Moon Bonus, activated by the haunted castle symbol. When three or more castles show up at once, you'll have the frighteningly difficult task of choosing a beer glass to win a cash prize. It's not exactly rocket science, but you may need a quick swig of liquid courage to make the right choice.
Sound Effects
Beware of the spooky sound effects in Lucky Halloween, they might just give you goosebumps. From the eerily haunting music to the howling winds, this game knows how to set the Halloween mood. Close your eyes and let yourself be transported to a mystical world as you spin the reels.
Final Thoughts: Is Lucky Halloween the best treat in Slot Town?
If you're looking for some spooky fun, Lucky Halloween is definitely worth a spin. The gameplay is smooth, the graphics are crisp, and the sound effects will make you jump in your seat (in the best possible way). With special features like wilds, mega wilds, and multipliers, you're bound to have a ghoulishly good time!
However, if you scare easily, you may want to sit this one out. It's not for the faint of heart – or for those who are afraid of things that go bump in the night.
But fear not, there are plenty of other adventurous-themed slots in our library. From pirate treasure hunts to jungle expeditions, we've got it all. So go ahead, take your pick, and let the good times – and winnings – roll.
FAQ
Which symbols have the best payouts in Lucky Halloween?
The Pumpkin, followed by the Pumpkin Biker motorcycle and the Witch Hat.
How many paylines are there in Lucky Halloween?
There are 20 paylines in Lucky Halloween.
What is the minimum and maximum bet in Lucky Halloween?
The minimum bet for this slot is 0.20$, and the maximum is 500.00$.
Are there any special features in Lucky Halloween?
Yes, Lucky Halloween has special features like the Pumpkin Biker and Full Moon Bonus.
What is the Full Moon Bonus in Lucky Halloween?
The Full Moon Bonus is activated when 3 or more haunted castle symbols appear on the reels. Players must then choose between several lucky beer glasses to reveal a cash prize.
Can I play Lucky Halloween for free?
Yes, Lucky Halloween is available to play for free in demo mode.
What is the Pumpkin Biker special feature in Lucky Halloween?
The Pumpkin Biker can transform the reels into special reels filled with precious symbols and can drag a huge 3×3 wild pumpkin on the screen to generate winning combinations.
What are the main symbols in Lucky Halloween?
The main symbols in Lucky Halloween are a witch hat, a bottle of magic potion, a blindfolded black cat, a cupcake with bat wings, a pumpkin full of gold coins, a cauldron full of colored balls, a haunted castle, and a ghostly motorcycle from Pumpkin Biker.
What we like
Spooky Halloween theme
Variety of special features
Engaging gameplay
Opportunities to win big
What we don't like
May not be suitable for those easily frightened
Limited betting range