Lucky Clover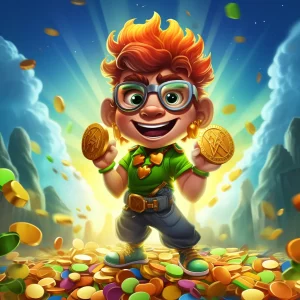 Lucky Clover is one slot game that will have you feeling lucky no matter what. With a simple 3×3 grid structure and an impressive 96.2% RTP, it's definitely one of the more straightforward games out there. But don't let its simplicity fool you- this game is anything but dull!
It's all about finding those lucky Shamrocks hidden behind the nine covered squares. Channel your inner treasure hunter, cross your fingers and tap the screen- who knows, you might just uncover an amazing treasure hidden behind any of those squares!
Graphics
So, here's the deal: Lucky Clover may not win any beauty contests, but that's not what we're here for, right? If you're looking for a slot game that dazzles you with its graphics, you may want to look elsewhere. However, if you're in it for some good old-fashioned gambling fun, this game is sure to impress.
The design may be minimalistic, but it's effective. There's no distracting soundtrack to take away your focus, and the commands are easy to find and control. The grid may be small, but hey, size isn't everything. It's what you do with it that counts, and in this case, the gameplay more than makes up for it.
So, let's be real here. Lucky Clover is like that one person at the party who isn't conventionally attractive, but who still manages to turn heads with their charm and wit. In this case, the charm and wit comes in the form of intuitive gameplay that lets you set your bets and search for those lucky Shamrocks. Who needs fancy graphics when you've got that?
Review: Get Lucky with Lucky Clover!
If you're looking for a game that's straightforward and luck-based, Lucky Clover may be the game for you! It's entertaining, even if you're an inexperienced player, but veterans may think it lacks a little bit of pizzazz and excitement since there are no free spins or additional features. But hey, sometimes you gotta go back to basics! The gameplay is simple yet intuitive, and you can even make your own luck with a combination of strategic moves.
Is This Game A Pot of Gold?
Well, folks, we've got a real winner here with Lucky Clover. Not only does it offer classic slot gameplay, but it also has a unique jackpot system centered around the Golden Shamrock. It's like hunting for a pot of gold at the end of a slot machine rainbow.
Just be careful of the Bombs – we don't want your luck to explode in your face. But fear not, you can save your winnings by picking one of the four Shamrocks manually. It's like being a lucky leprechaun with a bit of strategy thrown in. Just don't get too greedy like those gold-loving goblins.
Verdict: Is Lucky Clover Worth Playing?
Let's get real here, folks. Lucky Clover may not be the flashiest slot game out there, but it's got a unique charm that'll have you feeling like you're chasing rainbows. Speaking of which, the slot's Irish theme will have you feeling like you've got the luck of the leprechauns on your side. So why not give it a spin and see if you'll find that pot of gold?
Granted, Lucky Clover's minimal design may not be everyone's cup of tea. But for those who appreciate a straightforward, no-frills gameplay experience, this little gem might just be worth a shot. And look, who knows? Maybe you'll be one of the lucky players who can multiply their winnings through the game's unconventional mechanism. It's certainly worth a try!
All in all, we recommend Lucky Clover for those who want to dip their toes into the world of online slots without feeling overwhelmed. Or for those who simply can't resist anything Irish. Either way, this game will have you feeling lucky in no time.
FAQ
What is Lucky Clover?
Lucky Clover is an online slot machine that draws inspiration from an Irish theme with a 3×3 grid structure and an RTP of 96.2%.
What is the Golden Shamrock?
The Golden Shamrock is a special symbol in the game that allows the player to obtain lucky rewards through a jackpot that grows until you encounter a Bomb.
What is the aim of the game?
The aim of the game is to choose from the available boxes and try to multiply your winnings by selecting from one to four Shamrocks, trying to save the 5 Bombs that complete the grid.
What happens if I hit a Bomb?
If you hit a Bomb, you will lose everything, and you will have to start a new game from scratch without any amount of money.
Are there any additional features?
No, there are no free spins or additional features in the game.
Is it easy to play?
Yes, the gameplay is intuitive, has no particular animations, and allows you to set the amount you want to bet and select the boxes in search of lucky Shamrocks.
Is it a game of skill or luck?
Lucky Clover is a true test of luck that can lead you to make lucky moves through a mechanism that is purely manual.
Who is the game suitable for?
Lucky Clover is an interesting game for players who are less experienced and have not yet developed great skill in gambling.
What we like
Unique jackpot system
Intuitive and simple gameplay
Ideal for inexperienced players
Minimalistic design
What we don't like
Lack of additional features
Unexciting for advanced players