limbo cat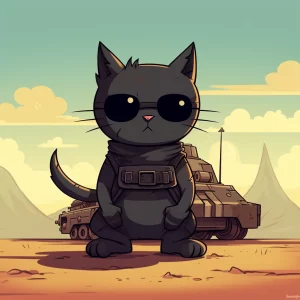 Get ready to embark on a wild adventure with Limbo Cat – a slot machine game like no other where you get to ride in a tank! This game is unique in its structure, with no reels or pesky paylines to worry about. Instead, everything is conveyed through a thrilling, continuous animation that'll keep you hooked from the start.
Managing your bets in the game is crucial since everything depends on the tank's movement. That means you'll need to figure out when to bet and when to withdraw your winnings to maximize your earnings. But don't worry – it's a simple game that repeats itself until you're satisfied with your winnings. Plus, you can bet on the fact that this game will have you feeling like a strategic mastermind (with a penchant for tanks).
RTP: Not Bad, Not Purrfect
Get ready to catwalk your way to potential wins in Limbo Cat! This slot game boasts an RTP of 95%, which is mediocre in the online slot world. But don't let that discourage you from giving it a whirl!
Limbo Cat is the black cat that crossed your path for good luck. It offers a unique game structure that strays from the typical slot game setup. So if you're ready to step out of your comfort zone and try something different, Limbo Cat could be right up your alley.
Bonuses
Ready to win big in Limbo Cat? This game features a cumulatively growing jackpot that's sure to get your heart racing. It's like the lottery, but with cute cats and explosions! Players can also increase their winnings through multipliers and special bonuses unlocked by the tank passing wooden boxes. Watch out, though, because not all boxes are created equal – some contain bombs that will blow up your tank, and your winnings along with it! Don't worry, though, you can always try again.
Unlike some other slot games, there are no free spins in Limbo Cat. But with all the bonus features and the excitement of that jackpot, who needs 'em? Trust us, you'll be on the edge of your seat the whole time you're playing this game.
Limbo Cat: This Cat's Got Your Jackpot!
Limbo Cat is about to take the online slot world by storm!
This feline-inspired game features a jackpot that's as unpredictable as a cat's mood and keeps growing the more you play along the track.
If you're lucky enough to uncover the bonus box, you could be in for a jackpot win of 10,000 times your total bet. But beware, because this cat has claws, and if you push your luck too far, you might end up losing all your winnings.
So, get ready to pounce, roll some dice, and spin those reels. With Limbo Cat, you're always one spin closer to the big win!
Graphics
Prepare yourself for a trip down a retro memory lane with Limbo Cat's graphics. The graphics may seem unconventional with no theme backgrounds, game grids, reels or paylines – but trust me, it's all part of the game's charm. Instead, players are presented with a simple screen that's as easy to navigate as a slide at the park.
It's easy on the eyes, with just the right amount of colors and an old-school vibe that feels like you're playing in an arcade. Keep your eye on the prize by following the animation of the tank located on the top left corner of the screen – it's there to provide players with a clear reference for their bets.
If you're looking for an artsy game that you can screenshot and use as your phone wallpaper, Limbo Cat may not be your first choice. But if you're looking for a game that's innovative and original, with a touch of nostalgia, then look no further.
FAQ
What is the RTP of Limbo Cat?
The RTP of Limbo Cat is 95%.
What type of game is Limbo Cat?
Limbo Cat is a unique and unconventional slot game that is different from traditional titles.
What kind of graphics does Limbo Cat have?
Limbo Cat has retro graphics and a simple screen with an animation of a tank in the top left corner. There are no themed backgrounds, grids, reels, or paylines.
Are there any Wilds or extra features in Limbo Cat?
No, there are no Wilds or extra features in Limbo Cat. The game is all about continuously animated betting with a cumulative jackpot.
Does Limbo Cat have a jackpot?
Yes, Limbo Cat has a unique cumulative jackpot that grows as the tank travels through the game. There are also multiplier boxes and bomb boxes that can affect your gameplay.
What is the maximum payout in Limbo Cat?
The maximum payout in Limbo Cat is 10,000x your bet.
Does Limbo Cat have free spins?
No, Limbo Cat does not have free spins.
Who developed Limbo Cat?
Limbo Cat was developed by Onlyplay, a developer known for offering unique and unexpected remote gaming solutions.
What we like
Unique gameplay and structure
Cumulative jackpot with special bonuses
Innovative and original graphics
Simple and easy to play
What we don't like
No free spins feature
Average RTP