Joker 40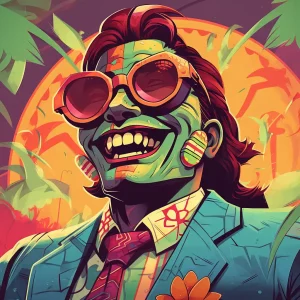 Get your clown makeup on and get ready to spin the reels of Joker 40 – a wild and wacky casino slot game. With 5 reels and 40 paylines, this game offers some fascinating ways to win big bucks. What's more? This medium-high variance slot machine also gives you a chance to hit the ultimate jackpot of 2,000 times your bet. That's right – you could be rolling in dough faster than you can say 'why so serious?'.
Wild Jokers Make Winning Combinations More Fun
If you're looking for some excitement in your slot game, look no further than "Joker 40." With the Wild Joker symbol, you can complete winning combinations with ease. This wacky guy substitutes for other symbols, giving you even more chances to win big. And don't forget about the Scatter symbol- a colorful Star that assigns free spins. Get ready to spin and win!
Get Ready for the Best Part: Free Spins!
Joker 40 is no joke when it comes to giving away free spins! Buckle up and get ready for the bonus round that can award you up to 30 free spins. That's right, you heard it! 30 free chances to win a big payout without spending a single dime. You can thank Joker 40 later for your luck.
Graphics and Design
Get ready to be transported back in time with Joker 40's retro design – the fruits, Lucky 7 numbers, and attention to detail in the graphics and animations are a nod to classic arcade games.
But don't let the simple design fool you – it's stunning! Each element has been crafted with care, including the animations that add an extra bit of excitement to your game play. It's almost like having your own personal cheerleader (minus the pom-poms).
So sit back, relax, and enjoy the nostalgic feels of Joker 40's graphics and design – just try not to get too caught up in reminiscing about the good ol' days and miss out on your chance to win big!
Betting Function: Double or Nothing
Let's talk about the betting function in Joker 40! This feature allows players to take a 50/50 shot at doubling their score after a winning turn. It's like having a second chance at greatness! But before you go all-in, remember that the betting option requires you to guess whether the hidden card is red or black. You've got to have nerves of steel for that!
For casual players, this can be an exciting way to boost their winnings. However, high rollers may find it too small and may prefer higher stakes. After all, they say go big or go home and who are we to argue. Nevertheless, it's a feature that adds a fun twist to the game, and we can appreciate that.
FAQ
What are the graphics and symbols of Joker 40?
Joker 40 has a graphic design inspired by arcade games with attention to detail and animations. It features a fruit cocktail and Lucky 7 numbers with golden stars represented with 3D graphics.
How many paylines does Joker 40 have?
Joker 40 has a structure of 5 reels and 40 paylines.
What is the variance rate of Joker 40?
Joker 40 uses a medium-high variance rate, meaning it awards interesting winnings with a possibility of winning a jackpot of 2,000x. However, the player needs to arm themselves with patience as the reels may spin for a while before generating significant winnings.
What are the special functions of Joker 40?
The central role in Joker 40 is the Joker-Wild feature, which appears on the reels to complete the winning combinations of a line by replacing other symbols. A bonus round is also included that offers up to 30 free spins, and a betting function with double the winnings after every winning turn.
What is the highest payout in Joker 40?
The highest payout in Joker 40 is up to 2,000 times the value of the bet placed.
Who is the developer of Joker 40?
Joker 40 is developed by Synot Games.
Is Joker 40 suitable for high rollers?
Joker 40 may satisfy mostly occasional bettors while high rollers may prefer larger betting options.
What happens if I guess the wrong card in the betting function of Joker 40?
If you guess the wrong card in the betting function of Joker 40, you lose everything you have collected in terms of winnings and leave the game empty-handed.
What we like
Interesting winnings and a chance to win a jackpot of 2,000x.
Special symbols (Wild Joker) that replace other symbols.
Bonus round that gives players up to 30 free spins.
Simple yet stunning design reminiscent of classic arcade games.
What we don't like
Betting function may not be attractive to high rollers.
Medium-high variance may not suit everyone.