Johnan Legendarian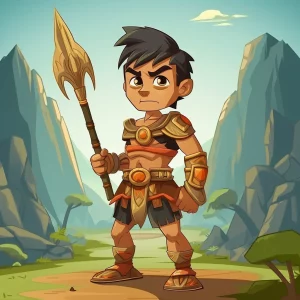 Looking for high stakes and big payouts? Look no further than Johnan Legendarian! The game's 5×3 gameplay structure and 10 paylines offer plenty of opportunities for big wins, and the Wild and Scatter symbols make for some exciting gameplay twists.
But the real excitement comes with the two bonus games that feature free spins! It's like getting a bonus on your bonus, just like when your boss gives you a raise… and then a promotion!!
Just imagine all the things you could buy with that kind of payday! You could finally afford that solid gold toilet you've always wanted.
Get Ready to Break the Bank with Johnan Legendarian's Bonus Features
Who says nothing in life is free? Johnan Legendarian begs to differ with its most interesting feature yet, The Super Bonus! If you're lucky enough to snag this feature by collecting special Bonus symbols, the slot assigns you 10 free spins. As if that wasn't enough to get your heart racing, Johnan Legendarian also boasts a point accumulation mechanism, leading you to the coveted 10 Super Free Spins. Time to dust off your lucky socks and give Johnan Legendarian a spin!
Graphics and Sound
Who knew a slot game could have better graphics and sound than most blockbuster movies? The hero of the game, Johnan Legendarian, looks like he could bench press a bear with one hand and still have time to save the day. He stands proudly on a dark background, flanked by giant wooden columns that only add to the epicness.
The soundtrack is equally impressive, with music that will get your heart racing and your feet tapping.
Rollin' in the Dough: Winning Potential
Get ready to collect some serious dough with Johnan Legendarian! With an impressive RTP of 96.03%, you'll have a winning chance that's hotter than a fresh batch of cinnamon rolls! Plus, with the potential to win up to 5000 times your bet, you can finally afford to treat yourself to that diamond-encrusted grill you've always wanted.
Just don't get too cocky, hot shot. While the extra features make it easier to win big, the base game isn't quite as lucrative. But hey, even winning a little bit is better than getting nada, am I right?
Patience and Accumulation: Working Together or Against?
Unlocking the Super Bonus feature in Johnan Legendarian requires a lot of patience. It's not for the faint-hearted. With an average wait of approximately 2,000 spins, you need the patience of a monk and the endurance of a marathon runner. However, don't let this deter you! Once you get there, the rewards are definitely worth the wait.
Thanks to the accumulation mechanic through Scatters, unlocking the feature is like an emotional roller coaster. You'll experience the highs and lows of anticipation, but keep in mind that this doesn't necessarily guarantee a quick win. If you want a game that takes you on a wild ride and keeps you on the edge of your seat, Johnan Legendarian is the one for you.
FAQ
What is the RTP of Johnan Legendarian?
The game has an RTP of 96.03%.
How many paylines are available in Johnan Legendarian?
There are 10 paylines available in the game.
What are the special features in Johnan Legendarian?
The game features Wild, Scatter, and 2 bonus games with free spins. There is also a Super Bonus that awards 10 free spins, which is obtained by collecting special Bonus symbols.
How much can I win in Johnan Legendarian?
The game has high volatility and the possibility of winning up to 5000 times your bet.
What are the symbols with the lowest value in Johnan Legendarian?
The Royal Cards ranging from 10 to A are symbols with the lowest value in the game, assigning 7 to 10 times the bet placed.
What is the Scatter in Johnan Legendarian?
The wizard is the Scatter that can replace all symbols and activate free spins. If you find 5 on the reels, you win 500 times your bet.
How do I obtain the Super Bonus in Johnan Legendarian?
To obtain the Super Bonus, you must collect special Bonus symbols. With each Scatter, it is possible to increase the progress bar and push towards obtaining 10 Super Free Spins. However, it requires patience and on average at least two thousand spins.
Is Johnan Legendarian a game worth playing?
Johnan Legendarian is a playable and entertaining game with good winning opportunities through special features. However, it requires patience to unlock the Super Bonus feature and win big.
What we like
High volatility and 10 paylines
Super Bonus feature with 10 free spins
Epic soundtrack and immersive graphics
Good chances of winning with extra features
What we don't like
Not as high winning potential in the base game
Requires patience to unlock Super Bonus feature