Jinns Moon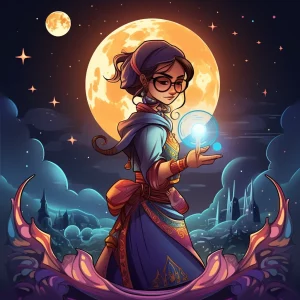 Roll the reels with Jinns Moon and get hooked on to the gameplay features and symbols. This slot has a traditional 5×3 reel structure and offers 50 paylines, providing players with ample opportunities to strike it big.
The game includes a variety of symbols such as playing cards from 10 to Ace, a scimitar, magic carpet, pot overflowing with gold, monkey, the gorgeous princess Wild, a scatter magic lamp that can grant you 8 free spins along with a truckload of cash when it appears three or more times. And, of course, it wouldn't be a moon-themed slot without a bonus symbol of a full moon, which can guarantee a multiplier ranging from 1x to 50x and activate the Fire Blaze Jackpot where you get three free spins to hunt for many more prizes.
While the princess only appears on specific reels, when she does make an appearance, it's a game-changer with a 75x multiplier on all five slots giving us a chance of winning big. But the winning doesn't stop here. With the Fire Blaze Jackpot, a chance to hit the Grand Jackpot, which is the total bet multiplied by 2,000, becomes a possibility. The Major jackpot, the Minor jackpot, or the Mini jackpot are all up for grabs too, with the players winning a total bet that can be multiplied up to 500 to 20x, respectively. So why wait when Jinns Moon is waiting for you?
RTP and Volatility: Proof that Jinns Moon isn't bluffing!
So here's the deal – Jinns Moon has an RTP of 96.58%, which is higher than the IQ of some exes I've had. Seriously, how do some people function?
Anyway, where were we? Oh, right – this casino game also boasts high to very high volatility. It's like playing a game of poker with Lady Luck. Sometimes she's generous and other times she's just being a real pain in the slot!
But all in all, when you do hit that payout, it's going to feel like a magic carpet ride (except without the danger of being attacked by bandits or flying over hot lava).
Jackpots and Bonus Rounds: Will Jinns Moon Deliver Cosmic Wins or Just Go Lunar?
Are you ready to win big? Then Jinns Moon is the game for you! This online slot game offers not one, not two, but three types of progressive jackpots. Talk about out-of-this-world payouts! The Grand jackpot is the highest and can be won by covering the entire game reels with moons and stars. But that's not all, folks! Jinns Moon also features a Fire Blaze Jackpot with a Bonus symbol that can trigger respins, giving you a shot at landing one of the four jackpots up for grabs.
Like a magical genie, Jinns Moon grants you the gift of free spins! Every time the scatter symbol appears three times or more, you get eight free spins. Who needs a lamp when you can win big like a superstar in this slot game?
Betting Range: A Bet for Everyone!
Looking for a slot game that won't break the bank? Then Jinns Moon is the answer to your prayers! This game has a betting range that caters to both low and high rollers, making it accessible to a wide range of players. With a minimum bet of only $0.25, you won't have to sacrifice your daily cup of coffee to spin the reels.
But if you're feeling lucky and want to go all in, Jinns Moon has got you covered too! The maximum bet of $500 will surely give you a rush. And if you're feeling a little lazy, you can activate the automatic spins feature ranging from 5 to 100, sit back, and let the game do the work for you.
So whether you're a penny-pincher or a high-roller, Jinns Moon has a bet for everyone. Who knows, maybe Jinns Moon will make all your wishes come true!
Graphics and Sound
If you're looking for a slot game that transports you to a magical world of Arabian Nights, look no further than Jinns Moon. The game's graphics are absolutely stunning, with a color scheme that evokes the vibrant hues of the desert and symbols that practically come to life with each win or bonus.
But it's not just the visuals that make Jinns Moon such a captivating experience. The soundtrack is equally enchanting, setting the perfect mood for players to lose themselves in this mystical world. Prepare to be dazzled by the game's tranquil and magical soundscape, which blends seamlessly with the game's theme.
FAQ
What is the minimum bet in Jinns Moon?
The minimum bet in Jinns Moon is $0.25 per spin.
What is the RTP of Jinns Moon?
Jinns Moon has an RTP of 96.58%.
What is the maximum bet in Jinns Moon?
The maximum bet in Jinns Moon is $500 per spin.
How many paylines does Jinns Moon have?
Jinns Moon has 50 fixed paylines.
What is the highest-valued symbol in Jinns Moon?
The monkey is the highest-valued symbol in Jinns Moon.
What is the Wild symbol in Jinns Moon?
The princess is the Wild symbol in Jinns Moon.
What is the Scatter symbol in Jinns Moon?
The Scatter symbol in Jinns Moon is the magic lamp.
What are the Jackpots in Jinns Moon?
Jinns Moon has 3 level Jackpots: Grand, Major, and Minor with a total bet multiplication of 2,000x, 500x, and 100x respectively, and a Mini Jackpot with a total bet multiplication of 20x.
What we like
Three types of progressive jackpots
High RTP of 96.58%
Beautiful graphics and oriental-inspired soundtrack
Betting range suits both low and high rollers
What we don't like
High volatility may deter some players
Princess Wild can only appear on reels 2-5