Jewel of the Dragon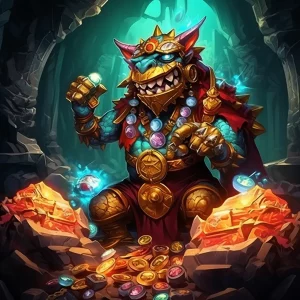 Jewel of the Dragon is one of the most exciting slots out there, thanks in large part to its unique 5×4 grid, which features a staggering twenty symbols at once! That's a lot of sparkly jewels and treasure to keep track of, but trust us, you won't want to take your eyes off the screen for a second.
But the real dragon magic happens when you hit the bonus mode. By snagging at least three dragon symbols, you can score some sweet free spins with fixed wild symbols. That means even more chances to take home some serious treasure and become the ultimate dragon champion. And let's be real, who doesn't want to be a dragon champion?
Dragon Theme
Are you ready to brave the fiery depths guarded by the mighty dragon in Jewel of the Dragon? This classic theme has been given a fresh spin and offers a chance to win some shiny treasures. While the graphics might not be as flashy as some other slots, the bright and bold colors make it stand out in a crowded room.
Get Your Spin on for Free
Ready to enter the fiery lair of the Dragon? If you're looking for some serious value, make sure to keep an eye out for the Dragon symbol, as it unlocks a wave of free spins and fixed Wild symbols. And trust us, these free spins might just breathe some serious fire into your coins. Don't fret, even if the free spins can't be triggered again, the excitement they bring along won't be forgotten easily. You may even walk away with winnings as high as 165 times your original bet, and that's nothing to sneeze at.
Potential Winnings: Will You Be the Treasure Hunter?
Are you ready to seek out the coveted treasures of the Jewel of the Dragon slot game? Look no further than the elusive Dragon symbol, which can reward you with free spins and generous payouts. With up to 165 times your initial bet up for grabs, it's a slot game that can surely heat up your pockets and make your heart skip a beat or two.
Just don't forget that the size of your bet will impact your overall winnings. So if you want to hit the jackpot, you better be prepared to go all-in and channel your inner treasure hunter. With the Jewel of the Dragon, the sky's the limit, so why not give it a spin and see if you can turn those gems into gold?
Other Slots that Breathe Fire
Move over Game of Thrones, anyone who's anyone is now a dragon fan! Jewel of the Dragon is one of the many scorching hot online slots out there that pay homage to our favorite mythical beasts. Other games that have been slayed by the dragon fever include Dragon's Revenge, a game where you can get revenge on all those dragons who've hoarded your gold, Dragon Island, where you can actually build your own dragon paradise, and Flaming Dragon, a game that takes temperatures to the extreme.
Of course, these aren't the only games in the house of the fire-breathing reptile; there's the tantalizing Gold Dragon Red Dragon, where you can win so much money, you'll start spitting flames! There's also the adorable Dragon Dozer, a game that's based on the popular Japanese arcade game, and 88 Dragon, a game that technically doesn't have any real dragons, unless you count the golden one that materializes when you hit the jackpot.
FAQ
What is Jewel of the Dragon?
Jewel of the Dragon is an online slot game that revolves around a dragon-guarded treasure theme.
What do the graphics look like?
The game grid is basic, showing a background of mountains of gold coins without any lines to delimit the reels. The symbols are simple and colorful.
What kind of symbols can I expect to see while playing?
The symbols include card symbols, bells, and jewels such as a crown rich in precious stones, as well as the dragon symbol which is the key to the bonus mode.
How does the gameplay differ from other slot games?
Jewel of the Dragon uses a 5×4 mechanism with twenty symbols displayed, and offers a bonus mode where finding at least three dragon symbols results in free spins with fixed Wild symbols that can increase winnings.
Can free spins be retriggered during the bonus mode?
No, free spins cannot be retriggered during the same mode.
What other slot games are similar to Jewel of the Dragon?
Other slot games with a dragon theme include Dragon's Revenge, Dragon Island, Flaming Dragon, Gold Dragon Red Dragon, Dragon Dozer, 88 Dragon, and Sakura Dragon.
Is Jewel of the Dragon a good game for beginners?
Jewel of the Dragon may be better suited for experienced gamblers due to its unique gameplay and bonus mode.
What is the maximum winnings value for a spin?
It is not uncommon to get rather generous winnings of up to 165 times our bet during the bonus mode.
What we like
Unique gameplay mechanics with a 5×4 game grid
Dragon theme with vibrant colors
Free spins with fixed Wild symbols
Potential for generous winnings
What we don't like
Graphics are rather minimalist
Free spins cannot be retriggered during the same mode