Iron Bank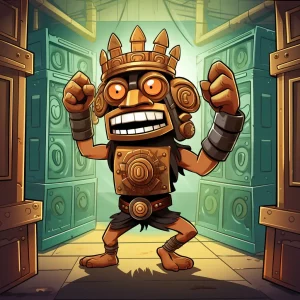 Are you feeling tired of the same old casino games? Fear not! The Iron Bank slot game by Relax Gaming has got you covered with a unique and fresh theme that humanizes your favorite animals.
Instead of the predictable Egyptian, Oriental, or Greek themes, Iron Bank sets itself apart with its cool critters and snazzy gameplay. Who knew that pigs and rabbits could be such high-rollers?
Get Your Game On: Iron Bank Symbols
Holy smokes, have you seen the symbols in Iron Bank? This online slot game keeps things minimalistic, but the symbols sure do pack a punch. The game interface is almost entirely filled with a 6×4 grid of symbols, offering players more chances to win big than other slot games could ever dream.
Looking for some unique symbols? Iron Bank delivers. Along with classic icons like cigars, bananas, and rum, players can expect to see some animal action too – we're talking cheetahs and bulls, baby! These symbols will have you feeling like you're in a wild safari, even if you're just playing from your couch.
The Iron Bank: When Your Luck is of No Concern
Looking for a slot game that really packs a punch? Look no further than the Iron Bank! With an RTP rate of 96.2%, this game is pretty standard when it comes to return to player rates. But don't let that fool you – this game has high volatility, which means you might experience some dry spells. But stick with it, and the rewards can be *iron*-clad. Get it?
If you're the kind of person who loves high stakes and is prepared to take on Lady Luck herself, the Iron Bank is the game for you. Just make sure your bank balance can handle it…
The Iron Bank's Mysterious Folders: A Special Mode You Can Bank On
The Iron Bank is not your average online slot game, and the special feature is a big reason why. Randomly activated folders hide certain symbols and reveal them all at once, potentially leading to massive wins. It's like a slot game version of hide and seek, except the only thing hiding is your money – and the only one seeking is you.
But don't worry, you won't have to rob a bank to unlock the bonus mode. Just look out for the bank vault, the Scatter symbol that activates different functions, volatilities, and numbers of spins. With up to 12 spins available, it's like having your own personal slot game ATM.
And if you can't wait for the Scatter symbols to appear, there's always the option to bankroll your way into the bonus mode, literally. Just be sure you don't end up needing to borrow any money from the Iron Bank after.
Get Hooked on Iron Bank's Aesthetics and Gameplay
Hold on to your hats, folks! Iron Bank has arrived and it's bringing its A-game. The developers went all out with the design and nailed it. The symbols are so artfully crafted that you won't be able to resist getting lost in this game. The music is lowkey, but it makes you feel like you're in a Latin dance club, shaking your hips with every spin.
When it comes to gameplay, Iron Bank definitely doesn't disappoint. With an impressive number of symbols and perfect RTP rate, it's hard to go wrong.
Overall, we're happy to say that Iron Bank is a complete slot game package. If you're a fan of a game that is both visually stunning and loaded with high-quality gameplay mechanics, then Iron Bank is the game for you.
FAQ
What is the theme of Iron Bank?
The theme of Iron Bank is the humanization of animals.
What is the game interface like?
The game interface is minimalist to focus on the symbols. The game grid almost entirely occupies the interface with some space for the bank's name.
What are the special symbols in Iron Bank?
The special feature is the mysterious folders that can randomly hide and reveal symbols. The bank vault is the Scatter symbol that unlocks the bonus mode.
What is the RTP of Iron Bank?
The RTP of Iron Bank is 96.2%, which is standard for the market.
What is the volatility of Iron Bank?
The volatility of Iron Bank is high, so expect a certain number of spins without winnings or with low winnings before a big win.
How many symbols are shown in the game grid of Iron Bank?
The game grid of Iron Bank has 24 symbols arranged along the pay lines, which is significantly higher than other online slots.
How do you activate the bonus mode in Iron Bank?
The bonus mode is activated by finding enough bank vault Scatter symbols, purchasing it with the button on the left, or activating the special mode that assigns two Scatter symbols.
What other slots are similar to Iron Bank?
Sherlock A Scandal In Bohemia by Tom Horn Gaming and Sherlock of London by Rabcat are similar slots with a theft and mystery theme.
What we like
Unique theme that humanizes animals
Minimalist game interface with emphasis on symbols
Good RTP rate of 96.2%
Special mode with hidden symbol reveal for substantial wins
What we don't like
High volatility may result in long dry spells
Bonus mode may require purchases