Inca's Treasure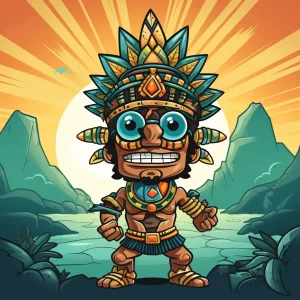 Are you looking for an online slot game with a classic gameplay structure? Look no further than Inca's Treasure, a 5×3 slot with 20 paylines and some exciting symbols, including a wild and a scatter.
Don't underestimate the Inca king wild symbol – he's more useful than a Swiss army knife. He can replace other symbols, helping get you closer to your treasure.
The talisman or star-shaped Scatter symbol is your key to the coveted free spin mode. With three talismans, you'll get a chance to spin the reels on the house. And if you're lucky enough to uncover a pyramid on your journey, you could earn even more free spins and multipliers by picking some mysterious stones. What's inside? Gold? Truth? Potato? Only time will tell.
Visual Design: A Feast for the Eyes
The Inca's Treasure slot game is like eye candy for the adventurous gambler. The designers spared no expense creating a visually stunning interface that will make you feel like you're exploring an ancient Peruvian treasure trove. What's most impressive is the attention to detail: even boring old letter symbols like K, Q, and J have been tarted up in native style – that's dedication.
Not to mention, the immersive sound design really seals the deal. You'll feel like you're tromping through the jungle, uncovering ancient relics, instead of just spinning reels. Just be warned: you might get so caught up in the game, you forget you're not actually a treasure hunter.
The Gold Rush: Symbols, Multipliers, and Bonus Features in Inca's Treasure
Prepare to be dazzled by Inca's Treasure and its exciting slots game dynamics! The undisputed ruler of the reels is the Inca king, which is the wild symbol of the game. It's so powerful that it can substitute for any other normal symbol. Talk about royal treatment! The talisman Scatter symbols are as precious as gold, granting you access to the coveted free spins feature. It's like getting to raid the Inca's fabled treasure trove without the fear of booby traps!
The free spins feature is more than just free spins. It unlocks a mystical pyramid that contains a certain number of free spins and a multiplier on winnings. And yes, you get to choose a certain number of stones from the pyramid to uncover treasure galore! It's like playing a game of secrets with the Inca but instead of priceless artifacts, you're getting multipliers on all your winnings. And if that's not enough, the mode can grant you additional free spins and multipliers. Talk about a win-win situation!
How Inca's Treasure Outshines Its Competitors
Move over, Mayan Riches and Mayan Temple Revenge! There's a new pre-Columbian slot game in town and it's stealing the spotlight. Inca's Treasure not only has a stunning interface that transports you to the majestic ruins of Machu Picchu, but it also offers more ways to win big than its competitors.
The Lost Incas by iSoftBet may have similar ancient South American vibes, but Inca's Treasure takes the cake with a unique and engaging free spin mode. You're not just limited to a set number of free spins – keep on winning and the free spins keep coming! Plus, multipliers abound to help you really rack up the gold.
So don't settle for a run-of-the-mill pre-Columbian slot game. Choose Inca's Treasure and experience the riches of the Inca empire like never before.
Exploring Pre-Columbian Civilizations in Slot Games
Move over Cleopatra, there's a new historical slot game in town. Inca's Treasure takes us on an adventure through the pre-Columbian civilizations with its unique and captivating theme. Forget about pyramids and gladiators, this game has got llamas and Machu Picchu!
While the quest for El Dorado might seem like a bit of a long shot, Inca's Treasure brings us one step closer to the gold with its engaging free spin mode. Plus, you're sure to learn a thing or two about the native style and traditions of this ancient civilization.
FAQ
What is Inca's Treasure?
Inca's Treasure is an online slot game that has a historical theme based on the pre-Columbian civilization. The game offers a 5 * 3 mechanism, with five reels and three symbols, along with 20 pay lines.
Who developed Inca's Treasure?
Inca's Treasure was developed by Tom Horn Gaming, a popular online gaming house.
What is the Wild symbol in Inca's Treasure?
Inca's Treasure has a Wild symbol that is represented by an Inca king, which is capable of replacing all other normal symbols.
What is the Scatter symbol in Inca's Treasure?
Inca's Treasure has a Scatter symbol which is a star-shaped talisman. Getting at least three of these symbols will activate the free spin mode.
What happens in the free spin mode in Inca's Treasure?
In the free spin mode, players can win extra spins and multipliers. The multiplier adds to the winnings, while the extra spins provide more rounds of gameplay.
What other games are similar to Inca's Treasure?
Mayan Riches, Mayan Temple Revenge, and The Lost Incas by iSoftBet are other games with similar historical themes based on the pre-Columbian civilization like Inca's Treasure.
Is Inca's Treasure a visually appealing slot game?
Yes, Inca's Treasure is visually appealing with a native style reflected in every feature of the slot. The game's wooden and colorful feather frame along with various symbols inside the grid make the game more immersive for the players.
Does Inca's Treasure have suitable sound and music?
Yes, Inca's Treasure has appropriate music and sound effects that match the game's native style. The music is soft and theme-appropriate and does not distract players from their gameplay.
What we like
Engaging gameplay mechanics with wild and scatter symbols
Visually stunning and immersive interface
Free spins feature with additional spins and multipliers
Unique and well-designed compared to similar slot games
What we don't like
Limited variety of symbols and themes
The free spins feature can be difficult to trigger