Hot 4 Cash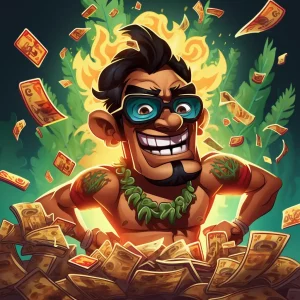 Looking for a slot game that packs a punch of nostalgia and quirky gameplay? Look no further than Nolimit City's Hot 4 Cash. The game boasts five retro-inspired reels with ten paylines and unique features you won't find in your average slot game.
What really sets this game apart is its innovative bonus system. Hot Zones can randomly appear on the reels and, if triggered, can lead to a variety of bonus rounds and payouts. Don't worry, this isn't some lame gimmick- Hot 4 Cash actually offers a decent payout for those bold enough to try their luck.
One thing to keep in mind is that the game's features are activated by standard game symbols. So don't lose hope if Lady Luck isn't on your side right away- it may take a few spins to hit those symbols and unlock the real benefits. But hey, good things come to those who wait (and spend all their money, am I right?).
Get Rich Quick: Payout values and symbols
If you're looking to strike it rich playing Hot 4 Cash, keep your eyes peeled for the red seven symbol. Landing five of these gems on a payline will payout a whopping 30x your original bet! Not feeling particularly lucky? No worries, the green and blue seven symbols payout at a respectable 25x and 20x respectively.
Keep the excitement going with the gem symbols, which come in three dazzling colors, or the cherry symbol, also available in red, green, and blue.
Unfortunately, this game doesn't feature any scatter symbols, but hey, you can't have it all! So come on down to Hot 4 Cash and see if Lady Luck is on your side!
Bonus Features: More Than Just 'Hot Zones'
Hot 4 Cash's bonus features are not just a boring afterthought! With three unique rounds available, you're in for a treat. Plus, these features are easy to trigger – simply land symbols in the Hot Zones!
First up, there are the Super Free Spins which give players a chance to earn extra spins for free. To trigger these spins, land four identical symbols in the Hot Zones. Talk about easy money!
Then there are the Colossal Spins, which kick in when you land four of the same symbols on the reels, and the central reel becomes a giant symbol. It's like the game is saying, 'Go big or go home!'
Finally, we have the Wheel of Fortune feature. This one requires players to land four symbols of the same color in the Hot Zones. Once you do, this special wheel will appear with a chance to earn some serious cash. The biggest cash multiplier you can hit with these bonus features is a whopping 250x – now that's what we call 'hitting the jackpot'!
Game Design and Audio
Prepare to be transported back in time with the retro design and classic slot symbols in Hot 4 Cash. It's like traveling in Doc Brown's DeLorean, only without the confusion about when to throw in the lightning rod. The reel-set may be unusual, but the ten paylines make for some thrilling winning results. The graphics are so vibrant and animated, it's like experiencing a technicolor dream. The developers paid great attention to detail, providing a full retro/classic version experience that will keep you entertained. As for the audio theme, it's decent, but let's be honest – you're here for the gameplay and the chance to win big bucks. However, the swooshes and jingles that accompany each slot action provide a nice touch.
Overall, the game's styling invites players in for a fun reel action and nostalgia trip. With No Limit City developers on board, it's no surprise that this game is making waves in the online slot world. I mean, they might even be the ones to finally settle the age-old debate: which is better, 80s or 90s? Spoiler alert: we all know it's the 80s.
Crazy Symbols: Wild and Scatter
Hold your horses! This game has a wild symbol that does more than just replace other symbols; it's wilder than a rodeo clown! And there are no scatter symbols in the game, so you'll have to rely on your own wits to win big. But who needs scatters when you have wilds that can take over the game?
Super Free Spins!
Are you ready for the ultimate slot game experience? Hot 4 Cash has got you covered with their Super Free Spins feature. All you have to do is land four matching symbols on the Hot Zones, and voila! You're treated to seven free spins.
During these Super Free Spins, the symbols that triggered the feature turn into WILDs, and if you're really lucky and land more of them, they'll become sticky WILDs. It's like a sticky bun, only better! So get ready to rev up those reels and hit those Hot Zones like a champ!
Other Hot Picks!
If you're a fan of Hot 4 Cash, then don't worry – there are plenty of other games to get your pulse racing! Take for example, Space Arcade – an out-of-this-world slot game from Nolimit City with abstract symbols that are totally trippy, and multipliers that will send your winnings soaring! And speaking of soaring, the Neon Staxx slot game by NetEnt boasts stunning, futuristic graphics and stacked symbols that give you the chance to win big! These games have got it all – so pick your poison and get spinning!
FAQ
How many paylines does Hot 4 Cash have?
Hot 4 Cash has ten paylines
What is the maximum payout on Hot 4 Cash?
The maximum payout on Hot 4 Cash is 30x on the most profitable symbol.
How many bonus features does Hot 4 Cash have?
Hot 4 Cash has three bonus features.
How are the bonus features triggered in Hot 4 Cash?
The bonus features in Hot 4 Cash are triggered by landing on specific combinations of symbols and colors during the base game.
What is the most profitable symbol in Hot 4 Cash?
The most profitable symbol in Hot 4 Cash is the red eight, which pays out 30x multiplied by the winning bet when five of them fall on a line.
What is the biggest base game win on Hot 4 Cash?
The biggest base game win on Hot 4 Cash comes from five red sevens that pay out 3000 Dollars when the maximum bet is 100.00 Dollars.
What similar games are there to Hot 4 Cash?
Similar games to Hot 4 Cash include Space Arcade video slot by NoLimit City and Neon Staxx slot by NetEnt.
What is the Wheel of Fortune bonus round in Hot 4 Cash?
The Wheel of Fortune bonus round in Hot 4 Cash is triggered when four of the same colors land in the hot zones. The player can spin the wheel to win higher multipliers, with the biggest prize being 250x on the triggering bet.
What we like
Unique design and retro theme
Decent payout and bonus features
Hot Zones trigger bonus rounds
Wild symbol replaces other symbols
What we don't like
No scatter symbols in the game
Only three bonus rounds