Hold4Timer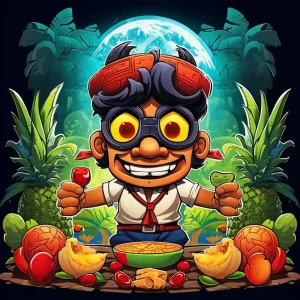 Hold4Timer is like a juicy fruit salad gathered in a 3×3 classic slot game with six paylines and medium to low volatility. It's so fun to play, you'll feel like you're winning even when you're not. The game amps up when you get three identical fruit symbols all in a row on the same payline, and you can win up to $160,000 in a single spin. That's enough money to buy a lifetime supply of every fruit in the world and still have some extra cash to spare. Go ahead and give this game a spin!
Symbols
Get ready to salivate over the fruit symbols in Hold4Timer – lemon, watermelon, oranges, and pears. But don't worry, the 7 and Golden Crown symbols are here to keep things fancy.
Remember, winning combinations pay from left to right so keep your eyes peeled for those juicy rewards. Three lemons, oranges, or pears will earn you a juicy 8x your bet, but go for the raspberries, melons, 7s or Crowns and watch that multiplier climb up to 16x. Who knew fruit could be so lucrative?
Features
Hold4Timer is not your ordinary slot game. It offers special features that will make spinning the reels even more exciting. One of these features is the Super Stake, which activates when the Wild symbol appears, and replaces all other icons. It's like having your own personal cheerleader cheering you on to win.
After every winning combination, players can choose to double their prize through the Gamble Option. It's like playing a game within a game. Who says you can't have your cake and eat it too? (Just make sure to brush your teeth after all those sugary wins.)
Compatibility
Hold onto your seats, because Hold4Timer is compatible with both desktop and mobile play! It's optimized graphics will make it look just as good on your smartphone or tablet as it does on your computer.
Grab your favorite device and get ready to spin those reels wherever you are! No need to worry about being tethered to your desk or carrying around a clunky laptop, because this game is ready to roll with you.
Even if you're on the go, Hold4Timer has got your back.
Graphics That Will Take You Back in Time
Hold on to your seats, folks, because Hold4Timer is taking us back down memory lane with its classic and colorful graphics. Get ready to spin the reels with vintage-style icons and retro sounds that will make you feel like you're in a 90s arcade hall. But hold up, that's not it! This game throws in some modern touches such as the Super Stake and Gamble features to keep you on your toes and give you that modern gaming experience.
FAQ
What is the return to player (RTP) of Hold4Timer slot?
The RTP of Hold4Timer slot is 95.01%, which is considered an average value.
What is the maximum win on a single spin while playing Hold4Timer?
The maximum win on a single spin while playing Hold4Timer is $160,000.
What are the basic symbols in Hold4Timer?
The basic symbols in Hold4Timer are lemon, watermelon, oranges, and pears.
What is the Wild symbol in Hold4Timer?
The Wild symbol in Hold4Timer is depicted by the word itself.
What is the Super Stake feature in Hold4Timer?
The Super Stake feature in Hold4Timer is activated when Wild symbols are added to the reels to replace all other symbols and increase the chances of winning more.
What is the Gamble Feature in Hold4Timer?
After every winning combination, the Gamble Feature is launched so you can try to double your prize by choosing 'heads' or 'tails'.
Is the Hold4Timer slot available on mobile devices?
Yes, Hold4Timer slot is available on all types of smartphones and tablets.
What kind of volatility does Hold4Timer have?
Hold4Timer has medium to low volatility, which means that you can expect to win frequently, but the payouts may not be very high.
What we like
Super Stake feature increases winning chances
Gamble option allows players to double their prize
Compatible with desktop and mobile devices
Colorful and classic graphics with modern touches
What we don't like