Gorilla Gold Megaways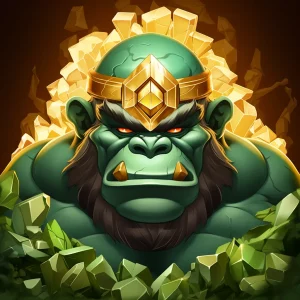 Get ready to go bananas with Gorilla Gold Megaways! This wild and zany slot game will have you hanging from vines in no time. The game features not one, not two, but four slots grouped together for maximum gorilla-themed excitement.
Each slot boasts six vertical reels and one top horizontal reel, with a variety of symbols ranging from two to seven symbols each. It's like the jungle has come to life on your screen! But that's not all – with the Megaways engine, up to 117,000 pay lines per slot can be used, giving a whopping maximum of 470,000 ways to win across all four areas.
If you love gorillas (and seriously, who doesn't?), you'll be thrilled to know that the game's wild symbol is a big, bold, beautiful gorilla. And if you're lucky enough to snag him, he'll replace any other symbol to increase your chances of a big payout. Plus, the Scatter Symbol is the game's logo, which is fitting because this slot is definitely something worth shouting from the treetops about!
Graphics and Animations
Are you ready to be transported through the jungle with Gorilla Gold Megaways? Hold on tight, because this game's graphics and animations are absolutely wild! The attention to detail is impressive, and it's clear that the developers really put their all into creating a visually stunning game.
One thing that really stands out about Gorilla Gold Megaways is the outstanding presentation. From the moment you start playing, you'll be blown away by the high-quality graphics, smooth animation, and realistic sound effects. The dark-colored screen adds to the jungle atmosphere and creates an immersive environment for players.
It's evident that the designers spent a ton of time crafting every little detail of this game. Each of the four gaming zones is filled with eye-catching graphics, and the smoothness of the gameplay will make you feel like you're really in the jungle alongside these mighty gorillas.
If you're looking for a slot game with top-notch graphics and animations, Gorilla Gold Megaways is definitely worth checking out. It's a wild ride that you won't want to miss!
Pay Lines and Exciting Ways to Win!
If you're looking for a slot game that offers plenty of ways to win, look no further than Gorilla Gold Megaways! Thanks to the Megaways engine, players can utilize up to a staggering 117,000 pay lines per slot, providing a maximum of 470,000 ways to come out victorious across the 4 areas of the game.
Of course, winning is never easy, but Gorilla Gold Megaways is definitely worth the effort. All players need to do is find at least three winning symbols except for the Gorilla himself. And let's be honest, who doesn't want to win like a silverback gorilla? With Gorilla Gold Megaways, you'll be roaring with victory in no time!
Speaking of the Gorilla, did you know that he only needs two symbols to grant you some epic wins? Talk about strength in numbers! And if you're lucky enough to land the diamond symbol, which is the Scatter, you'll trigger the Gorilla Gold Bonus. This unique bonus feature offers anywhere from 20 to 35 free spins, and it continues to up the ante with 15 to 30 super spins. That's an incredible amount of potential winnings!
Symbols and Payouts
Get ready to swing with the Gorilla Gold Megaways slot game! The symbols on the reels are a who's who of the jungle. You'll find a purple snake, a crocodile, a fierce tiger, and of course, the king of the jungle, the mighty Gorilla. The Gorilla symbol is the most valuable symbol with a potential payout of up to 50 times your bet!
The diamond symbol is the Scatter, and when it appears three or more times, it activates the Gorilla Gold Bonus! I don't know about you, but I always feel fancy when I trigger a bonus round. And, if that isn't enough, there are other symbols that trigger payouts as well! All you need is a minimum of three matching symbols on the reels, except for the Gorilla symbol, which only requires two.
Overall, Gorilla Gold Megaways has a unique and colourful jungle theme, and its symbols and payouts do not disappoint. So, what are you waiting for? Take a trip to the jungle and see if you can strike it lucky!
Rtp And Betting Range: All You Need To Know About Gorilla Gold Megaways
Gorilla Gold Megaways is a casino slot game that offers its players the chance to enjoy a captivating and immersive experience. If you are ready to part with some cash and spin those reels, here's what you need to know.
First off, the minimum bet you can place in the game is $0.10, while the maximum is $10. And yes, we all know that some of you high rollers are already snickering at the thought of risking just $10. But hey, the game makes up for it by multiplying every bet by 5 times. That's right, 4x for the 4 slots and 1x for the super bet. So, keep that in mind while you're placing your bets and making your calculations.
Did you know that Gorilla Gold Megaways has a Super Spins function? This feature unlocks all 4 slots and, as if that wasn't exciting enough, it also multiplies the wins by adding to the winning cascade. So, for those of you who need a little extra boost of adrenaline, this feature is for you.
Now, if those details are not enough to convince you to give Gorilla Gold Megaways a try, we have one more ace up our sleeve – the game boasts an impressive RTP value of 97%. Yes, you read that right, 97%. We don't mean to make any wild promises, but that's almost a guaranteed win, right? Well, maybe not, but at least you know that your chances of winning big are higher with this game than with many others out there.
So, don't hesitate any longer – it's time to spin those reels and see if the gorillas, monkeys, and the other inhabitants of the jungle are feeling generous today!
FAQ
What is Gorilla Gold Megaways?
Gorilla Gold Megaways is an online slot game that has 4 slots grouped in one, featuring up to 117,000 pay lines per slot.
What kind of symbols can I find in Gorilla Gold Megaways?
Among the creatures of the jungle, you can find a purple snake, a crocodile, a tiger, and the protagonist, the Gorilla, which is worth up to 50 times the bet made.
How do I activate the Gorilla Gold Bonus?
The diamond symbol is the Scatter that activates the Gorilla Gold Bonus, which offers from 20 free spins + 15 super spins to a maximum of 35 free spins + 30 super spins.
Is there a Gamble feature in Gorilla Gold Megaways?
Yes, there is a Gamble feature that allows you to increase spins on a wheel divided between green and red: in the former case, power-ups are received, while in the latter, smaller wins should be expected.
What is the Super Spins function in Gorilla Gold Megaways?
The Super Spins function allows you to unlock 4 slots and multiply the winning cascade, where winning symbols explode on the reels to make room for new symbols that will give you more chances of winning.
What is the minimum and maximum bet for Gorilla Gold Megaways?
You can play with bets ranging from $0.10 to $10.
What is the RTP value of Gorilla Gold Megaways?
The slot relies on an incredible RTP value of 97%.
How is the gameplay mechanics in Gorilla Gold Megaways?
With its Power 4 Play, the gameplay mechanics is incredible, and it allows you to play on four identical vertical reels, one top horizontal reel, and a number of symbols ranging from 2 to 7 symbols through the amazing Megaways engine.
What we like
Megaways engine with up to 470,000 ways to win
High-quality graphics and smooth animations
Gorilla Gold Bonus with free spins and super spins
Impressive RTP value of 97%
What we don't like
Minimum bet limit of $0.10 may not suit all players
Limited number of bonus features