Golden Clover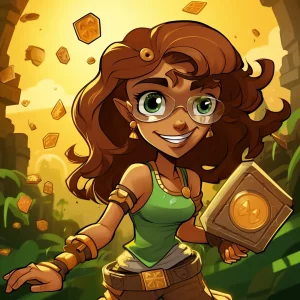 If you're looking for a unique and exciting slot game experience, look no further than Golden Clover! Developed by Onlyplay, this innovative game offers a fresh take on classic computer games.
This 3×3 slot game challenges players to maneuver between shamrocks and bombs to increase the value of their winnings. While it may sound risky, the potential payouts are worth the gamble!
With lottery-style mechanics, Golden Clover allows you to personally choose the cells on the reels. This means you can put your luck to the test and pick the symbols you think will give you the biggest payout.
And when you do hit a winning symbol, the excitement really kicks in! Watch as your winnings multiply before your eyes. But be warned: if you reveal a losing symbol, you'll have to start over from scratch.
Overall, Golden Clover is a fun and engaging addition to the world of online slots. So why not take a chance and see if you can strike it lucky?
Exploring the Features and Gameplay of Golden Clover
Golden Clover is a game that's perfect for those who want to keep things simple, yet still have a chance at winning big! And, let's face it, who doesn't want to strike it rich?
Right off the bat, Golden Clover doesn't offer many surprises in terms of gameplay. Don't worry though, this also means there are no complicated bonus games to distract from the basic pleasure of spinning, waiting and landing a winning combo.
As you start playing, you'll notice that it's just you and your good old-fashioned luck at work here. There are no extra functions or special bonuses to provide a shortcut to big winnings. It's all about taking control of your luck and making the right choices. It's almost like playing a game of poker with only one move allowed.
The interface is fairly straightforward, meaning if you're used to playing online slots, then you won't be in for any surprises with Golden Clover. You'll encounter the typical lottery-style mechanics, allowing you to personally pick the cells on the reels. When the reels eventually come to a stop, your winnings will be dependent upon your chosen cells and the winning symbol combinations. If you manage to unlock a winning combination, your payout is multiplied. And, if not, it's back to the drawing board for you! The game boasts an impressive RTP of 96.2%.
In conclusion, despite the lack of bonus features, Golden Clover is still a solid slot game that is both easy to learn and enjoyable to play. So, go ahead and give it a try! Maybe you'll strike gold and end up rolling in dough, or maybe you'll need to eat ramen for a week. Whatever the case may be, one thing is for certain – you're in for a wild ride!
Developer and Game Design of Golden Clover
Golden Clover is a charming and entertaining slot game created by Onlyplay, one of the top providers in the iGaming industry. With a reputation for innovation and creativity, Onlyplay has developed a game that truly captures the magic of Ireland with its cartoon-style graphics and traditional Irish tune soundtrack.
As you spin the reels of Golden Clover, you'll feel like you're wandering through a lush green meadow with a magnificent rainbow as the backdrop. The graphics are beautifully rendered and the animations are smooth and seamless, making for a truly immersive gaming experience.
One thing that sets Golden Clover apart from other slot games is its intuitive interface. Many online games can be overwhelming with too many bells and whistles, but this game keeps it simple yet enjoyable. You'll find that the gameplay is straightforward and easy to understand, even if you're new to online slot games.
Onlyplay has done a fantastic job of designing a game that is not only visually appealing but also incredibly fun to play. With its great Irish theme and relaxing soundtrack, you'll be transported to the Emerald Isle in no time!
Overall, Golden Clover is a wonderful addition to Onlyplay's impressive portfolio of games. Whether you're a seasoned slot player or just looking for a bit of fun, this game is sure to provide you with hours of entertainment. Give it a spin and see for yourself!
Payouts and RTP of Golden Clover
Are you looking for a high payout percentage? Look no further than Golden Clover, which boasts an impressive RTP of 96.2%. That's right, this game rewards you generously for hitting those winning combos.
Of course, as with any slot game, payouts vary, but Golden Clover still manages to keep things interesting. While there may not be any special bonuses or extra functions, the game offers solid payouts that won't disappoint.
The catch? In order to grab the highest payout of 118x your bet, you'll need to find all four lucky clovers while avoiding the bomb cells. Sounds easy enough, right? Just don't let those sneaky bombs ruin your lucky streak!
Pros and Cons of Playing Golden Clover
Looking for a new mechanic that takes you far from the typical reels? Well, Golden Clover has got you covered! With its unique lottery-style gameplay, this game is sure to satisfy your itch for something different. And it's not just innovative, but easy to understand too! In fact, its simplicity is one of the game's best qualities, making it enjoyable for players of all levels.
Another noteworthy feature of Golden Clover is its relatively high RTP of 96.2%, which can make your gameplay experience even more exciting. Plus, the interesting payouts in Golden Clover are perfect for players who are looking for a new challenge. So if you're someone who loves simplicity, this game is just what the doctor ordered!
However, there is one major con to playing Golden Clover – it lacks any extra functions or special bonuses. This means that players might begin to find the game repetitive or boring after playing for a while. So if you're someone who likes a little variety, then this game might not be for you.
Finally, some players might not appreciate the cartoon-style graphics in Golden Clover. If you're someone who's more into sophisticated design, you might find this game a little too childish. But if you're willing to let that go, you might just find yourself enjoying the game's innovative mechanics and high RTP!
FAQ
What is Golden Clover?
Golden Clover is an online slot game with an Irish theme, where players must reveal lucky clover symbols on a grid to increase their winnings.
Who created Golden Clover?
Golden Clover was created by the game provider Onlyplay.
What is the RTP of Golden Clover?
The RTP of Golden Clover is 96.2%.
Is Golden Clover a complicated game?
No, Golden Clover is a simple game that does not require special skills or years of experience to enjoy.
Are there any bonuses or special features in Golden Clover?
No, Golden Clover does not offer any extra functions or special bonuses.
What is the maximum payout in Golden Clover?
The maximum payout in Golden Clover is 118 times your bet.
What is the graphics style of Golden Clover?
The graphics of Golden Clover are cartoon-style with an Irish theme, featuring a bright green meadow and a rainbow.
Is the gameplay of Golden Clover easy to understand?
Yes, the gameplay of Golden Clover is very intuitive and straightforward.
What we like
Innovative and simple lottery-style mechanics
Relatively high RTP of 96.2%
Interesting payouts for players who love simplicity
Ideal for players looking for a new mechanism
What we don't like
No extra functions or special bonuses
Cartoon-style graphics might not appeal to players who love sophisticated design