Golden 7s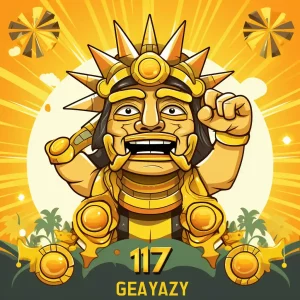 Golden 7s is the kind of slot game that reminds us of simpler times, before all the flashy animations and complicated features took over. The game offers a classic grid of 5 reels and 4 rows, just like the old-school machines we used to play in brick-and-mortar casinos. But don't let the simplicity fool you – there are still plenty of ways to win big in this game!
The Start button, Settings wheel, Betting level, and other buttons (Bet and Cash out) are located at the sides of the screen and only appear between spins, so you won't get distracted during the gameplay. It's all about focusing on the reels and hoping for the best! And if you want to relax a bit and let the game do its thing, you can select automatic spins from a minimum of 5 to a maximum of 100 by holding down the Start button. It's like having your own personal slot machine attendant, without the tip!
We also have to mention the quirky settings that Golden 7s offers – you can activate Turbo mode if you're in a rush and want to speed up the spins, or Left-Handed Game if you're one of those people who prefer using the left side of the screen. It's always nice to see a game that cares about the little things, right?
Overall, Golden 7s is a refreshing change of pace in the crowded world of online slots. It doesn't try to be something it's not, and that's what makes it so enjoyable to play. So if you're in the mood for a classic slot game with a few modern twists, give Golden 7s a spin – who knows, you might strike gold!
Paylines and Betting
Paylines are the backbone of any slot game, and Golden 7s doesn't disappoint in this category. With 40 fixed paylines, you can bet on multiple lines at once. And the best part? The minimum bet accepted is only $0.20, so you don't have to break the bank to enjoy this classic slot game.
If you're feeling lucky and want to up the ante, go for the maximum bet of $80. We recommend taking a deep breath and maybe using a lucky charm or two before going all-in. This wide range of bets appeals to both beginners and high rollers.
Just remember, to activate automatic spins, players must input the win or loss limits beyond which the spins will stop. You don't want to end up like Aunt Sally, who forgot to set her limits and spun all her winnings away.
Graphics and Sound Effects
Get ready to experience the glitz and glamour of Las Vegas with Golden 7s! The graphics of the game are so sharp that you'll feel like you can reach out and touch them! The symbols are well-defined and pop against the completely black background.
As for the sound effects, they do the job without being too overbearing. You won't have to worry about annoying sound bites disrupting your game play. The background music running alongside the mechanical sounds of the spinning reels creates an immersive experience that will make you feel like you're sitting right in front of the slot machines in Vegas!
So, if you're looking for a game that not only looks great but sounds great too, Golden 7s definitely delivers! And don't worry, the only thing you'll have to wear is your pajamas as you spin the reels from the comfort of your own home.
Symbols and Payouts
Are you ready to hit the jackpot with Golden 7s? Well, let's talk about the symbols and payouts first. You know the drill, right? All winning combinations require at least 3 identical symbols, but here's the catch: only those from left to right are winning, except for the special symbol that can appear in any position. Sneaky little devil, isn't it?
The symbols with the lowest value are the cherries, lemon, and orange. Kind of like the fruit that your grandma used to give you. But don't worry, things get juicier from here. Pun intended. The plum, grape clusters, watermelon, and the red 7 pay out a little better. The star is the highest-paying symbol overall, and it can result in a win of $500 for 5 identical symbols. I don't know about you, but I could buy a lot of tacos with that.
Now, here's where things get interesting. The golden 7 rewards with $4, taking into account the minimum stake placed. It might not seem like much, but remember, slow and steady wins the race! Plus, the wild symbol of the slot serves as the wild card and replaces all the numbers except for the star. So, even if you feel like you're down on your luck, you never know when that wild card will come in and save the day.
Feeling lucky? Well, players can double their winnings progressively by clicking on the pile of amounts that appear when they press the Bet button. Just don't get too greedy, or you might end up with less than what you started with. But who am I kidding, let's go all in!
RTP: Is it worth betting your bankroll on?
Are you wondering whether Golden 7s is worth a spin of your bankroll after knowing its RTP? With a theoretical figure of 94%, some gamblers may think the odds aren't in their favor. However, I'm here to brighten up your day – all slots are designed to be fun first and foremost and, with some luck, yield a big reward second. Actually, I'd argue that sometimes the uncertainty and unpredictability of slots is what makes them so exciting. That said, some numbers can make the spinning wheel seem more or less appealing.
The RTP, or Return to Player, is a number that gives players a rough idea of how much they can expect to get back from their wagers on average after playing the game for a long time. Although the RTP rate of Golden 7s is on the lower end of the spectrum, it's still just a theoretical number in the vast sea of numbers that are used to calculate outcomes. The game has some other juicy features that can make it worth taking a few spins on.
Remember, while a high RTP is a factor worth considering, it's not the be-all and end-all of slot gaming. Whether you're a seasoned gambler or just starting out, it's crucial to choose a slot game that suits you best and that you enjoy playing. And if you do, then all those numbers will just be whizzing past you!
FAQ
What is the minimum and maximum bet for Golden 7s?
The minimum bet accepted is $0.20 and the maximum bet is $80.
How many pay lines does Golden 7s have?
Golden 7s has 40 fixed pay lines.
What is the RTP of Golden 7s?
The RTP of Golden 7s is 94%.
What is the highest-paying symbol in Golden 7s?
The highest-paying symbol overall is the star.
What is the value of the golden 7 symbol?
The golden 7 rewards with $4, taking into account the minimum stake placed.
What does the 'Wild' symbol do in Golden 7s?
The 'Wild' symbol serves as the wild card and replaces all the numbers except for the star.
Can you double your winnings in Golden 7s?
Yes, by pressing the 'Bet' button, you can double your winnings progressively.
Is there an automatic spin feature in Golden 7s?
Yes, you can select automatic spins from a minimum of 5 to a maximum of 100 in Golden 7s.
What we like
Simple and easy-to-understand gameplay
Wide range of betting options
Sleek graphics with well-defined symbols
Ability to double winnings
What we don't like
Low RTP compared to other slot machines
Limited sound effects