Genie Jackpots Megaways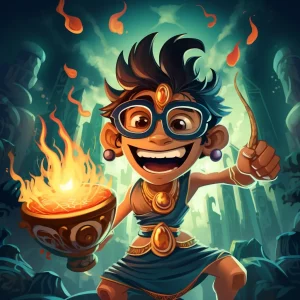 Genie Jackpots Megaways is one of the most thrilling slot games you can play online. This genie-packed game is a classic that's been reimagined to bring you a fun-filled and engaging experience. As soon as you start playing, you're transported to a mystical world where the genie can grant your wishes and give you the chance to win big.
This slot game, powered by Blueprint Gaming, is packed with innovative features to take your gaming experience to the next level. With its 2D graphics and clever use of 3D animations, Genie Jackpots Megaways is a visual feast that keeps you hooked from the first spin.
Genie Jackpots Megaways features six reels with up to seven symbols in each, offering more than 15,000 chances to win on every spin! The game is easy to play but packed with excitement, with colorful symbols that include wilds, scatters, and bonus features. And of course, the genie himself is always on hand to help you out if you need him!
Once you start spinning the reels of Genie Jackpots Megaways, you'll be transported to a world filled with adventure and magic. With its fun features and amazing visual effects, this game is a true winner. So make a wish and give it a spin today!
Number of Ways to Win and Reel Setup
Are you ready to rub the lamp and unleash the power of the Genie? Well, Genie Jackpots Megaways is the perfect slot game for you! Offering more than 15,000 ways to win on its 6 reels, this game gives you a lot of chances to fill your pockets with gold.
And that's not all, folks. Each reel can display 2 to 7 symbols, giving you even more opportunities to win big. The more symbols you obtain, the higher your chances of getting those magical payouts that will make all your wishes come true. Just make sure you don't get too greedy, or the Genie may disappear before you can say 'Abra-cadabra'!
Bonus Features and Free Spins
Hold on tight, folks. We're about to dive into the bonus features and free spins offered in the Genie Jackpots Megaways slot game! With 9 bonuses available, you'll never be short on excitement!
First up, we have the Wild Megaways and Genie Win spin. Not only do these features add extra wilds to the reels, but they also give you the chance to uncover mysterious symbols and wild cards that can combine to boost your winnings. It's like the game is sprinkling magic dust on your spins!
Free spins can be activated while you're already in free spin mode. Yes, you read that right. It's like the game is saying, 'Hey, we heard you like free spins, so we put free spins inside your free spins.' And did we mention the mysterious symbols? These little beauties can show up during free spins to activate even more bonus rounds. It's like finding a bonus inside a bonus inside a bonus!
Now let's talk about the Locking Wild feature. When a Wild symbol lands on one of the three central reels, it'll expand and lock in place for even more chances to win big. It's like the game is giving you a little genie hug!
Last but not least, the Genie Streak feature offers an opportunity for some serious wins. With every bonus victory, the Genie Streak meter will increase, giving you bigger and bigger payouts. It's like the game is saying, 'Come on, just one more bonus win and I'll give you the jackpot.'
These bonus features and free spins make the Genie Jackpots Megaways slot game a truly magical experience. With so many ways to win big, you'll feel like you hit the jackpot every time you play. Just don't forget to make a wish and rub the genie lamp before you start spinning!
RTP of the Game
Are you tired of playing slot games that suck up your hard-earned money with little to no returns? Fear not, my fellow player, because Genie Jackpots Megaways has got you covered with an industry-leading RTP reaching up to 96.52%! That's right, you heard it correctly – this game offers some of the best returns out there, equivalent to top titles in the industry.
Don't believe me? Maybe you need to rub the genie's lamp a little harder! But seriously, this slot game packs a serious punch, not just with its impressive RTP but also with its plethora of features and exciting gameplay. With so many ways to win and a genie to grant your wishes, you'll be wondering why you haven't played this game sooner.
Overall Review and Assessment
Genie Jackpots Megaways is a game that will have players hooked from the very first spin. As an upgrade of its predecessor, the game comes with exciting new bonuses that players can take advantage of. These bonuses offer a generous amount of chances to win big prizes, so players can experience that much-needed adrenaline rush.
The game runs smoothly, which is always a good indication of top-notch programming. However, what makes this game stand out are the graphics. The graphics are enhanced to give the game characters a unique charm that is not found in most slot games. This added feature provides a more advanced gaming experience for those seeking more than just a slot game.
Most slot games require progressive jackpots to be entertaining. But Genie Jackpots Megaways proves to be an exception. It's entertaining enough without the need for a jackpot, making it an excellent game for players in search of a light and enjoyable game. Overall, the game is undoubtedly a must-try amongst slot game enthusiasts.
If you're thinking of playing this game, be warned—there's a high chance you won't be able to put your phone, tablet, or computer down once you start!
So, grab a cup of coffee, power up your device, and get ready to spin some reels with Genie Jackpots Megaways!
FAQ
What makes Genie Jackpots Megaways different from Genie Jackpots?
Genie Jackpots Megaways is a Megaways slot with over 150,000 winning combinations per spin, while Genie Jackpots is the base slot.
How is the game different aesthetically?
Genie Jackpots Megaways features 2D graphics with 3D enhancements on certain parts of the game to enhance the game characters.
How many ways to win does each player get in this game?
Each player gets more than 15,000 ways to win on the 6 reels of the game, with each reel displaying between 2 to 7 symbols.
What is the RTP for this game?
The RTP for Genie Jackpots Megaways reaches up to 96.52%.
How many bonuses does this game feature?
It features 9 bonuses that players can activate during the game and offers free spins with guaranteed victories.
What is the Wild Megaways function?
The Wild Megaways function adds wild cards to the reels, increasing the player's chances of winning.
What happens during the Locking Wild function?
Every Wild symbol that lands on the three central reels expands and locks in its position.
Does this game have a progressive jackpot?
No, this game does not have a progressive jackpot.
What we like
Over 15,000 ways to win
9 bonuses available
Industry-leading RTP
Smooth gameplay
What we don't like
No progressive jackpot
Limited 2D graphics