Genghis' Reel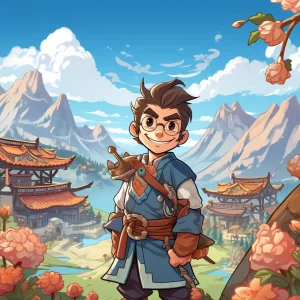 Genghis' Reel is a slot game from World Match that revolves around the legendary figure of Genghis Khan, the conqueror who managed to unify much of Asia thanks to his strength and tenacity. Let's just hope that you too can conquer the reels and win big with this game.
As you play the game, you'll encounter symbols inspired by classic Asian culture – lucky coins, katanas, and even the traditional yurt tents. It's a refreshing change of pace from some of the more Western-inspired slot games out there. Plus, it's always important to learn about new cultures, even if it's through the lens of a casino game.
Graphics and Sound Design
Prepare to embark on a journey through a beautiful blossom-filled valley in Genghis' Reel! The graphics in this game are as impressive as Genghis Khan's conquering empire. The delicate flowers and quaint houses in the background are the perfect contrast to the golden-framed game grid, featuring an intimidating eagle that will send shivers down your spine. You'll feel like a true nomad roaming wild, open lands.
The music in Genghis' Reel is an oriental jingle with a twist of western sounds. If you're lucky enough to hit the jackpot, the music will have you dancing and celebrating like you're at a Mongol Empire feast. The sound effects of the spinning reels and symbols are equally impressive and remind you of the galloping hooves of horses, Genghis Khan's favorite animal.
Overall, the graphics and sound design of Genghis' Reel not only make the game enjoyable to play but also transport you back to the Mongol Empire. So buckle up, grab your bow and arrows, and get ready to spin!
Get Ready to Conquer with Genghis' Reel Gameplay and Paylines
Genghis' Reel is an online slot game that will take you on a journey to conquer new lands and win big. The gameplay of this exciting game is pretty straightforward. The slot has a simple 5×3 grid with 10 paylines that are fixed. This means that players have to play all 10 paylines. But don't worry, the game offers plenty of opportunities to win big.
Players can start betting from as low as $0.01, which is perfect for penny pinchers, and increase up to $5 per line for the high rollers. Wins are formed by aligning adjacent symbols from the left to right. So, you have to make sure you start your conquest from the left to increase your chances of winning big wins.
If you're feeling lazy and don't feel like spinning the reels every time, Genghis' Reel has got you covered. You can activate the automatic spin feature ranging from 5 to 1,000 or even infinite. This means that you can sit back, relax, and watch your money grow. But if you want to speed up things, the fast-play cursor is at your disposal. It will speed up the reel rotation and make your conquest faster.
In short, Genghis' Reel is perfect for players who love simple gameplay that offers a lot of opportunities to win big.
Symbols and Rewards
Get ready for a battle of symbols and rewards in Genghis' Reel! Don't expect any playing cards here as even the symbols with low value are theme-related. You'll come across the boots, treasure, and sword symbols that will provide hefty rewards. And if you're lucky enough, the wolf and queen symbols can shower you with significant payouts that will make you feel like a true warrior.
Nevertheless, the real prize comes when you spot Genghis Khan himself, the Wild symbol that can replace any other regular symbols on the reels. But wait! There's more! When the eagle flies over any reel with Genghis Khan, he expands vertically and increases your chances of getting winning combinations. Talk about a powerful duo! It's like having Batman and Robin working together to defeat Gotham City's villains.
In addition to that, the shield symbol with the 2x multiplier can boost your winnings even further. The more shields you land, the bigger the multiplier, and you could be looking at an incredible x8 multiplier, which is just as amazing as finding a needle in a haystack.
Get Wild with Genghis and His Reel Symbols!
Step into the world of Genghis' Reel and let your inner adventurer run wild! In this slot game, Genghis Khan is not only a historical icon but also the Wild symbol. And let me tell you, he knows how to make an entrance! When the Wild symbol appears, Genghis expands vertically as if he's flying over an eagle. Talk about a grand entrance! But Genghis' powers don't stop there, during Free Spins, some random symbols even become wild when the Khan shows up on the first reel. It's like he's giving you a personal gift instead of taking over your empire…for once.
Now, let's talk about the horse symbol, aka the Scatter symbol. Not only is it gorgeous to look at, but it rewards players with a sweet set of free spins! The number of spins vary from three to seven but who wouldn't want to ride that beautiful creature across the reels of Genghis' game? With every spin, you'll be one step closer to winning big and proving to your friends that you're no one-trick pony. Just be prepared for the inevitable horse puns that will come flying at you left and right, but hey, it's all in good fun!
FAQ
What is the minimum bet for Genghis' Reel?
The minimum bet per line is $0.01.
What is the maximum bet for Genghis' Reel?
The maximum bet per line is $5.
How many paylines are there in Genghis' Reel?
There are 10 fixed paylines.
What is the Wild symbol in Genghis' Reel?
None
What is the Scatter symbol in Genghis' Reel?
The Scatter symbol is a horse and rewards players with a number of free spins ranging from 3 to 7.
What is the multiplier symbol in Genghis' Reel?
The multiplier symbol is a shield with a multiplier of 2x. Depending on the number of shields landed, the multiplier can reach x8.
What is the maximum number of automatic spins in Genghis' Reel?
The maximum number of automatic spins you can set is 1,000 or even infinite.
What is the fast-play cursor in Genghis' Reel?
The fast-play cursor speeds up the reel rotation when moved to the right.
What we like
Beautiful graphics and sound design
Simple gameplay with easy-to-understand paylines
Exciting Wild and Scatter symbols
Opportunities for substantial payouts
What we don't like
Limited number of paylines may not appeal to some players
Free spins feature is not as plentiful as in some other slot games