Gaelic Gold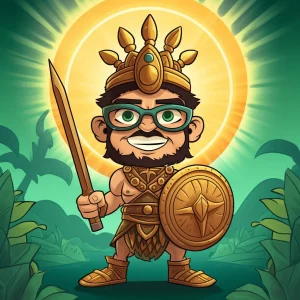 Gaelic Gold is a fantastic 3-reel, 3-row slot game that takes you on an unforgettable journey through the lush green fields of Ireland. To be honest, we have seen a lot of slot games inspired by Irish culture but this one really raises the bar with its captivating graphics and fun gameplay. The colorful backdrop with a rainbow above gives you a cozy feeling of being in the Irish countryside.
The symbols in Gaelic Gold are a mix of classic card values and thematic symbols such as leprechaun hats and shoes, pints of stout, lucky golden horseshoes, and golden four-leaf clovers. But the real star of the show is the leprechaun himself! He is the wild symbol that replaces all standard symbols but don't be fooled, he is no ordinary wild. Gaelic Gold features an xNudge Wild symbol that increases the multiplier with every spin. And as you will discover, there is nothing like watching those multipliers add up and your winnings skyrocketing!
If you love online slot games with a touch of humor, then you'll appreciate Nolimit City's subtle, tongue-in-cheek references to Irish culture in Gaelic Gold. We particularly enjoyed spotting the cleverly placed pints of stout on the reels that complete a winning payline. What an ingenious way to celebrate a winning combination!
Rainbows and Gold: The Gaelic Gold Review
Welcome to our review of Gaelic Gold, the online slot game that offers players a chance to find their own pot of gold at the end of the rainbow. One of the most exciting features of this game is the Rainbow Spins feature. This feature activates when the Pot of Gold Bonus symbol lands in the central position on reel 2. You know you're in for a good time when you're already thinking about rainbows and gold! The excitement builds as you wait for the Pot of Gold Bonus symbol to land, and when it does, you know you're in for an awesome surprise!
But the surprises don't stop there. When the Rainbow Spins feature activates, players will receive a minimum of 5 free spins. You can also choose modifiers from 9 different coins to add extra paylines, win more free spins, and increase the multiplier. It's like being able to choose your own adventure! Just remember to keep your eye on the prize, which in this case is gold… or money, I suppose.
Oh, and watch out for the xNudge Wild feature! It can be triggered during the Rainbow Spins feature and it's bound to nudge things up a notch. It increases the multiplier by 1 with each nudge, so be prepared for some serious excitement. And who knows? You may get lucky and find that pot of gold after all.
Base Game Wins
Let's be honest, the base game is where it's at in Gaelic Gold. This is where you'll score most of your wins and where the game truly shines.
Have you ever stumbled upon a golden four-leaf clover in real life? Me neither. But in this game, not only can you find it, but it can also pay out 15 times your bet when you land three in combination. And let's be real, that's a lot better than any pot of gold at the end of a rainbow.
The leprechaun wild symbol is also your friend in this game. He pays out the same as the golden clover and can help you hit big wins. But let's be cautious when it comes to leprechauns, they can be troublemakers sometimes.
Lastly, we have to talk about the xNudge Wild symbol. This gem can cover 3 rows and always nudges to fill the entire reel, making it a great addition to helping you score those significant base game wins. With this guy on your side, you might just have the luck of the Irish.
Get Lucky with Maximum Payouts in Gaelic Gold
Looking for a slot game that promises a high payout? Look no further than Gaelic Gold. With a maximum payout of 9,837 times your bet, this game is sure to give you a run for your money!
But the real excitement comes from the Rainbow Spins feature. This is where the big wins happen, and with a bit of luck, you could walk away with a serious pot of gold.
Of course, it's important to note that the Rainbow Spins feature doesn't trigger on every spin. On average, it takes 127 spins to activate the feature, so be prepared to play for a while before you get a shot at those sweet rewards.
All in all, Gaelic Gold is a fun and exciting slot game that offers plenty of opportunities to hit it big. So why not give it a spin and see if luck is on your side? And who knows, you might just find yourself singing Irish folk songs as you rake in the coins!
Variance and RTP
If you're looking for a slot game that will keep you on the edge of your seat while giving you a fair chance of winning, Gaelic Gold has got you covered. This game has a medium-high variance rating of 8/10, according to the experts at Nolimit City. What does this mean for you? Well, it means that while you may experience some dry spells where you don't win anything, when you do win, you have the potential to win big.
Gaelic Gold also boasts an impressive RTP (return to player) rate of 96.15%. This means that over the long run, the game will return 96.15% of all bets to players. Of course, this is just an average, so some players will win more and some will win less. Still, it's nice to play a game that gives you a fair shot at winning.
So if you're feeling lucky, give Gaelic Gold a try. The game's unpredictable nature will keep you on your toes, while the fair RTP rate ensures that you'll have a good time no matter what. Just make sure to keep your four-leaf clovers and horseshoes handy – you never know when luck will strike!
Similar Slot Games
If you're a fan of the Emerald Isle and all things Celtic (besides the Riverdance), then Gaelic Gold may be the perfect slot game for you. With its charming symbols and wins that come as easy as whiskey on St. Patrick's Day, you'll be shouting sláinte! before you know it. But if you want more of that Irish charm and lucky leprechauns, may we suggest Rainbow Riches Megaways by Barcrest? With even more ways to win (117,649 ways to be exact), you'll have more of that pot o' gold to carry you through rainy days. And speaking of rainy days, if you're in need of a sunny escape, check out Aloha! Cluster Pays by NetEnt, a tropical paradise full of colorful symbols and unlimited free spins. It'll make you feel like you're sipping a piña colada on a white-sand beach. Ah, paradise.
But back to Gaelic Gold. There's something about the symbols and sounds of this game that just puts you in the mood for a good ole fashioned jig (or is that just us?). The four-leaf clovers, horseshoes, and harps all evoke a sense of Irish luck and tradition, while the Wilds and Scatters add an extra layer of excitement to your wins. And speaking of wins, the payouts in Gaelic Gold can be as generous as a pint from a friendly bartender. But if you want to take your luck to the next level, try out the Megaways version of Rainbow Riches. It's like adding extra cream to your Irish coffee – smooth and satisfying.
FAQ
What is the minimum bet for Gaelic Gold?
You can play Gaelic Gold starting at just $0.05 per spin.
What is the maximum bet for Gaelic Gold?
For players with deeper pockets, you can play with up to $100 per spin.
What is the Rainbow Spins feature?
It lets you choose between coins to add extra paylines, win more free spins, and increase the multiplier.
What is the xNudge Wild feature?
It is a fully expanded leprechaun that triggers each nudge and increases the multiplier by 1. The multiplier can combine for a big multiplier.
What is the Pot of Gold Bonus symbol?
It triggers the Rainbow Spins feature when it appears in the central position on reel 2.
What are the modifiers for the Rainbow Spins feature?
They include extra spins, rainbow lines, and extra win multiplier.
What is the Autoplay feature, and what does it do?
It allows you to choose between 10 and 1,000 spins. You can stop it when a single win exceeds a chosen amount, if your balance is less than a certain amount, or if it's greater than a certain amount.
What is the variance and RTP for Gaelic Gold?
The variance is medium-high (8/10), and the RTP is 96.15%.
What we like
Fun Irish-themed backdrop and symbols
Rainbow Spins feature with multiple modifiers
xNudge Wild for increased multipliers
Decent base game wins
What we don't like
Rainbow Spins feature can take a while to trigger
Limited selection of bonus symbols