Fu Dao Le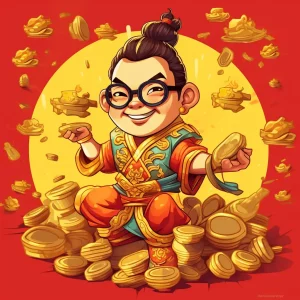 Fu Dao Le is one online slot game that you won't be able to resist. Bally takes you on an exciting journey through Chinese mythology with stunning design elements that include red envelopes, dragons, and golden coins. As soon as you launch the game, you'll feel immersed in a mystical world that is hard to resist.
The slot machine features five reels and three rows, which is a standard layout; yet, great design elements make up for the lack of complexity. The Chinese iconography perfectly complements the simple but classic layout, boasting dynamic animations and immersive sound effects that add to the excitement of the game.
The minimum bet for Fu Dao Le is $0.38, making it easy for players of all levels to join in on the fun. And with an average RTP of 96%, players can expect opportunities for big payouts.
But hey, don't just take our word for it. Take a spin, and watch as the lucky oranges align along the reels and the dragons breathe fire onto your screen. You might just find yourself with a golden fortune—all while immersing yourself in a fantastic world of adventure that only Fu Dao Le can provide.
Get More Bang for Your Buck with Special Features and Bonuses in Fu Dao Le
Looking for a slot game that offers not just standard reels, but a variety of special features that can lead to big payouts and a more thrilling experience? Look no further than Fu Dao Le! This game is loaded with special features that add an extra layer of excitement to your gameplay. And who doesn't like excitement?
One of the most exciting features of Fu Dao Le is the golden gong symbol. This symbol acts as both a wild and scatter, and if you can land three or more of them, you'll be rewarded with free spins. But that's not all – during the bonus round, there's a special reel set where shields can land to award even more spins. Who doesn't love free stuff? Especially when it can lead to big payouts!
If you're looking for something even bigger than free spins, you can activate the Fu Dao Le jackpot feature. This can put you in the position to win massive payouts. Who wouldn't want to hit a jackpot? And if that's not enough, players can also try to unlock the Red Envelope Progressive Bonus feature, which can also lead to big payouts. It's nice to have multiple chances to hit the big time, no?
Overall, these special features make Fu Dao Le a game that is not to be missed. They add an extra level of excitement to gameplay, keep things fresh and interesting, and who doesn't appreciate some bonuses to top things off? So, if you're in the mood for a little something extra with your slot gameplay, give Fu Dao Le a try! It may just be your lucky day!
Unleashing the Fun and Fortune of Fu Dao Le
Fu Dao Le's got it all: the thrill of a potentially lucrative spin, a wide range of betting options, and an overall entertaining gameplay. This casino slot game is a medium-volatility slot, so you'll get an even mix of small payouts and occasional big wins. But don't mistake medium-volatility for being boring – it's perfect for players who want a bit of risk and reward, without wanting to go all-in.
What's more, the game boasts a generous RTP of 96%, which means you're likely to get a decent rate of return on your bets. Of course, it's always a gamble, but you can adjust your betting amount according to how much you're willing to risk. Starting at a minimum of $0.38 per spin, even cautious players won't have to break the bank.
Now, let's talk bonus features. They may take a bit of time to trigger, but when they do, it's worth the wait! Once you hit those bonus features, payouts can be significant enough to get you giddy like a kid on Christmas morning. So, if you have the patience and time to wait for the bonuses, it'll be a Christmas miracle when they finally arrive.
In summary, Fu Dao Le is a great choice for players who are looking for an all-around enjoyable gaming experience. It's a gamble, but it's a calculated one that will leave you feeling excited and satisfied, just like a trip to the casino should be. So, spin the reels and may the fortune be with you!
Comparison to Similar Slot Games
If you're a fan of Chinese-themed slot games, you may already be familiar with Dragon Tiger by Pragmatic Play. Undeniably, this game is a roar-some choice for players seeking adventure, featuring wilds, scatters, and free spins. But let's be real here, would you rather be fighting a dragon or popping champagne with dancing babies? It's not even a competition.
If you want to branch out from Chinese themes but still crave that sweet, sweet slot game action, check out Indian Ruby by Merkur Gaming. The game transports you to bustling streets of India, where you can trigger a free spins round and even test your luck with a gamble feature. However, let's not forget that Fu Dao Le offers the chance to catch fish with golden coins, unlocking a whole world of possible fortunes. Plus, you won't hear any annoying flute music in the background when you win big.
Last but not least, there is Golden Asia by Shuffle Master. The game is set against a beautiful Asian landscape and features wilds, free spins, and bonus symbols that unlock one of the game's jackpots. But again, why settle for shiny jackpots when you can have cute babies randomly dance across your screen celebrating each successful spin? That's what we thought.
Experience the Thrill with Fu Dao Le Online Slot Game
If you are a fan of traditional Chinese themes and slot games, then Fu Dao Le is definitely worth a try. The game features beautifully designed graphics, vibrant colors, and immersive sound effects, all while delivering a thrilling gameplay experience.
One of the most appealing aspects of Fu Dao Le is the variety of bonuses and progressive jackpots available. With wilds, free spins, and several jackpots on offer, the thrill of striking it big is ever-present. However, with medium volatility, players can expect a balance between sizeable payouts and smaller wins.
With an attractive RTP of 96%, Fu Dao Le offers an excellent payout percentage to players. Additionally, its accessible minimum bet of $0.38 means that players of all levels can join in on the fun.
Overall, we highly recommend this online slot game. Its captivating Chinese theme and exceptional gameplay experience make it a must-play for all slot game enthusiasts. Plus, the chance to win one of its many jackpots adds a little extra excitement to an already thrilling slot game.
So, why not give Fu Dao Le a spin? Who knows, you might even land a big win!
FAQ
What is the RTP of Fu Dao Le?
The RTP of Fu Dao Le is 96%.
What is the volatility of Fu Dao Le?
The volatility of Fu Dao Le is medium.
What is the gameplay mechanism of Fu Dao Le?
Fu Dao Le is a classic online slot with a 5 * 3 mechanism.
What are the special features in Fu Dao Le?
The Gong symbol is both a Wild and a Scatter, and finding at least three will assign free spins.
Can we obtain new spins during free spins mode in Fu Dao Le?
Yes, we can obtain new spins every time we find shields during free spins mode in Fu Dao Le.
What are some similar slots to Fu Dao Le?
Dragon Tiger by Pragmatic Play, Indian Ruby by Merkur Gaming, and Golden Asia by Shuffle Master are similar slots to Fu Dao Le.
Is Fu Dao Le an enjoyable slot game?
Yes, Fu Dao Le's special mode proves to be extremely captivating and enjoyable.
Does Fu Dao Le have a bonus feature?
Yes, Fu Dao Le has a bonus feature with endless free spins.
What we like
Stunning Chinese mythology theme and design elements
Exciting range of special features, including free spins and progressive jackpots
Medium-volatility gameplay offers a balance between frequent small payouts and occasional big wins
Decent RTP with an accessible minimum bet of $0.38
What we don't like
Bonus features can take some time to activate
Limited range of betting options