Fruits and Fire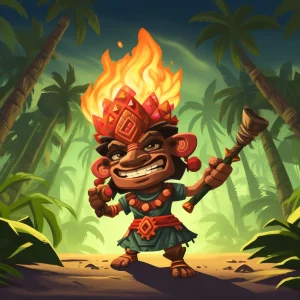 Fruits and Fire by Synot Games is a refreshingly straightforward online slot game. It's a classic fruit-themed game that offers players 5 reels, 5 pay lines, and 3 rows. Sure, it doesn't come with all the flashing bells and whistles as other games, but who needs all that fuss anyway? This game is perfect for those who just want to play and have a good time.
While the lack of bonus features may be disappointing for some, Fruits and Fire is not without its own charms. Expanding wilds, two types of scatter symbols, and a gambling feature make for an exciting and thrilling game. It's also a great option for those new to online slot games, thanks to its simple layout.
Let's admit it, we all need a break from complicated things now and then. Fruits and Fire is like a refreshing glass of water on a hot day. It may not be the most exotic, but it certainly hits the spot. It's perfect for when you just want to kick back, relax, and have some lighthearted fun.
Maybe you're in the mood for some silly fun, or you just don't want to overthink things. Whatever the reason, give Fruits and Fire a spin. Who knows, it might become your go-to game. Fruits and Fire: simple, straightforward, and oh so entertaining!
The Game's Graphics and Rules
Fruits and Fire may not be the flashiest slot game on the market, but what it lacks in frills it more than makes up for in straightforward fun. With simplistic graphics that hearken back to the arcade games of yesteryear, Fruits and Fire offers players a no-nonsense gaming experience.
But don't let the simple look fool you! The game still manages to pack in all the excitement of a high-stakes slot machine. Align just two symbols on any of the game's five pay lines, starting from the first reel, and you're in the money. And with classic symbols like the lucky number 7 and the always-jingling bell, players can feel like they're living it up in a traditional casino without ever leaving the comfort of their own home.
Fruits and Fire may not be the most complex game out there, but it's a solid choice for online slot enthusiasts who just want to kick back, relax, and watch the reels spin. So set your bet and buckle up for a scorching good time!
Special Symbols and Additional Features: Scatters, Wilds, and a Bit of Gambling
Are you a fan of lively graphics, joyous sound effects, and intense gameplay? Look no further than Fruits and Fire – the latest casino slot game that combines classic fruit symbols with a modern twist. But what elevates your gaming experience in this slot game are the special symbols and features that pack an extra punch.
Let's start with the scatter symbol. It's like the cherry on top of an already delicious sundae. Get three or more of these symbols, and you're in for a pleasant surprise. You can get up to a 100x reward for 5 scatters in the game, so keep an eye out for these babies.
Now, let's talk about the 'Extra Scatter.' You know, like a secret menu item at your favorite coffee shop? Well, this slot game has one too! Get 3 of the same symbols on reels 1, 3, and 5, and you can receive a juicy reward of 30 times your bet.
But what about the wilds, you ask? Yes, Fruits and Fire boasts wilds that can appear on reels 2, 3, and 4 during gameplay. These symbols can replace all other symbols except the two mentioned above, and the wilds can expand and fill a reel. Talk about fiery fun!
Lastly, let's talk about the gamble function. Now, we know gambling isn't always the best idea, but sometimes, you just got to let it ride. The gamble function allows you to double your prize by making a risky 50/50 choice on the color of the card to be drawn. But don't worry! You can also split the money you earned to save yourself and not compromise your winnings. So, go ahead and try your luck with this fantastic feature!
RTP and Maximum Jackpot: Fruits and Fire Has You Covered
Fruits and Fire not only brings the heat with its spicy graphics and lightning-fast gameplay, but it also offers some seriously sweet payouts. With a maximum jackpot of 2,500 times your bet, you can feel the thrill of the flames every time you spin the reels.
And if you're wondering about the game's Return To Player (RTP) rate, fear not! Fruits and Fire keeps things fair and square with a fixed rate of 96.19%, which falls right in line with the average of most machines out there.
It's rare to find a game that appeals to both beginners and experienced players, but Synot Games has achieved just that with Fruits and Fire. With its simple yet exhilarating gameplay, this slot is a guaranteed crowd-pleaser that will keep you coming back for more. So why not give it a spin and see if you can handle the heat?
Synot Games: The Fruits and Fire Provider
Synot Games is a gaming provider that creates solutions for both land-based and online casinos. With their retro-style approach, they're respected in the industry – and Fruits and Fire is no different.
Adapted from a classic land-based slot, the game still lives up to its vintage fruit theme, giving players an engaging and straightforward experience. Synot Games has proved that with their modern graphics and sound effects, they can be at the cutting edge of gaming. Players will love the vibrant colors and excellent sound effects that come along with this latest release.
If you're looking for a game with lots of fancy themes and features, you won't find that here. But if you're after a solid and fun game style, Fruits and Fire is perfect – especially if you're a fan of classic fruit machines. Just be sure to grab some fruit while playing so you won't get hungry! 😉
FAQ
What is Fruits and Fire?
Fruits and Fire is an online slot game developed by Synot Games, featuring a classic fruit theme with expanding wilds.
What is the structure of the game?
The game features 5 reels, 5 pay lines, and 3 rows, with a simple and intuitive layout.
What are the special symbols in the game?
The game features two types of scatters and wilds, with the wilds being able to expand and fill a reel.
Are there any bonus features?
No, the game does not offer any bonus features, but it has a gambling feature that allows you to double your prize.
What are the max payouts in the game?
The game's maximum jackpot is 2,500 times your bet, with the best payouts being attributed to the number 7 and the bell symbols.
What is the RTP of the game?
The game's RTP is fixed at a percentage of 96.19%, which is in line with the average for slot machines.
Is Fruits and Fire suitable for all players?
Yes, Fruits and Fire is a solid idea that adapts well to any type of player, providing an enjoyable and straightforward gaming experience.
What should I expect from the graphics and symbols?
Fruits and Fire has clean and simple graphics, with the symbols being traditional fruit machine symbols, including watermelons, cherries, and lemons.
What we like
Simple and straightforward gameplay
Clean and simple graphics
Expanding wilds and scatter symbols add excitement
Suitable for all types of players
What we don't like
No bonus features
Limited variety in gameplay