Fruit Slot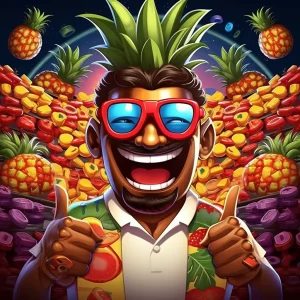 If you're looking for a break from the predictable and mundane, Fruit Slot offers a unique gaming experience that is sure to keep you entertained. The board-style layout of the game sets it apart from the usual video slot games, making it feel like you're playing a mix of slots and board games. But be warned, the ring pattern may have you spinning in circles.
With Fruit Slot, you'll have the opportunity to strategize and choose which symbols you'd like to bet on, adding an exciting twist to the standard video slot formula. It's like playing a game of poker, but with more fruit and less bluffing.
While the game does offer respins and occasional multipliers, don't put your expectations too high. You won't find any groundbreaking bonus features here. But who needs fancy bonuses when you have the satisfaction of winning cold hard cash?
All in all, Fruit Slot may not be the most feature-rich game out there, but it's worth a spin if you want to try something new and different. Who knows, maybe the fruits will align and you'll be collecting some major dollar bills in no time.
Symbol Betting
Are you tired of the same old reels and paylines? Look no further than Fruit Slot – a game where players get to choose their own symbols to bet on! From classic bars and lucky sevens to vibrant watermelons and crisp apples, players can customize their experience to their liking. Who says slot games can't be fun and interactive?
Land on a Free Spins symbol and enjoy a single respin for even more chances to win big. And with multipliers ranging from 5x to 100x for each symbol, the excitement never stops. It's like a fruit salad of rewards – but without the calories.
So what are you waiting for? Take a bite out of Fruit Slot and enjoy all the variety and randomness it has to offer. Just don't blame us if you suddenly find yourself craving a healthy snack…
Bonus Features
Let's be honest: the bonus features in Fruit Slot are about as groundbreaking as a toothpick skyscraper. But that doesn't mean they're not worth checking out. For starters, players can trigger respins (also known as free spins) by hitting the Free Spins symbol. And if that wasn't exciting enough, each symbol has the potential to award a random multiplier, ranging from a measly 5x all the way up to a jaw-dropping 100x.
While Fruit Slot may not offer the flashiest bonuses in the online casino world, it's still a fun and engaging game that can keep you entertained for hours. After all, who needs a fancy bonus game when you can win big with a little help from Lady Luck and a bunch of juicy fruits?
Graphics
Let me start off by saying that I have seen better graphics in my toaster. Fruit Slot has a design straight out of the early 2000s – nothing mind-blowing here. If you're looking for a feast for the eyes, you might be better off staring at a bowl of fruit salad. However, I have to admit that the simplicity of the graphics can be quite refreshing when you're used to all the bells and whistles that some games come with these days. At least you won't get distracted by a shiny object when you're trying to concentrate on the game.
The board-style layout is a bit like a chessboard, but instead of knights and bishops, you've got cherries and oranges. It's a nice attempt to introduce something unique, but it's not quite enough to make the game visually stunning. That being said, the graphics are not what you should be focusing on when playing Fruit Slot. The game is all about the gameplay, and it more than makes up for any lack of visual appeal.
Ultimately, the simplicity of the graphics does not detract from the overall experience. After all, it's not the design that makes a game fun – it's the thrill of the spin and the anticipation of hitting that jackpot. And who needs pretty pictures when you've got the sound of coins raining down and the satisfaction of a big win?
Setting And Soundtrack
If you're looking for a slot game that will transport you back to the heyday of arcades, then Fruit Slot is just the ticket. With its saturated red drapes and over-the-top flashing lights, the setting is a homage to the gaudy glamour of vintage gaming.
And let's not forget the soundtrack! It's like a blast from the past in the best possible way, a retro Atari-style melody that perfectly complements the aesthetic. Just don't blame us if you find yourself bopping along and swaying to the music as you spin the reels!
It's true that the setting is not unique, but it definitely taps into a sense of nostalgia that's hard to resist, making Fruit Slot a winning choice for players who love a bit of old-school charm. The overall ambiance of the game is a fun, entertaining backdrop to the spinning reels and will have you reaching for the button to spin again and again.
FAQ
What is Fruit Slot?
Fruit Slot is an arcade-style slot game with a unique board-style layout where players bet on hitting symbols shown on a ring pattern.
Who developed Fruit Slot?
Fruit Slot was developed by Spearhead Studios (formerly GiG Games).
What type of symbols are featured in Fruit Slot?
The game features generic symbols such as bars, lucky sevens, gold stars, watermelons, bells, lemons, oranges, and apples.
What bonus features does Fruit Slot offer?
Fruit Slot offers respins and occasional multipliers. If the highlighted section lands on a Free Spins symbol, players can enjoy a single respin. Each symbol has the potential to offer multipliers ranging from 5x to 100x.
What is the RTP of Fruit Slot?
Fruit Slot has an RTP of 96.85%.
What is the volatility of Fruit Slot?
Fruit Slot has a relatively low volatility.
What is the setting of Fruit Slot?
Fruit Slot's setting is reminiscent of an Asian arcade, with heavy red drapes and a retro Atari-style soundtrack.
Does Fruit Slot have reels and paylines?
No, players choose which symbols they want to bet on, instead of traditional reels and paylines.
What we like
Unique board-style layout adds an exciting twist to gameplay
Players can choose which symbols to bet on
Respins and random multipliers keep the game exciting
Simple graphics keep the focus on gameplay
What we don't like
No groundbreaking bonus features
Graphics are not particularly impressive