Fortune Turtle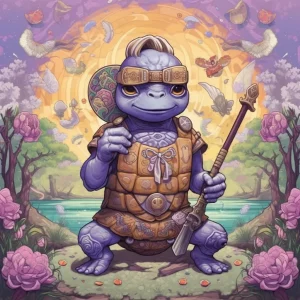 Are you ready to dive into the mysterious world of the orient? If so, then Fortune Turtle is the perfect slot game for you! This game, developed by Genesis Gaming, features a beautiful oriental theme that immerses players in an exotic world of dragons and turtles.
Fortune Turtle boasts five reels, and unlike many other games, the borders of these reels are removed, creating a unique and mesmerizing floating effect. Every symbol seems to float in mid-air, adding an extra layer of excitement to every spin!
One of the standout features of Fortune Turtle is the multi-cascade function. This means that every time a winning combination is formed, those symbols disappear, and new ones appear in their place, giving players even more chances to win!
But that's not all! Fortune Turtle also has a fantastic free spins bonus. Earn enough Scatter symbols, which are represented by the yin-yang symbol, and you'll activate this bonus. During free spins, all multi-cascade wins are boosted, increasing your chances of hitting big payouts!
Overall, Fortune Turtle is a game that combines stunning graphics, exciting gameplay mechanics, and a fantastic oriental theme to create an unforgettable gaming experience. So, why not give it a try and let the Fortune Turtle guide you towards that big win?
Oriental Theme and Graphics
Welcome to Fortune Turtle, where you'll experience a whole new level of Asian-themed slot gaming. The game revolves around the good fortune of a turtle, and it's sure to bring you loads of luck and prosperity. Yet, as you dive into the game, you can't help but notice that the graphics are slightly underwhelming. While the Japanese garden setting is peaceful and enjoyable, the symbols on the reels are still a bit too generic for our taste. Bamboo shoots and bonsai trees are lovely, but we've seen them before. Come on, developers, where's the originality? However, even with the humdrum symbols, this game does have some intriguing features.
We appreciate the attempt to revamp the game with the removal of the matrix border and adding a multi-cascade feature. It's clear that the developers wanted to give Fortune Turtle a magical and airy feeling. The cascade feature takes the standard slot model and turns it on its head. With each win, winning symbols disappear, making room for even more symbols to cascade into place. The more wins you get, the more exciting it becomes. It's like you're on a roll – and we don't mean sushi.
Overall, while the graphics may not be the best, this game definitely has some entertaining features to keep you spinning those reels. You can't help but get a little bit of joy from the cute little turtle that'll bring you luck along the way. It's a game that brings its own style to the Asian-themed slot genre – an underappreciated game that deserves a little bit of recognition. Who knows? Maybe even the turtle himself will bring you a fortune.
Experience the Thrill of the Multi-Cascade Function
Fortune Turtle boasts an exciting and unique feature called the multi-cascade function. If you're lucky enough to score a cascade win, you're in for a treat. With every successful cascade, an extra symbol transforms into a wild, opening up new possibilities for winning big.
But here's the kicker – the fun doesn't stop there. The more cascade wins you get, the more wilds you'll have on the reel, and the better your chances are of walking away with a major reward. It's like a game of dominoes, but instead of knocking them down, you're raking in the cash!
Now, don't get too excited just yet. The multi-cascade function is no easy feat. You need to pass two rows of combinations before the additional wilds take effect. But hey, what's a little challenge when there's so much potential for reward?
So what are you waiting for? Give Fortune Turtle a spin and see if you have what it takes to trigger the multi-cascade function. Who knows? You just might end up walking away with a fortune!
Fortune Turtle: Unleashing the Fun
Are you ready to welcome good fortune into your life with the new slot game Fortune Turtle? The game takes players to the mystical lands of Asia, where they can experience the thrill of gambling while surrounded by oriental symbols. And if you think winning big in an online slot game is only a dream, then Fortune Turtle is here to prove you wrong.
But let's talk about the free spins bonus. Who doesn't love free stuff? In Fortune Turtle, you can get your hands on some free spins by collecting three or more scatter symbols. And let's be real, it's not that hard to do. Once you're in the free spins round, a new gold coin symbol is introduced on the third reel and a coin counter is added. Every time this shiny little coin appears, the coin counter starts filling up. And when it reaches three, you are rewarded with two more free spins. Talk about a cycle of winning and getting more chances to win!
Now, we all need to have some good laughs in life, and Fortune Turtle delivers those as well. Wondering how? Picture this: a turtle in a Chinese hat sitting on top of a pile of gold coins, with confetti and a celebratory tune playing in the background every time the reels are spun. Trust us, the quirky graphics and fun sound effects will have you giggling in no time.
All in all, if you're looking for a slot game that caters to your quest for fun and fortune, Fortune Turtle is the way to go. So what are you waiting for? Start spinning those reels and let the good times roll!
Betting Options
Bets in the Fortune Turtle slot game give you a range of choices that will suit most players. You can bet anything between 5 and 50 Dollars per spin. The minimum bet is 0.50 Dollars, which, let's be honest, it's as high as a giraffe's breakfast.
But hey, if you're feeling lucky, then Fortune Turtle is your game. You won't be disappointed with the high volatility and exciting payout opportunities. Just be careful not to break the bank, or you'll be living in a box faster than you can say 'chance of a lifetime.'
While the maximum bet isn't the highest on the market, it's still respectable and gives you a chance to win big. Keep a close eye on your finances, and you could end up laughing all the way to the bank.
Similar Titles from the Same Manufacturer
Are you a fan of oriental-themed slot games? Then you'll be happy to know that Genesis Gaming, the manufacturer behind Fortune Turtle, offers several other titles that will satisfy your craving for the Far East. So, when you're done spinning the reels of Fortune Turtle, be sure to check out some of these similar games:
1. Wu Xing: This slot game features the five Chinese elements of wood, fire, earth, metal, and water. It also offers a progressive jackpot that can reach up to six figures. Talk about hitting the jackpot!
2. Dragon's Scroll: Get ready for some dragon-sized wins in this slot game that boasts stunning graphics and exciting bonus features. Oh, and did we mention that you can win up to 10,000 times your bet amount?
3. Journey to the West: Based on the classic Chinese novel, Journey to the West takes you on an adventure with mythological characters such as Sun Wukong and Zhu Bajie. This slot game features an impressive four-tiered jackpot, so start spinning those reels!
With these and other great slot games from Genesis Gaming, you'll always have something fresh and exciting to play.
Who Will Enjoy Playing Fortune Turtle?
If you're a fan of all things oriental and like to live dangerously – not to the point of being sneaky and poaching exotic pets, mind you – then Fortune Turtle might just be the slot game for you! The design and theme of the game are centered around ancient Chinese culture, so you'll see plenty of prominent symbols, such as the yin yang, Chinese dragons, and of course, the titular turtle.
But beware – as much as the game may attract you with its adorable and charming imagery, it's probably not ideal for those looking to play on a tight budget. The minimum stake can be relatively high, so you'll need to be willing to bet a little more than usual in order to get the most out of this game. That being said, if you're ready to boldly embrace the turtle's wisdom and good fortune, then Fortune Turtle could definitely be worth your time and money!
FAQ
What is Fortune Turtle?
Fortune Turtle is a real money slot game developed by Genesis Gaming with an oriental theme.
What is the inspiration behind Fortune Turtle?
The turtle is considered a symbol of good luck and fortune in many cultures, and this game is inspired by Chinese symbolism and Feng Shui.
What are the symbols in Fortune Turtle?
The symbols in Fortune Turtle include bamboo shoots, bonsai trees, and card deck symbols alongside the Fortune Turtle scatter symbol and the wild symbol of a man with a flat stomach.
What are the features of Fortune Turtle?
Fortune Turtle has a multi-cascade function, where symbols disappear after each successful win and more wilds are added. It also has a free spins bonus and a gold coin symbol that appears on the third reel, as well as a coin counter that fills up to award free spins.
What is the betting range in Fortune Turtle?
The minimum bet in Fortune Turtle is 0.50 Dollars, while the maximum bet is 50.00 Dollars.
What is the average bet on Fortune Turtle?
The average bet on Fortune Turtle is relatively high overall, making it a good game for those who want to bet a little more.
What are the similar slot machines to Fortune Turtle?
Genesis Gaming offers many similar titles with an oriental theme.
What is the aesthetic of Fortune Turtle?
Fortune Turtle has a Japanese garden theme with a generic location, but it benefits from a dynamic aesthetic that feels airy and magical.
What we like
Unique oriental theme with a focus on the good fortune of a turtle
Magical and airy feel created by the removal of the borders of the matrix
Exciting multi-cascade function that increases chances of winning
Free spins bonus with a gold coin symbol and coin counter
What we don't like
Generic graphics compared to other oriental-themed slot games
High minimum bet of 0.50 Dollars