Fortune Caravan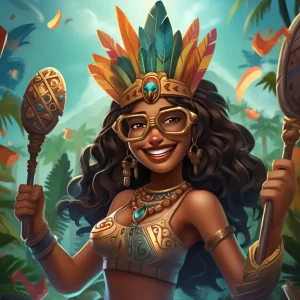 Fortune Caravan by Flipluck is the perfect slot game for anyone looking for a good time. With 50 paylines and an extra set of 1×10 reels above the primary grid, there's no shortage of ways to win big. And with a maximum bet range of $0.50 to $100 per spin, this game is accessible to players of all budgets.
But what really sets Fortune Caravan apart are its bonus features. The Gamble feature lets players take a chance and potentially double their winnings, while two Scatter icons provide even more opportunities for big rewards. It's like a carnival game – with better odds!
Even if you're not an experienced slot player, you'll quickly pick up on the ins and outs of Fortune Caravan. So why not hitch a ride with this winning caravan? Your fortune may be just a spin away!
Symbol Descriptions
Are you ready to hit the road with the Fortune Caravan slot game? Let's pack our bags and explore the symbols that await us in this adventurous journey!
Fortune Caravan offers 12 symbols with two scatters and one wild. The symbols include the usual playing cards (Jack to Ace), and some medium paying symbols, such as the pot and mandolin. However, things get interesting when you come across high-paying symbols like the magic sphere and tarot card, which can pay out a whopping 5x to 10x the bet.
If you're lucky, you might stumble upon the Old Mirror, which is the Wild symbol of the game. It can replace any other symbol and only appears on reel 5. This wild can save the day and help to complete a winning payline.
Watch out for the two Scatter symbols! The Golden Key, which can reward you anywhere from 1 to 10 times your stake and 8 to 30 free spins. Imagine hitting the jackpot and getting all 30 free spins! Moreover, The Gipsy Caravan symbol triggers the Fortune Caravan Bonus Game and determines the jackpot values. It's like a gypsy fortune-teller, except this time letting you know about the riches you could win!
Let's keep the caravan rolling and see where it takes us! Who knows? We might just hit the jackpot on the way!
Betting Range
What's the best way to strike it rich in Fortune Caravan? It all comes down to finding the perfect betting range! Thankfully, this game has got you covered. With a bet range of $0.50 to $100, it's the perfect fit for both casual players and high rollers alike. Plus, with the potential for huge payouts, you might just want to go all-in (but don't blame us if you lose your shirt!).
But let's talk strategy for a minute. The best way to optimize your bets is to find a balance between risk and reward. Play around with different bet sizes and see what works best for you. Just remember, the higher your bet, the greater the potential win – so don't be afraid to take a chance once in a while!
Compatibility and Accessibility
Do you want to hit the jackpot on your morning commute? Well, look no further because Fortune Caravan has got you covered with both desktop and mobile versions. Now you can lose all your hard-earned money from anywhere in the world! But don't worry, you won't be the only one. This game is compatible with Android and iOS mobile devices, so you can watch your savings dwindle in real-time.
If you're new to the game, don't fret. There is an intuitive interface that even your grandmother could navigate. It's so straightforward that even if you've had one too many drinks, you'll still be able to figure it out. And if you do happen to get lost, just remember that fortune favors the bold!
Return to Player Percentage (RTP)
Are you tired of playing games that give you a paltry return? Well, Fortune Caravan has got you covered! This game boasts of a lofty Return to Player Percentage (RTP) of 96.30%. This means that over time, you can win back the wagered amount and even more. Unless, of course, you have the luck of a one-legged rabbit.
As they say, knowledge is power, and this definitely applies when it comes to calculating the RTP. Players should note that a 96.30% RTP does not necessarily translate to a $0.963 return per bet of $1. So don't go celebrating your newfound riches just yet!
FAQ
What is the volatility of Fortune Caravan?
Fortune Caravan is a high-volatility slot that allows for significant wins but less often.
What is the RTP of Fortune Caravan?
Fortune Caravan has an RTP of 96.30%.
Are there free spins in Fortune Caravan?
Yes, you can get free spins in Fortune Caravan by getting 3, 4, or 5 Golden Key icons. You'll receive 8, 15, or 30 free spins, respectively. You can receive more free spins by getting 2 to 5 Golden Key icons during the free spin bonus feature.
What are the betting limits in Fortune Caravan?
With Fortune Caravan, you can bet from $0.50 to $100 per spin.
What are the most interesting symbols in Fortune Caravan?
The most interesting symbols in Fortune Caravan are the Wild symbol (Old Mirror) that acts as a wild and the 2 Scatters (Golden Key and Gipsy Caravan) that respectively activate the Bonus Free Spin and Bonus Game Fortune Caravan functions.
What is the Fortune Caravan Bonus Game?
The Fortune Caravan Bonus Game is triggered by the Gipsy Caravan Scatter icon. You can accumulate Gipsy Caravan icons to transform the normal reels into a single 1×10 grid and receive re-spins. Additionally, the Gipsy Caravan icons determine the value of the jackpot.
Can I play Fortune Caravan on mobile devices?
Yes, you can enjoy Fortune Caravan on both desktop and mobile devices.
Does Fortune Caravan have a Gamble feature?
Yes, you can use the Gamble feature in Fortune Caravan by choosing either a red or black card to receive your prize.
What we like
Intuitive interface for all players
Gamble feature and Scatter icons add excitement
Wide betting range suitable for different players
Compatible with desktop and mobile devices
What we don't like
High-volatility may not be ideal for all players
Limited availability of Wild symbol