Firebird Double 27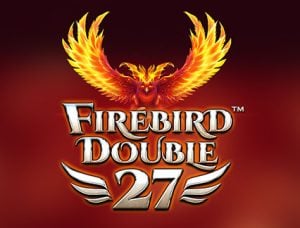 If you're looking for a casino game that's easy to understand and offers ample opportunities to win, Firebird Double 27 is definitely worth checking out. This video slot boasts up to 54 ways to win, split evenly between the left and right sides of the screen. Simply match 3 or more symbols on opposite sides to score a win.
The best part? The game's mechanics are incredibly intuitive, meaning even newbies can get the hang of it in no time. So whether you're a seasoned gambler or a curious novice, you'll find plenty of things to enjoy in Firebird Double 27. Just be careful not to get too distracted by the gorgeous graphics and fun sound effects!
Symbols
Are you ready to feel the heat in Firebird Double 27? This game is a fruit machine whose symbols will have you drooling with anticipation.
The star of the show is the elusive Phoenix, who serves as the game's wild card. It can replace any other symbol on the reels and lead to some amazing wins. It's so hot that it might just burn your hands, so proceed with caution.
Aside from the Phoenix, the other symbols are classic fruit machine fare. You've got melons, grapes, plums, oranges, and lemons. The pay table is straightforward, with melons being the highest paying symbol at 8 times your bet. Grapes come in at 6x, plums and oranges at 4x, and lemons are the lowest at 2x. It's like a delicious fruit salad, but with money on the line.
To sum it up, the symbols in Firebird Double 27 are simple, yet effective. You might not find anything groundbreaking here, but sometimes simple can be just as enjoyable. Just make sure to keep an eye out for that Phoenix, it might just be your golden ticket to some epic wins.
Special Features
Hold on to your seats, because Firebird Double 27 has some special features that will set your heart racing! Keep your eyes peeled for the Phoenix – he's the one that can make your dreams come true. And by dreams come true, I mean you'll win big, like 50 times your bet big! All you have to do is get him to fly at least three times on an active payline. Easy peasy, right?
But the fiery fun doesn't stop there. If you manage to land three flaming Sevens, you'll also claim a big win worth 50 times your bet. And the golden bell? It's got the power to generate a prize worth 20 times your bet amount. With BAR, on the other hand, you can increase your balance by 12 times.
Ok, let's be honest – the special features aren't exactly overflowing. But hey, sometimes less is more! And in this case, simple is good. The straightforward gameplay is perfect for both experienced players and slot game newbies alike. You won't spend hours trying to understand the rules or get lost in a complicated bonus round. Firebird Double 27 is all about the thrill of the spin, and that's exactly what you'll get!
Fire Up Your Wins with Firebird Double 27
If you're looking for a hot and exciting slot game, then Firebird Double 27 is the perfect choice for you. Not only does it offer a thrilling gameplay, but it also comes with significant winning opportunities that could leave you burning with excitement.
This game boasts 54 ways to win, which means there are plenty of chances for players to cash in on big rewards. And speaking of rewards, Firebird Double 27 has a maximum payout of 50 times the bet, making it one of the most lucrative slots in the casino.
Of course, winning the jackpot is not just a matter of luck, but also a matter of strategy. Players need to make sure they maintain a healthy balance between high and low bets, so they can maximize their chances of winning while minimizing the risks. With Firebird Double 27, you can go all out or play it safe, depending on your personal style and preferences.
If you're looking for an adrenaline rush, Firebird Double 27 has got you covered. The game's graphics and soundtrack create an immersive experience that will keep you on the edge of your seat. And if you're lucky enough to trigger the bonus round, you'll be treated to even more excitement, as you rack up the potential for some seriously impressive prizes.
So what are you waiting for? Fire up the reels, and let Firebird Double 27 ignite your passion for winning. You might just end up feeling like a phoenix rising from the ashes of defeat with a pocket full of cash.
Target Audience
If you're looking for a game that's easy to play and perfect for beginners, then Firebird Double 27 is an excellent choice! Designed with simpler gameplay and traditional fruit-themed slots in mind, this game is straightforward and intuitive, allowing even the most inexperienced players to easily learn how to bet better and not lose their hard-earned cash.
Of course, if you've been around the slot machine block a few times and are looking for something more complex, you might want to keep scrolling. Firebird Double 27 is definitely geared toward more novice slot players, so it may not necessarily excite seasoned gamers who prefer a more sophisticated slot with advanced features like a progressive jackpot or bonus game.
But don't worry, just because Firebird Double 27 is more straightforward than some of its more advanced counterparts doesn't mean it's not fun. You'll still have plenty of chances to win big if you know how to play your cards right, or should we say, your slots right. Just don't forget to keep the fire extinguisher close by in case the reels get too hot to handle!
FAQ
What is Firebird Double 27?
It is a video slot that offers up to 54 ways to win and features the Phoenix as the protagonist.
What is the theme of Firebird Double 27?
It is a fruit-themed slot that reimagines the idea of fruit through various projects.
What is the RTP of Firebird Double 27?
It has a good RTP, but the specific percentage was not mentioned in the review.
What are the special symbols in Firebird Double 27?
The special symbols in the game are the Phoenix Wild, flaming Sevens, golden bell, and BAR.
How many ways to win does Firebird Double 27 offer?
It offers up to 54 ways to win.
Can I try Firebird Double 27 for free?
Yes, there is a 'For Fun' version available for players to try without risking any real money.
Is Firebird Double 27 recommended for novice players?
Yes, it is recommended for novice players, but it may not be exciting for pro gamers.
What is the big win on Firebird Double 27?
The big win on Firebird Double 27 is worth 50 times the bet amount and can be claimed by getting the Phoenix to fly at least three times on an active payline.
What we like
Simple and intuitive gameplay
Up to 54 ways to win
Wild symbol substitutes for other symbols
Decent jackpots and winning opportunities
What we don't like
Lack of additional special features
May not appeal to advanced players