Fire of Egypt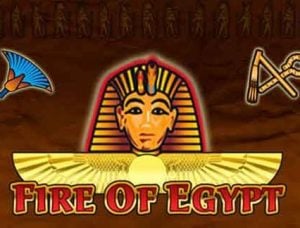 Are you ready to explore the ancient land of Egypt and potentially strike it lucky with the Fire of Egypt slot game? This incredible slot game, created by Merkur, offers players a 4×4 grid and 25 fixed paylines. But what sets this game apart from other slots out there? Let's dive in and take a closer look at the gameplay mechanics and features.
Fire of Egypt combines classic and modern features to create a well-rounded and thrilling gaming experience. With a double or nothing feature, players can potentially double their winnings after each successful spin. And for those who like to take risks, the gamble round allows players to bet their winnings in a game of chance, potentially increasing their overall payout.
But don't worry, even if you're new to the world of online slots, this game is relatively easy to play. You can enjoy its exciting gameplay and features without feeling overwhelmed or confused. Plus, with the potential for impressive payouts, players of all levels can get in on the action and try their luck.
All in all, Fire of Egypt is the perfect blend of classic and modern features that will keep you entertained and engaged for hours on end. So why not give it a spin and see if you can hit the jackpot in this wonderfully themed slot game?
Egyptian Theme and Graphics
Fire of Egypt slot game takes you on an epic journey to the land of Pharaohs and Pyramids. The game's Egyptian theme and graphics are as authentic as it gets. With symbols like scarabs, pharaohs, and pyramids, it's like you're Indiana Jones searching for lost treasures in the desert. The only thing missing is a fedora and a whip.
The overall aesthetic design of the game is simple yet effective. The illustrations reflect the game's theme perfectly and make you feel like you've been transported to ancient Egypt. It's like you're part of the Egyptian culture and tradition, except you don't have to worry about mummies coming to life and chasing you.
Although the graphics aren't the most innovative, they hit all the right points when it comes to capturing the essence of ancient Egypt. They're so good that even Cleopatra herself would be impressed.
Exploring the Paylines and Game Grid
Fire of Egypt is one of those online slot games that offer a unique take on the traditional 5×3 reel setup. With a 4×4 grid and 25 fixed paylines, this game stands out from the crowd. To some players, this layout might seem a bit unfamiliar; however, the gameplay mechanics are similar to that of a typical slot game.
One thing to note is that the number of paylines in this game is fixed, so you cannot increase or decrease them. However, the locked paylines provide an ample opportunity for players to hit big wins. The game provides various winning combinations that are easy to navigate, making it an ideal choice for both seasoned and casual slot players alike.
Now, let's talk about the game grid. The 4×4 setup might seem a bit unusual, but it's precisely the quirk that makes this game so much fun to play. Its unique layout offers colossal potential for landing significant combinations. And let's be honest, slot games are all about the possibility of striking it lucky, right?
If you're a fan of slot games and are ready to take a break from the traditional 5×3 setup, Fire of Egypt may be just what you're looking for.
Symbols and Artifacts
Are you ready to journey to ancient Egypt and uncover the treasures of the pharaohs' tombs? The Fire of Egypt slot game offers exactly that! As you spin the reels, be sure to keep an eye out for the various symbols and artifacts that make this game so engaging.
From pharaoh scepters to fans and card symbols, the game has it all. But for those seeking a truly authentic and immersive gaming experience, Fire of Egypt offers a glimpse into the rich culture of ancient Egypt through its graphical representation of famous archaeological artifacts like Tutankhamun's golden sarcophagus and the head of Queen Nefertiti.
Just be sure to keep a fire extinguisher nearby in case the game gets too hot to handle!
Double or Nothing Feature
Fire of Egypt slot game prides itself on its unique double or nothing feature, which gives players a chance to gamble their winnings with either a card game or by climbing the ladder to higher earnings. While the feature is appreciated by many players, it carries a high risk that must be approached with caution. Players who are new to the game are advised to practice before betting high values, lest they get burned by the flames of the Fire of Egypt.
Of course, for the more adventurous gamers among us, the double or nothing feature is a fun and exciting way to increase your winnings. But remember, sometimes playing it safe is the smartest option in the long run. If you're feeling lucky, go for it! But if you're not quite ready to put your earnings on the line just yet, there are plenty of other ways to enjoy this engaging game without taking any unnecessary risks.
FAQ
What is Fire of Egypt?
Fire of Egypt is an online slot game with an ancient Egyptian theme created by Merkur.
What is the visual aspect of Fire of Egypt like?
The visual aspect of Fire of Egypt is rather simple, with illustrations and a wooden slab background decorated with Egyptian bas-reliefs. It focuses on simplicity and immediacy.
What symbols are present on Fire of Egypt?
Apart from the playing card symbols (A, K, Q, J), Fire of Egypt also has symbols such as pharaoh scepters, the fan, Tutankhamun's golden sarcophagus, and the head of Queen Nefertiti.
Does Fire of Egypt have 3D models?
No, Fire of Egypt does not use 3D models but illustrations, although they are quite simple.
How many paylines does Fire of Egypt have?
Fire of Egypt has 25 paylines.
What is the game grid of Fire of Egypt like?
Fire of Egypt has a 4×4 game grid, with 16 symbols shown in each play, which is less conventional than the 5×3 grid used by most digital titles.
What is the 'double or nothing' feature in Fire of Egypt?
After each win, it is usually possible to play a 'double or nothing' bet, which can take the form of a card game or climbing to the highest winnings. This feature must be used with caution because of the risk it carries.
What are some other online slots similar to Fire of Egypt?
Some other online slots with an ancient Egypt theme are Queen of the Nile II, Cleopatra, Riches of Ra, Pyramid Quest for Immortality, and Egyptian Heroes.
What we like
Mix of classic and modern gameplay mechanics
Easy to play for both novice and experienced players
Reflects the essence of ancient Egyptian culture and traditions
Excellent quality symbols that are easily recognizable
What we don't like
Graphics are not innovative
Double or nothing feature carries a high risk