Eagle Sun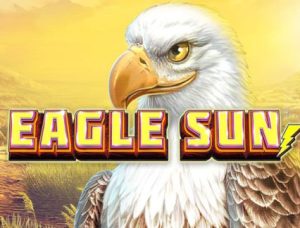 Buckle up cowboy, cause we're taking a trip to the wild west with Eagle Sun – the slot machine brought to you by Lightning Box Games. The game takes place in the heart of Arizona's desert, with the blazing sun setting on the horizon. The graphics are simply breathtaking, transporting you into the Native American culture with its traditional characters and mystique atmosphere.
With its colorful scenery and impressive artistic production, Eagle Sun offers an immersive experience of the inhospitable but fascinating landscape of the old west, where you can almost feel the sun scorching your skin and the wind blowing through your hair.
And if that's not enough to make you feel like a cowboy, the game's sound effects will transport you straight to the wild west shootout scenes. So put on your cowboy hat and get ready to spin that reel, partner!
Game Grid and Symbols
Are you ready to take a trip to the mountains with Eagle Sun? Well, get ready for a wild adventure on the 5 wooden reels with a picturesque background that will make you feel like you're in the heart of a tribal land. You'll come across the special symbols of the game including the tribe leader, a female shaman, and a spear-wielding warrior, all with fierce and intense expressions that will make you feel their power. The regular symbols may seem ordinary but trust us, they pack a punch, especially with the dreamcatcher that will capture all your wins, and the drums that will take you straight to the heart of the beat.
Now, let's talk about the Wild symbol. It's a desert scene with an animation of a flying eagle. What could be more fitting for a game called Eagle Sun? Get ready to be amazed by the animation that looks like it's soaring across the reels. Next, we have the Scatter, which is a totem. Think of it as your good luck charm, because when you see it land, you know good things are coming your way. Last but not least, the Eagle Spin is another unique symbol in the game that looks like an eagle's head that will fly towards you. It's a thrilling surprise when it appears and provides more ways to win!
Overall, the game grid and symbols of Eagle Sun are creatively designed with impressive graphics and animations that will make you feel like you're on a tribal adventure. So, are you ready to be taken on a ride by the eagle and earn some big bucks along the way? Let the game begin!
Special Features and Game Modes
Are you looking for a slot game with exciting and unique features? Look no further than Eagle Sun! This game has several exciting special spins that can be unlocked in a variety of ways. One of the most exciting spins is the Eagle Spin, which is triggered when the Eagle Spin symbol appears. During this spin, you'll only receive empty spaces or Wilds until several eagles appear.
If you're lucky enough to land three, four, or five Scatters on the grid, you'll trigger seven, twelve, or 16 free spins respectively, which are then followed by a Super Eagle Spin. This spin is truly a sight to behold, as the game grid expands up to 80 different boxes! It's a rare and exciting opportunity to hit big and watch your winnings soar like an eagle.
But beware, as with any slot game, there are risks involved. It's important to play responsibly and to remember that sometimes even the spirit of the eagle isn't enough to sway the odds. So, take a chance and give Eagle Sun a spin, but don't let your feathers get ruffled if Lady Luck doesn't come your way.
All in all, Eagle Sun is an excellent addition to any slot game lover's list. The graphics and animations are stunning, the gameplay is smooth and easy to follow, and the unique special spins and game modes offer a refreshing break from more traditional slot games. So, what are you waiting for? Give Eagle Sun a try and see if you have what it takes to soar to the top of the leaderboard!
RTP: Is it Worth Your Time and Money?
Are you tired of wasting your time and money on slot games that don't give enough payouts? Fear not! Eagle Sun, with an RTP of 95.76%, is positioned right within the average range that casino players are sure to enjoy.
So, what does RTP mean? It stands for 'Return To Player' and it's a measure of how much a player can expect to get back from a slot game over time. So, if you're a player who wants to maximize their chances of winning, this game's RTP is definitely worth considering.
Let's face it – we all love a good return on investment. And speaking of investment, you won't have to break the bank to play this game. Eagle Sun offers multiple betting options for players of different budgets. Plus, with its vibrant graphics and fun gameplay, it's a game that won't make you feel like you're wasting money even when you don't win.
Overall, while Eagle Sun's RTP may not be the highest in the market, it's definitely a solid option for players who want a decent chance of hitting a winning combination. After all, why settle for an RTP that's below average when you can soar high with Eagle Sun?
Highly Enjoyable Slot Game Experience: Eagle Sun
If you're looking for a slot game that will take you back to the Old West in an immersive way, then look no further than Eagle Sun. From the moment you start playing, you'll feel like Clint Eastwood, ready to take on any bandit who crosses your path.
The game's theme is enhanced by its amazing background music and sound effects, which work together to create a truly unforgettable experience. The graphics are also top-notch, and the game's icons are all well-detailed and interesting to look at.
Eagle Sun is not only visually appealing, but it's also got a decent RTP, meaning that the game is known for frequent, smaller payouts that keep you playing for hours on end. Of course, if you're looking for something bigger, the game can deliver on that front, too.
If you love Old West-themed slot games, then Eagle Sun is the perfect choice for you. In fact, it would be a shame to miss out on all the fast-paced action and adventure this game has to offer. So strap on your cowboy boots and let's ride, partner!
And if you're hungry for more Wild West-themed slot games, here are a few recommendations: Dead or Alive II, Wild West Gold, and Cowboy Treasure Deluxe.
FAQ
What is Eagle Sun?
Eagle Sun is a slot game based on the theme of the old west and Native Americans.
Who created Eagle Sun?
Eagle Sun was created by Lightning Box Games.
What are the special symbols in Eagle Sun?
The special symbols in Eagle Sun are the Desert (Wild), the Totem (Scatter), and the Eagle Spin symbol.
How do you trigger the Eagle Spin mode in Eagle Sun?
The Eagle Spin mode is triggered by getting the Eagle Spin symbol, which will start spins in which you can only get empty spaces or Wilds. All of this will continue until you get some eagles.
How do you get free spins in Eagle Sun?
You can get free spins in Eagle Sun by getting 3, 4, or 5 Scatters, which will respectively follow with 7, 12, or 16 free spins, which will end with a Super Eagle Spin where the grid will expand up to reach 80 boxes.
What is the RTP of Eagle Sun?
The RTP of Eagle Sun is 95.76%.
What are some other recommended slot games similar to Eagle Sun?
Some other recommended slot games similar to Eagle Sun are Dead or Alive II, Wild West Gold, and Cowboy Treasure Deluxe.
What is the graphical and sound aspect of Eagle Sun?
Eagle Sun has mind-blowing graphics and sounds that take the player to the Arizona desert, characterized by sounds typically attributed to the climate of the old west and Native American culture.
What we like
Impressive artistic production
Immersive old west theme
Several special spins and game modes
Decent RTP
What we don't like
Limited variety in symbols
Average RTP