Dragon's Fire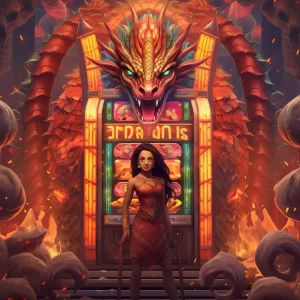 Attention all slot game lovers! You're about to discover an exhilarating adventure like no other. Dragon's Fire is a bonfire of opportunity, with its five-reel, four-row, and 40-payline slot machine that allows for an explosive maximum payout of up to 10,000 times the bet amount.
But don't let that flame burn you too hard! Thankfully, Dragon's Fire has an acceptable theoretical return to player (RTP) of 96.07%, so you can play without burning through your bankroll like a dragon hoarding treasure. With a minimum bet of 0.20 and a maximum of 10 coins, the playing field is set for all levels of dragonslayer.
Get ready to ignite your gaming experience with the HTML5 format, allowing you to play it seamlessly on desktops, Android, and iOS mobile devices. Playing has never been easier, especially when you can use the Autoplay function to play up to 100 spins in automatic mode, giving you the satisfaction of being a dragon master multi-tasker.
So, why not give Dragon's Fire a go? Slay that dragon, win the treasure, and don't forget to come back for more dragon-slaying excitement.
Visual Design and Graphics
Dragon's Fire is a feast for the eyes! Red Tiger Gaming has gone all out with the visuals, creating an epic fantasy world complete with ferocious dragons and blazing fire that will keep you on the edge of your seat.
The graphics are sharp and clear, and the attention to detail is incredible. Even the playing card symbols have been given a fantasy twist to fit the theme. And the animations and special effects are simply stunning, with fiery explosions and smoke effects that will leave you feeling like a dragon-slaying hero!
In fact, Dragon's Fire is so visually impressive that you might forget you're playing a slot game and instead feel like you've stumbled into a high-end video game. But don't worry, the gameplay is just as fun as the graphics are gorgeous!
Besides, with a game this visually stunning, you'll be too busy admiring the dragons and fire to worry about winning…just kidding, winning is the best part!
Mobile Compatibility
Are you tired of being chained to your desktop while playing online casino games? Have no fear – Dragon's Fire is here! This game is fully compatible with HTML5 format and can be played on desktops, Android and iOS mobile devices. So whether you're sitting on the bus or hiding out in the bathroom at work, you won't miss a beat with this Dragons-themed slot game in the palm of your hand.
It's like having your own personal dragon companion, but without all the fire-breathing, scaly skin and unfortunately-timed shedding. And with the Autoplay function, you can start playing and let the game do all the work for you. Just sit back, relax, and watch your winnings soar higher than a dragon's wings.
Unleash the Dragon's Power with the Special Symbols and Bonus Features!
Get ready to ignite your lucky streak with Dragon's Fire casino slot game! With ten symbols, including colorful dragon eggs, small dragons, Dragon's Eye symbols, and wilds, this game has everything to offer. While the base game will keep you entertained, the true magic lies in the special features and bonus rounds.
The Free Spins function is triggered when three scatter symbols appear, providing up to 20 free spins with generous multipliers. Keep an eye out for the red dragon eggs that can appear on the screen after any win, giving you even more multipliers! These features add a whole new level of excitement to the game and heighten the chances of winning significant amounts of money.
So, get ready to unleash the dragon's power and let the fire of fortune keep you warm with every spin! This game is a perfect blend of creativity, graphics, and thrill. The symbols, music, and animations all contribute to creating an engaging experience for players of all levels.
Don't let the dragon win all the gold – jump on the slots, spin to win, and watch the gold roll into your pockets! You will be mesmerized by the stunning visuals and animations while playing. So, grab your lucky charm and get ready to take on the adventure of a lifetime!
Return to Player (RTP) Rate and Maximum Win Potential
Dragon's Fire is one of those slot games that can keep you entertained for hours. With an RTP percentage of 96.07%, players can expect a fair return on their investment. While this rate is acceptable in the industry and not the highest, there are plenty of chances to win big, with the maximum payout being up to 10,000 times your wager.
But let's be honest, we're all here to make some serious cash, and Dragon's Fire has some great opportunities for players who are looking for big wins. The Dragon's Eye symbols, for instance, can provide a multiplier of up to 50x, leading to massive earnings. If that's not enough to get you excited, the game's graphics and animations will surely get your blood pumping.
Overall, Dragon's Fire offers a thrilling gaming experience with plenty of opportunities to win big. So, what are you waiting for? Give this game a spin and take a chance at those fire-breathing reel combinations. Who knows, you could be the next big winner!
FAQ
What is Dragon's Fire?
Dragon's Fire is a slot machine game with a dragon theme, featuring stunning graphics and animations.
Who developed Dragon's Fire?
Dragon's Fire was developed by Red Tiger Gaming, a software house that aims to offer a high-quality gaming experience.
How many pay lines does Dragon's Fire have?
Dragon's Fire has 40 pay lines.
What is the maximum bet in Dragon's Fire?
The maximum bet in Dragon's Fire is 10 coins.
What is the maximum win in Dragon's Fire?
The maximum win in Dragon's Fire is 10,000 times the amount of the bet.
What is the theoretical return to player (RTP) of Dragon's Fire?
The theoretical return to player (RTP) of Dragon's Fire is 96.07%, which is in line with most other slot games.
Is Dragon's Fire playable on mobile devices?
Yes, Dragon's Fire is available in HTML5 format, making it playable on most Android and iOS mobile devices.
What special features does Dragon's Fire have?
Dragon's Fire features free spins, rich multipliers, and the Autoplay function.
What we like
Stunning visuals with 2D and 3D animations
Playable on desktops and mobile devices
Autoplay function allows up to 100 spins
Free Spins feature with rich multipliers
What we don't like
RTP percentage is in line with most other slot games