Diwinity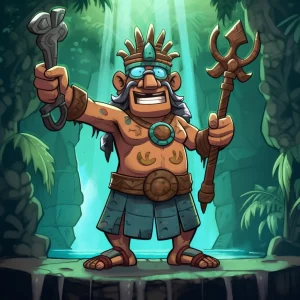 Are you ready to feel like a god, or at least win some godly prizes? Then give Diwinity a spin! This slot game is based on the ancient Greek gods theme and packs a powerful punch with 20 fixed paylines, 5 reels, and 3 rows.
But don't worry, you don't need to sacrifice a goat to play this game. The minimum bet starts from a measly 0.01 $ per line, so even mere mortals can try their luck at this divine slot game.
Diwinity offers not one, but two Wild symbols, which is more than most slot games can say. And if that's not enough, there's also a Wild Scatter and a Bonus symbol to keep things interesting. And speaking of the Bonus symbol, you get to choose between Free Spins or the Bonus game – it's like having your own divine intervention!
Graphics and Interface
Get ready to be transported to the grandeur of Mount Olympus with Diwinity's sleek graphics and stunning interface. Each character in the game is crafted with intricate detail, and the cartoon-style symbols depict gods or objects related to the residents of Olympus. It's almost like playing a fun version of the history books, but with more chances to win big.
As the reels move, you'll love how they are enclosed within a beautiful and majestic frame supported by two columns. There's even a serene fountain in the background, which you might mistake for the real thing! But, that's not all! The buttons on the left side of the screen are well-positioned and easy to use. You can easily start the game, set up automatic spins, and vary the bet according to your liking. And, should you need it, the menu button can be found on the right side of the screen. How convenient!
Diwinity also features an epic soundtrack that can be turned off or on from the menu. Playing the game with the music on can get you into the mood of being in the presence of the God's themselves. It's almost like you can hear their voices and that's because you can! However, if you're not a fan of background music, you can always deactivate it. Isn't that divine?
Key Features
Are you tired of playing online casino games that never hit the jackpot? Enter Diwinity, the game that promises frequent wins with modest figures, thanks to its low volatility and a solid RTP value of 94.88%.
But don't be fooled by the low volatility – this game packs a punch with a maximum bet of 60$ and a minimum bet of just 0.01$ per line. With those figures, even the Greek gods would be tempted to join in on the fun.
Speaking of Greek gods, Diwinity features two mighty Wild symbols – Dionysus and Poseidon – that replace all other symbols except for the special ones. If you're lucky enough to land them during Free Spins, they'll remain stuck during your next go.
The Wild Scatter symbol randomly turns some symbols into Wilds, giving you even more chances to win big. And if that's not enough, keep an eye out for the x2 multipliers – one or more can appear on the reels with a maximum win of 8x.
In short, Diwinity is the ultimate slot game for those who want frequent wins, Greek mythology, and a chance to strike it big. Don't miss out on the fun!
Symbols and Functions
Hold your horses there, partner! We've got 14 symbols on the reels of Diwinity, and you'll need to keep your eyes peeled for the special ones. To start, we've got the lowly Q, K, and A symbols. Honestly, they're so common they might as well grow on trees, but they'll provide you with some small change. Now, let's get to the good stuff!
Next up, we've got Artemis, the goddess of hunting. Watch out, boys – she's got a mean bow and arrow. Then there's Athena, the goddess of justice. She's got eyes in the back of her head and is always watching. And, of course, we can't forget Apollo, the sun god. With his bright and shining presence, you're sure to win big. Moving on, we've got the goddess of beauty, Venus, who could take your breath away. And finally, the godfather of the gods, Zeus himself. You don't want to mess with him!
Now, let's talk about the real game-changer: the shield with Medusa's image. Pay attention, because this symbol is what can make or break your game. Landing on this symbol will prompt you to choose between Free Spins or the Bonus game. Choose wisely, young grasshopper!
Bonus Features
Looking for a slot game with bonus features that can give you an edge over the house? Well, look no further than Diwinity! This game has not one, but two, amazing bonus features that will leave you spinning with excitement.
The first bonus feature that Diwinity offers is Free Spins. Activate this bonus by landing the Bonus symbol during the base game, and you can earn up to 10 free spins! Plus, during these free spins, the Wild symbols remain stuck, giving you even more chances to hit those big wins. It's like getting free fries with your burger – you can't go wrong!
If that's not enough excitement for you, then how about the Bonus game? This feature is triggered when you land the Bonus symbol and choose to play it. Once inside the Bonus game, you get to break shields to reveal cash prizes. So, not only do you get to smash things (which is always a good time), but you also get to walk away with some serious coin. It's like being a knight in shining armor – except you're smashing shields instead of saving damsels in distress.
So, what are you waiting for? Give Diwinity a spin and take advantage of these awesome bonus features. You never know, you could be the lucky one to crack open those shields and hit the jackpot!
FAQ
What is Diwinity?
Diwinity is an online slot game with an ancient Greek gods theme.
How many paylines does Diwinity have?
Diwinity has 20 fixed paylines.
What is the minimum bet for Diwinity?
The minimum bet for Diwinity is 0.01 $ per line, which means that each spin costs only 0.20 $.
What is the maximum bet for Diwinity?
The maximum bet for Diwinity is 60 $ Total.
What is the volatility of Diwinity?
The volatility of Diwinity is low, inviting frequent wins with modest figures.
What is the RTP value of Diwinity?
The RTP value of Diwinity is 94.88%.
Does Diwinity have bonus features?
Yes, Diwinity has exciting bonus features that increase your chances of winning, such as Free Spins and a Bonus game.
What are the special symbols in Diwinity?
The special symbols in Diwinity are Wild (Dionysus and Poseidon), Wild Scatter, x2 multipliers, and Bonus (the shield with the image of Medusa).
What we like
Sleek graphics with cartoon-style symbols
Low volatility for frequent wins
Two bonus features – Free Spins and Bonus game
Maximum win of 8x with x2 multipliers
What we don't like