Delicious Candy PopWins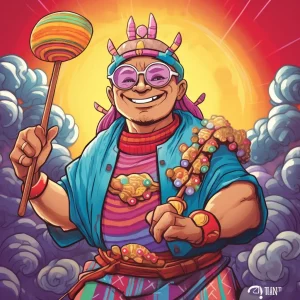 Are you a fan of candy? Of course, you are! That's why Delicious Candy PopWins is the perfect slot game for you. Get ready to satisfy your sweet tooth with colorful candy symbols, lucky number seven, the bright star, the classic BAR sign, and the elegant crown. Speaking of crowns, they are the most valuable symbols in the game, which will pay you up to 12.50 times for a combination of five. That's enough to buy a lifetime supply of sweets!
But the gameplay mechanics of Delicious Candy PopWins are what sets it apart from other slot games. The game grid is made up of a tray of sponge cake divided into squares, starting with a classic 5×3 design. With every win, the game expands the grid and adds new positions, increasing the ways to win up to a maximum of 118,098 during Free Spins. It's like taking a bite out of a never-ending cake, where each bite gets better and better.
If you're having a bad day, Delicious Candy PopWins is here to cheer you up. It will remind you of a time when you were carefree, eating candy on a sunny day. So, get ready to win big and indulge in some sweet fun with Delicious Candy PopWins.
Expanding Your Way To Sweet Victory
Playing Delicious Candy PopWins is like filling your mouth with sweets, it just keeps getting better. With an expanding playing grid, the excitement never stops.
Every win triggers the expansion of the grid, increasing the number of ways to win and the chances for that sweet, sweet payout. It's like a never-ending candy dispensary!
As if that weren't enough, the additional symbols also make it more interesting and add to your chances for a win. It's the perfect combination of deliciousness and strategy.
Don't be fooled by the six rows in the base game. During Free Spins, the grid can grow up to nine rows, providing an even greater opportunity to win big. It's like getting a bonus lollipop after you've already enjoyed a good candy.
So get your sweet tooth ready and make your way to Delicious Candy PopWins. You won't regret it.
Get Your Sugar Rush with Delicious Candy PopWins!
You won't be able to resist the temptation of Delicious Candy PopWins – a sweet and tasty addition to any online casino's selection. And with the unique Free Spins and Multiplier Wheel feature, this slot game is sure to satisfy your cravings for big wins and action-packed gameplay!
What sets Delicious Candy PopWins apart is the activation of Free Spins when the grid reaches its maximum size of six rows during the base game. But that's just the beginning – players then get to spin the wheel to reveal the number of Free Spins and the value of the multiplier applied to their winnings. If Lady Luck is on your side and you reach the highest multiplier, you could win up to 27,000 times your original bet! That's a payout that's sure to give you a sugar rush.
But the sweetness doesn't end there. During Free Spins, the grid can expand up to nine rows, giving you even more ways to win. In fact, the maximum number of ways to win is 118,098 – a massive amount that's sure to satisfy even the most voracious sweet tooth. So what are you waiting for? Get spinning and start satisfying your cravings for big wins and deliciously sweet gameplay!
Volatility and RTP Rate
If you're looking for a slot game that is fast-paced with a high risk factor, Delicious Candy PopWins is the one for you. The game's volatility is set to high, which means that there are fewer wins but when you do hit the jackpot, it's going to be sweet! Just like that first taste of candy on Halloween night.
On the other hand, if you prefer a game that is less risky and delivers small wins consistently, look elsewhere. While the Return to Player (RTP) rate of Delicious Candy PopWins is considered average at 95.8%, this game is geared towards players who like to live on the edge… or at least the candy edge.
But be warned, when you activate the factor multiplier feature, you'll need to have your wits about you. This feature tends to randomly activate and can be a game-changer. It can make all the difference between a sweet candy victory or a trip to the dentist.
Game Technology and Betting Options
Are you looking for a sugar rush? Look no further than Delicious Candy PopWins. And you don't have to worry about missing out on the fun if you're on the go. The game is built with HTML5 technology, ensuring compatibility across desktop and mobile devices. So you can indulge in your sweet tooth whenever, wherever.
But how much do you want to bet that you'll love this game? With a minimum bet of $0.20 and the Super Stake function, you might discover that the stakes are sweeter than you thought. Activate the random multiplier symbol and see what your winning potential could be. From x2 to x100, it's time to see how fruitful that sugar high can be.
But why stop at just one helping of sweet rewards? With an automatic spins function and the ability to buy Bonus games, you can keep the party going for as long as you want. So brush those dental concerns aside and join the candy craze.
FAQ
What is the minimum bet amount?
The minimum bet amount is $0.20.
What is the maximum number of rows for the grid during Free Spins?
The grid can reach a maximum size of 9 rows during Free Spins.
Can I activate the Super Stake function in the game?
Yes, the Super Stake function can be activated to add multiplier symbols to the reels.
How is the Bonus game activated?
The Bonus game can be purchased as one of the game functions.
Is Delicious Candy PopWins only available on desktop?
No, the game is also available in HTML5 technology, making it compatible with tablets and mobile devices.
What is the RTP rate for Delicious Candy PopWins?
The game has an RTP rate of 95.8%.
What is the highest multiplier that can be applied in the game?
The Super Stake function can add multiplier symbols that go up to x100.
Is the game's volatility level high or low?
The volatility level of Delicious Candy PopWins is high.
What we like
Colorful candy symbols create an appealing visual experience
Unique grid expansion mechanic adds excitement to gameplay
Free Spins and Multiplier Wheel offer the potential for big wins
Accessible gameplay on all devices with HTML5 technology
What we don't like
High volatility may result in less frequent wins
Factor multiplier feature can be randomly activated and may affect gameplay