Crown of Avalon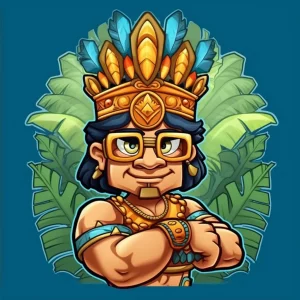 If you're looking for a slot game that offers more than just the usual spinning reels, Crown of Avalon might just be what you need. The game features not only one, but two unique features that can greatly increase your winning potential!
The first feature is the expanding wilds, which can truly be a game-changer if luck is on your side. When Excalibur lands in the top position, the entire reel becomes wild. It's almost like having King Arthur himself on your side!
The second feature is the free spins round, which is triggered by landing 3 or more Crown scatters. During this round, a special symbol is randomly chosen and can expand to take over its entire reel. It's like watching your winnings expand right before your eyes!
Overall, the game is visually stunning and the features keep things exciting – just make sure you don't get lost in the mystical world of Avalon. Trust us, you don't want to end up like Merlin.
Graphics and Design
Hold on to your swords, folks because the graphics and design of Crown of Avalon ain't no child's play. The creators behind the game have done a fantastic job of crafting a visually appealing slot game. The symbols in the game are inspired by legendary characters from the Arthurian tales, and the rustic green background with a sword in the stone adds the perfect touch to the overall vibe of the game.
The soundtrack of the game is a winner too! It's traditional and magical yet modern and sets the tone for an all-encompassing atmosphere. You'll feel like you're in the midst of a one-on-one with Merlin, who's teaching you all the tricks of the trade.
All in all, Crown of Avalon offers players a visual and audio adventure that'll make them forget about their mundane lives.
If you don't believe us, well, go ahead and give it a spin. But don't say we didn't warn you about the possibility of falling in love with a slot game. Yes, it's that good.
Compatibility Across Devices
Well, well, well, it seems like Crown of Avalon is no snob when it comes to devices! PC, tablet, mobile? No problem! This game can handle them all with ease–I mean, have you seen its sleek and colorful graphics? They work especially well on the mobile version, giving you the opportunity to play and win anywhere, anytime. But don't worry, the gameplay is still just as simple–unlike some mobile games that require you to have the fingers of a spider monkey to play.
So go ahead, play Crown of Avalon on your laptop during your lunch break or on your phone as you wait in line at the grocery store. Just, uh, don't blame us if you accidentally end up buying fifty pounds of bananas because you got too distracted by the game!
Symbol Set
Are you ready to join the knights of the round table? Crown of Avalon offers an exciting adventure through the lands of King Arthur and his legendary companions. To make the journey more thrilling, the game features heraldic symbols from A to 10 alongside symbols that refer to Arthurian legends, such as Merlin and Queen Guinevere.
But watch out, don't let those lower-paying symbols break your sword! In Crown of Avalon, the highest paying symbol is King Arthur himself. If you land two, three, four, or five King Arthur symbols on a payline, you could win a prize of 1, 5, 20, or 200 times your stake!
Remember, spinning is a journey, not a destination. Take a sip of mead and keep your eyes on the prize, but don't forget to enjoy the adventure. Are you brave enough to seek the Crown of Avalon?
Payouts and Volatility
Get ready to brace yourself for an adventure in the magical world of Crown of Avalon! But before we go, let's talk about the moolah we're going to make- or lose.
Crown of Avalon boasts high volatility, but don't worry, it's not like your math exam. You're not taking the risk alone, but it's worth it! With an average RTP of 96%, there's a chance you could land some magical wins. The game offers up to 2,000x the bet, so we won't have to work as mystery shoppers anymore!
But don't be fooled by the minimum bet required. Just because it's $0.10 doesn't mean you can buy yourself a cup of coffee. This game carries significant risk, so it's better to stick to an amount you're comfortable losing. The upper limit for betting is $50, so pay attention to your wallet. You don't want to end up as the new court jester because you went broke at the slots!
Get Ready to Win with Crown of Avalon's Return to Player Percentage (RTP)
Are you looking for a slot game that gives you a good chance at winning? Look no further than Crown of Avalon! With an average RTP of 96%, this game is a fair competitor in the world of online casinos. After all, who doesn't love a good fair game?
Now, we know what you're thinking: "RTP? What a bunch of technical jargon!" But don't worry, we've got you covered. Basically, the RTP is the percentage of the total money wagered that is paid back to players over time. So, the higher the RTP, the better your chances of winning big!
And let's face it, when it comes to gambling, we all want to win big. Whether you're a seasoned slot player or just starting out, Crown of Avalon offers a fair chance for everyone to win. So why not give it a spin? You never know, fortune might just be on your side!
But remember, gambling should always be played responsibly. Don't get too caught up in the excitement of spinning those reels, and never bet more than you can afford to lose. After all, as much as we love Crown of Avalon, we don't want it to become the crown of your financial demise.
Overall Gameplay Experience
Crown of Avalon is like that one friend that never really blows you away, but is always a solid hang. Decent entry in the crowded category of Arthurian-inspired slot machines, we found this game to be relatively simple, with the potential for big wins.
Expanding wilds and free spins with a special symbol spice things up a bit, but let's talk about the elephant in the room for a second: the game's high volatility. It's like playing Russian roulette… You know the reward's excitement is going to hit you eventually, but it's a question of when. And if we're really honest, the potential for a huge payoff comes with unattractive jackpot balances, so enjoyment is going to come from your wins, irrespective of how much you strike.
In conclusion, while Crown of Avalon doesn't knock our socks off, it's a consistently fun and entertaining experience. You won't lose your shirt, but neither will you come home with a crown.
FAQ
What is Crown of Avalon?
Crown of Avalon is a 5-reel, 10-payline slot machine inspired by the legends of King Arthur and his court, developed by Iron Dog Studio.
What is the RTP of Crown of Avalon?
Crown of Avalon has a return to player (RTP) rate of 96%, which means it is fair compared to competitors.
What is the minimum and maximum bet in Crown of Avalon?
The minimum bet required for Crown of Avalon is 10 cents, and the maximum bet is 50 Dollars.
What is the maximum win in Crown of Avalon?
The maximum win possible in Crown of Avalon is $100,000, with a reward of up to 2,000x the bet.
What are the special symbols in Crown of Avalon?
There are two special symbols in Crown of Avalon – Excalibur, the magical sword of King Arthur and Shield & Crown, a scatter symbol. Excalibur can expand to fill an entire reel whereas the Shield & Crown can trigger free spins and a potential reward of up to 200x the bet.
Does Crown of Avalon have a mobile version?
Yes, Crown of Avalon can be played on all devices, including PC, tablet, and mobile.
What is the theme of Crown of Avalon?
Crown of Avalon is inspired by the legends of King Arthur and his court, with well-crafted graphics and a magical soundtrack.
What are the main features of Crown of Avalon?
Crown of Avalon features expanding wilds, free spins, and special symbols that can potentially lead to big wins.
What we like
Expanding wilds and free spins with a special symbol
Well-crafted Arthurian-inspired design
Playable on all devices
Fair average RTP of 96%
What we don't like
High volatility with significant risks
Unbalanced balance of volatility and jackpot