Buffalo Hunter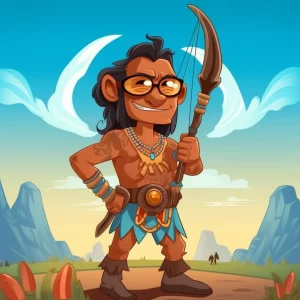 Are you ready for a wild ride? Buffalo Hunter is a thrilling video slot game that offers players the chance to win big! With its excellent implementation and added features, players can experience the thrill of the hunt while potentially cashing in on a huge jackpot.
The game is played with five reels and four rows, making for a total of 40 paylines. And with a jackpot of up to 12,647 times the bet, players have a chance to win major payouts. With a minimum of $0.20 and a max of $100.00 per spin, Buffalo Hunter provides a wide range of options for players of all levels.
Get ready to rumble with the buffalo and your fellow hunters. The game offers an immersive experience with its stunning graphics and sound effects that will transport you straight to the Wild West. And with the added features such as free spins, wilds, and multipliers, this game is sure to keep you on your toes and coming back for more. So what are you waiting for? Grab your hunting gear and get ready to take on the buffalo in Buffalo Hunter!
Volatility
Buckle up, cowboy! The Buffalo Hunter slot game is not for the faint of heart. This game is as volatile as a bucking bronco on a hot summer day. It's best suited for experienced players who know how to handle the ups and downs of a high-risk game.
But don't let the volatility scare you off. Because when you win in this game, you win big. We're talking payouts of up to 12,647 times your initial bet! That's like finding a golden nugget the size of your grandma's pearl necklace.
The higher risk is worth it for those who can handle it. It's like jumping out of an airplane; sure, it's scary, but the thrill of the experience is worth it. And if it's your lucky day, you might land softly with a giant payout.
Just be prepared to wait between winning spins. This game tends to pay out less often, but when it does, it's like hitting a bullseye at a shooting range. So sit back, sip some sarsaparilla, and let the good times roll.
Paylines
If you're on the hunt for a slot game that offers plenty of paylines to maximize your chances of winning, then Buffalo Hunter has got you covered! With 40 active paylines, you'll have plenty of opportunities to hit those winning combinations.
And don't worry about breaking the bank to activate all those paylines – the minimum bet to have all of them active is just $0.20. Although, if you're feeling more adventurous and have a spare hundred Dollars lying around, you can go all-in with a maximum bet of $100 per spin. Just don't come crying to me if you hit the jackpot and your heart rate gives you a heart attack.
Speaking of which, winning big on Buffalo Hunter is definitely possible thanks to those 40 paylines, which offer a wide range of payouts. Whether you hit the minimum bet or go all-in, you've got a shot at some serious coinage.
Of course, with great paylines come great responsibilities. You'll need to keep your gaming wits about you and make sure you're not betting more than you can afford (or more than you're willing to lose). But hey, who said being a Buffalo Hunter was easy?
Bonus Features
Get ready to go wild in Buffalo Hunter, because this game has some amazing bonus features that will keep you on the edge of your seat! First up, there are several variations of free spins that are just waiting to be triggered. And who doesn't love a good free spin, am I right?
There's also a bonus game, mystery symbols, wilds, and scatters. It's like Christmas came early and Santa decided to hook you up with all the good stuff.
Now, let's talk about those scatters for a minute. If you manage to get three to five scatter symbols in view, you'll activate one of the three types of free spins available. It's like hitting the jackpot, except instead of money, you get to keep spinning for free!
If you're lucky enough to score the Stampede Super Bonus, you'll need all five scatters, but trust me, it's worth it. You'll get free spins where both animal transformations and multipliers are available. It's like a zoo and a casino all rolled into one.
The game also offers mystery symbols that can transform into regular symbols and a Dream Catcher wild symbol that pays up to 50 times the bet. That's like winning the lottery, except you didn't have to go out and buy a ticket.
Symbols
The Buffalo Hunter slot game takes you on a tour of the wilds of North America. The game is set against a vast prairie landscape showcasing majestic and fearsome animals such as wolves, cougars, eagles, and the magnificent buffaloes that roam freely in the plains. The wildlife theme is not without surprises, however. As you spin the reels, you may come across mystery symbols that can magically transform into regular symbols, increasing your chances of a generous payout. Who knows, you might even land a big win that can fund your own buffalo hunting expedition!
The Dream Catcher symbol is the slot's wild symbol, which can replace any other symbol to create or increase the winning combinations, except for the bonus symbol. The Dream Catcher is famous for catching not only good dreams but also great rewards and cash prizes for the lucky players. Watch as the Dream Catcher symbol spins into view, and savor the moment when winning lines get created, and coins start raining down on your screen. With this symbol at your disposal, your fortunes could turn from a prairie pauper to a buffalo hunting king in a matter of spins.
Overall, the rewarding symbols in Buffalo Hunter create a captivating atmosphere that never gets dull. The animals of the North American Prairie are challenging, and the game provides the same thrill as embarking on a real-life hunting expedition, except with the satisfaction of not hurting any animals in the process, of course! So, saddle up, spin those reels, and who knows, you could end up in the middle of a stampede of fantastic wins!
Betting Options
Ladies and gentlemen, it's time to place your bets on the mighty Buffalo Hunter online slot game! Are you ready to rumble in the jungle with these majestic beasts? Let's talk about the betting options:
The game is accessible for both high rollers and low-stakes players with a betting range that starts at $0.20 and goes up to $100.00 per spin. We're not saying that you should bet the farm on this game, but if you're feeling lucky, go ahead and shoot for the stars!
Now, we know what you're thinking – how much can I win? The payouts in Buffalo Hunter can be pretty lucrative, thanks to the multiplier features activated during the free spins round. Our advice? Keep your eyes peeled for the buffalo symbols and hope for the best!
Mobile Compatibility
Let's face it, we're all on our phones more than we'd like to admit. And what better way to spend your time than playing Buffalo Hunter, a mobile-friendly game that brings the excitement of the casino straight to your fingertips?
Whether you prefer to play on your smartphone or tablet, Buffalo Hunter has been optimized for seamless mobile play. And let me tell you, this game looks even better on a Retina display. You won't miss a single detail of those majestic buffalos!
The mobile version of Buffalo Hunter has all the same features and gameplay as its desktop counterpart, so you won't miss out on a thing. That means you can play on-the-go without sacrificing any of the action.
So next time you're stuck in traffic or waiting in line at the grocery store, whip out your device and start spinning those reels. Who knows, you might just bag yourself a big win while you're at it!
FAQ
What are the key features of the Buffalo Hunter slot?
The game has a 96.01% RTP, a 5×40 layout, a betting range of 0.20 – 100 Dollars, and a maximum payout of 12,647x.
Where can I play the Buffalo Hunter slot without downloading it?
You can visit online casinos that offer Nolimit City games. ADM licensed casinos are recommended. You can try the game on the Slotjava platform.
Can I play the Buffalo Hunter slot on my phone?
Yes, the game is mobile-friendly, and you can play it on any device that can access the internet.
Where can I play this slot machine for free?
You can play Buffalo Hunter for free on the Slotjava website without registering. You can also explore over 1500 free slots we have available.
What is the jackpot of Buffalo Hunter slot game?
The jackpot of Buffalo Hunter slot game is 12,647 times the bet.
What special symbols are included in Buffalo Hunter?
Buffalo Hunter features wilds (the Dream Catcher), mystery symbols, scatters, and several variations of free spins.
How much can I bet on Buffalo Hunter?
The betting range in the Buffalo Hunter video slot starts at $0.20, the minimum to have all paylines active and spin the reels. From there, the bet can be increased up to $100.00 per spin.
What are the types of free spins in Buffalo Horde feature?
The three types of free spins in Buffalo Horde feature are Buffalo Horde, Prairie Multiplier, and Stampede Super Bonus.
What we like
Variety of bonus features
High maximum payout
Mobile compatibility
Eye-catching graphics
What we don't like
High volatility
Not suitable for beginners