Book of Power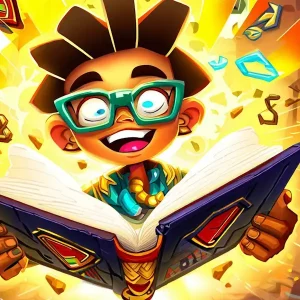 If you're a fan of online slot games, then you know that gameplay and mechanics can make or break a game. Luckily, Book of Power doesn't disappoint. This slot features a 5×3 grid, 10 fixed paylines, and an RTP of 96.11%, a value above the industry average. With odds like that, you'll have more chances to win big than you would on that vacation to Vegas your spouse always insists on.
Book of Power is a slot game that offers well-designed wilds, scatters, and animations that make the gameplay enjoyable while also providing the necessary complexity for you to feel like you're not just spinning reels and hoping for the best. The theme of this slot may have been seen many times, but the developers did an excellent job of bringing this game to life with impressive graphics and effects that will make you feel like you're in the middle of an Indiana Jones movie – without the danger or the boulder following you.
Overall, the gameplay and mechanics of Book of Power are what make it such an enjoyable online slot game. You don't have to be a seasoned gambler to get a feel for this game, but the more you play it, the more you'll come to appreciate its features and all the ways it can help you win big.
Design and Graphics
The moment Book of Power opens up, you find yourself transported to ancient Egypt, where the game is set. The game is centered around a columned corridor dominated by giant statues, which effortlessly set the theme. As you look closer, you will notice the perfectly crafted symbols on the grid, that are not only well-designed but also blend well with the theme. The face cards range from 10 to Ace, paying up to 15 times the bet. The pyramid, scarab, and sarcophagus symbols also add to the game and make it more fun. And oh my! Don't forget the explorer, he pays up to 500 times the bet! Besides the slick graphics, the gameplay is equally satisfying.
It is noteworthy to mention how the designers have paid special attention to detail while developing Book of Power. Everything from the symbols to the sound effects are so authentic, that they make you feel as if you are actually in Egypt. The animation effects are top-notch, and while playing, you can't help but marvel at the game's perfect blend of graphics and gameplay.
If you are a fan of well-designed and visually pleasing games, then Book of Power is the game you need to try! The exploration of Egypt and its unique culture has never been more exciting than in this immersive slot game.
Bonus Features are the Power behind Book of Power Slot
If you're a fan of a slot game that has various bonuses and plenty of free spins, then Book of Power is definitely the game for you! This game has impressive bonuses, plenty of them! What makes this game stand out is that these features offer you some great opportunities to increase your chances of winning!
The most valuable bonus feature in the Book of Power is the free spins feature. This is activated by spinning three or more scatter symbols in a single turn. The feature will award you with 10, 15, or 20 free spins depending on the number of scatter symbols you spin. A special symbol is chosen that expands and can fill the entire reel to create new win combinations. Have you ever heard of a more powerful book than that?
The Power Free Spins feature is activated by super scatters and is unique to this game. You will find this extra bonus worth waiting for as when triggered, the reels will go entirely golden, that's a sight to behold! The Power Bet and Bonus Buy features also keep the excitement levels high as they provide an extra way to win.
Overall, the Book of Power slots has some of the most interesting and beneficial bonus features of any slot game out there. Its free spins, bonus buy, and Power Free Spins features will have you feeling the power of the slot game and make you come back to it time and time again. Just make sure to put on your super suit, because you're going to need it with such powerful bonuses on offer.
Win Big with Book of Power Slot!
If you're a thrill-seeker looking for a chance to win big, look no further than the Book of Power slot game. One of the most exciting features of this game is the potential win – and trust us, it's no joke. The maximum win that you can achieve in this game is a whopping 15,000 times your bet on any turn. That's enough to make you feel like a high-roller even if you're not!
However, let's keep things grounded in reality as we know that it's not always possible to hit the big one. But for those with a bit of patience, this Egyptian-themed game offers up plenty of exciting gameplay and chances to hit some pretty impressive payouts as you spin the reels.
So, light your torches and journey down into the mysterious tombs of ancient Egypt in search of the Book of Power. Who knows what treasures might be waiting for you? Just don't get too lost in the adventure that you forget to keep an eye on your balance!
Developer and RTP
When it comes to book-themed slot games, Book of Power by Relax Gaming is a game to remember. With its impressive RTP of 96.11%, players can expect to be generously rewarded. In fact, the payout is so good that it almost feels like cheating! But don't worry, it's all perfectly legal.
Relax Gaming is a well-known and reputable provider in the iGaming industry, and they certainly didn't disappoint with Book of Power. The game is visually stunning, with graphics that will immerse you in the world of magic and mystery.
But don't be fooled by the beautiful appearance – this game packs a powerful punch. With multipliers, free spins and expanding symbols, there are plenty of ways to win big. It's like a magic trick, except instead of a rabbit coming out of a hat, you get real money!
All in all, if you're a book lover and a slot enthusiast, Book of Power is the perfect game for you. With its above-average RTP and exciting bonus features, it's sure to keep you entertained for hours. Just don't forget to take breaks every now and then – you don't want to go down the rabbit hole and lose track of time!
FAQ
What is the RTP value of Book of Power slot?
The RTP value of Book of Power slot is 96.11%, which is in line with the industry average and does not disappoint expectations.
Can I play Book of Power slot for free?
Yes, you can play Book of Power slot for free on some online casinos that offer the For Fun version of the game. It's recommended to do so to get familiar with the slot's features.
What is the maximum potential win of Book of Power?
The maximum potential win that can be achieved in Book of Power slot is 15,000 times the bet on any turn.
What bonus features does Book of Power offer?
Book of Power offers various bonus features, such as free spins, Power Free Spins, Power Bet, and Bonus Buy functions.
How are free spins triggered in Book of Power?
Free spins in Book of Power are triggered by 3, 4, or 5 scatters in the same turn and offer 10, 15, or 20 free spins. A special symbol is chosen that expands and can fill the entire reel to form new wins.
What is the Power Free Spins feature in Book of Power slot?
The Power Free Spins feature in Book of Power slot is activated by Super Scatters positioned on reels 2, 3, or 4, causing the reels to become entirely golden.
What is the Power Bet function in Book of Power slot?
The Power Bet function in Book of Power slot allows players to double their bet and access the Free Spins or Super Free Spins round directly.
What is the theme of Book of Power slot?
The theme of Book of Power slot is set in Egypt and features well-designed wilds, scatters, and theme-related symbols such as the pyramid, scarab, sarcophagus, and explorer.
What we like
Free spins feature with expanding symbol
High RTP of 96.11%
Various bonus features including Power Free Spins
Max potential win of 15,000 times the bet
What we don't like
The Egypt theme is not unique or original