Blazing X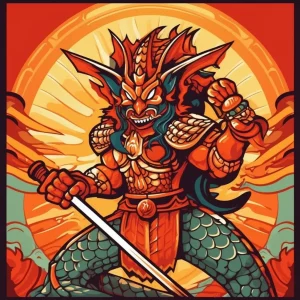 Are you ready to experience a new level of excitement with Blazing X? This game features a unique 5×5 grid type with 25 symbols, which is 10 more than the classic 5×3 grid type. That means more chances for you to win and more fun for you to have!
But that's not all – the RTP is an impressive 95.94%, so you know you're in for a good time. The slot features a Wild center reel that is covered with Jolly symbols and contains a multiplier (starting at 2x or 3x) that gives players 3 chances. It's like having a lucky charm right in the middle of your screen!
And if you thought that was exciting, wait until you hear about the Scattered dragon symbols. Three of them can grant you free spins with an unlimited multiplier that can create a series of chain wins. It's basically a dragon's hoard just waiting to be claimed!
With all these exciting gameplay mechanics, Blazing X is the perfect game for anyone who's tired of the same old boring slots. So come on over and start spinning those reels, because who knows – maybe you'll be the lucky winner of the dragon's treasure!
Bonus Features
If you're looking for some fiery bonus features, Blazing X has got you covered. This slot game features a Wild center reel that adds multipliers up to 25x. That's right; you can blaze your way to some significant wins with just one spin. And the best part? You get three chances to find another Wild center reel, which means your possibilities of raking in huge payouts are fiery hot!
But that's not all, folks. The game's Scatter symbols offer a bonus feature that unlocks free spins with an unlimited multiplier. That's right, no limit. Keep spinning, and the multiplier keeps climbing. It's like climbing an endless ladder of wins. It's like chasing the horizon. It's like… okay, you get it.
With the bonus feature and the Wild center reel, this game creates a series of chain wins that are absolutely sizzling. And that's what we're here for, amirite? Hot wins and good times.
RTP: A statistical term that only slot buffs would understand
Blazing X is a fiery addition to the world of online slot games, but does it pay out enough to satisfy your thirst for winnings? The Return to Player (RTP) of Blazing X stands at 95.94%, which is pretty much an average when compared to other lucrative slots out there.
For those of you who don't know what RTP means, let me explain in layman terms – it's the amount of money you can expect to get back on average after playing the game for a certain period of time. It's like the stock market, only with your fingers crossed.
Of course, with an RTP of almost 96%, this means you still have a decent chance of coming out with some profits, so why not crank up the heat and give this red-hot game a spin?
Remember, the RTP is just a number, and it doesn't say anything about the frequency of payouts. But hey, let's be real, who cares about the stats when you're having a great time, right? So let's celebrate the fire god and the payout goddess with a flaming cocktail, coz it's time to get blazing at the casino!
Sound Design
Blazing X slot game takes you on a journey to China, and the sound design plays a critical role in immersing players in the Chinese culture. The intense soundtrack of the game changes from time to time but never loses the classic oriental motifs – it's like being in a Kung-Fu movie, but without the high kicks and face punches.
The game's interface only occupies about a third of the screen, creating a perfect square, while the background is embroidered with beautiful flowers on what seems to be red velvet. With such great sound design and visual representation of Chinese culture, you'll feel like sitting in an ancient Chinese temple, and the only thing that's missing is a bowl of noodles.
If you're playing Blazing X and not tapping your feet to the beat, you're not doing it right! The sound design is so catchy that it might just get stuck in your head and leave you humming through your day. Beware of your friends and colleagues – they might think you're trying to put a spell on them with your humming or that you have a new ringtone.
Theme
Blazing X? More like Blazing C(x). That's right, I came for the dragons and I stayed for the wealth. And boy, did I strike gold in this oriental-themed slot game.
The graphics are as visually stunning as any game I've seen. It's almost as if I was transported to an ancient Chinese palace, surrounded by embroidered flowers on red velvet and two dragons guarding the game grid. It's a sight to behold, folks.
But what really grabbed me is the gameplay mechanics. It's fresh, exciting, and keeps me on the edge of my seat. I haven't had this much fun playing a slot game in a while, and that's saying something.
FAQ
What is Blazing X?
Blazing X is an online slot game with an oriental-flavored theme, developed by Bally. The game mechanics include a 5*5 grid with 25 symbols and special functions such as the Wild center reel and free spins with a multiplier that has infinite possibilities.
What is the RTP of Blazing X?
The RTP of Blazing X is 95.94%, which is the average in the market.
What are the special features of Blazing X?
Blazing X has two special features: the Wild center reel and free spins triggered by finding three dragon Scatter symbols.The Wild center reel has a multiplier that starts at 2x or 3x and can increase up to 25x, creating a series of chain wins of exceptional value.
How many symbols are included in Blazing X?
Blazing X has 25 symbols included in its 5*5 grid, 10 more than the classic 5*3 grid type.
What is the theme of Blazing X?
The theme of Blazing X is oriental-flavored, immersing us in the Chinese culture and surrounding countries with colors and shapes.
What is the background of Blazing X?
The background of Blazing X is embroidered flowers on what seems to be red velvet. The game grid only occupies about a third of the interface, developing into a perfect square, and on the background, we see embroidered flowers.
What other similar slots can we find?
The oriental theme is not uncommon in the online gaming industry, and it has been tackled in all its facets, even by Bally itself: we can find titles such as China River, Jewel of the Dragon, or Fu Dao Le.
Who will enjoy Blazing X the most?
Experienced gamblers interested in the oriental theme will find Blazing X a fresh and exciting addition to their gaming portfolio, with its unique game mechanics and stunning visuals.
What we like
Unique 5×5 grid type with 25 symbols
Wild center reel with multipliers
Bonus feature with free spins and unlimited multiplier
Stunning oriental-themed visual aspects
What we don't like
Average RTP in the market
Limited variety of symbols