Blazing Goddess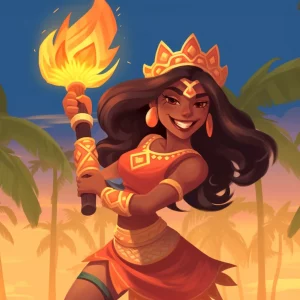 Get ready for a volcanic eruption of fun with Blazing Goddess slot game. Offering as many as 1,024 ways to win, this game is played on 5 reels and comes with a range of available lines from 0.01 to 5.00 credits. For the total bet calculation, the selected value is multiplied 50 times. So if you're feeling lucky, go for a higher bet to increase your chances of hitting the jackpot!
Unlike traditional slot games, Blazing Goddess does not have any predefined paylines. The main way to win prizes is by matching symbols on adjacent reels. With stunning graphics and sound effects inspired by the Polynesian culture, the game offers a truly immersive experience for players.
If you're looking for a more relaxed gameplay experience, the game also features an auto-spin button for continuous rotations. Simply sit back, relax and watch as the reels spin on their own to reveal potential winning combinations. Keep an eye out for the Blazing Goddess who is the wild symbol in this game and can help you form even more winning combinations.
Overall, Blazing Goddess is a fun and exciting game that offers plenty of chances to win big. Whether you're an experienced player or new to the world of online slot games, you'll find this game easy to play and entertaining. Give it a try and see if you can appease the goddess and strike it lucky!
Graphics and overall theme
Blazing Goddess slot game is not only a feast for the eyes, but also for the ears. The graphics are simply stunning. The colorful tropical background transports you straight to a Polynesian island where the sun is shining, flowers are blooming, and toucans are squawking. It's like being on vacation without the hassle of TSA security lines.
Now, let's talk about the Blazing Goddess symbol. She will make sure you won't get burned by any dud spins. She's there to trigger fiery effects that can replace other gameplay symbols and double your completed wins. It's like having an all-you-can-eat buffet with dessert included.
And what about the volcano on the island? Not only is it a source of admiration and potentially small earthquakes, but it is also the game's scatter symbol. With that said, activating the volcano can trigger extra wilds, which will increase your chances of earning hot and spicy wins. Just don't stand too close when it blows its top.
Overall, Blazing Goddess is a visually stunning slot game that will take you to a tropical paradise. Its vibrant graphics, fiery effects, and Polynesian theme will make you feel like you are on vacation. Just don't forget your sunscreen or your wallet, as the game is hot enough to burn either of them.
Wild Wins: A Look at Blazing Goddess's Symbols
Get ready to heat things up with Blazing Goddess's wild and scatter symbols. The game's wild symbol is represented by none other than the Blazing Goddess herself. Not only does she replace other symbols to complete winning paylines but she also doubles the value of any payout she helps create. If you're lucky enough to land five Blazing Goddess symbols, you could be looking at a sizzling payout of up to 2,500 coins!
But that's not all – the Blazing Goddess is also very generous with her volcano. That's right, the volcano symbol is the game's scatter symbol. Three or more of these can trigger the free spins bonus where players can earn even more wilds. And trust us, the more wilds there are, the more chances players have to win big. Who knew an island full of lava could be so rewarding?
Overall, we think Blazing Goddess's symbols are hot stuff. From its fiery wilds to the exploding scatters, this slot game is sure to send your heart (and your bankroll) racing. So, don't be afraid to get a little burned – we promise it'll be worth it!
Unleash the Heat with Free Spins and Bonus Rounds!
If you're feeling the heat, then it must mean you've triggered the volcano scatter symbols in Blazing Goddess. And let me tell you, it's totally worth it! Not only do you get six free spins, but you'll also awaken the goddess herself – and she's ready to slay your gameplay with awesome rewards.
With fiery rocks flying everywhere, it's no wonder that there are extra wilds available during this round. You never know when these blazing wilds will pop up and skyrocket your balance! It's like having a hot hand at the blackjack table, but without risking a burn injury.
Don't get too excited, though, or else you might get burned! Make sure to keep your eyes on the prize and watch out for those volcanic fireballs. They may be wild, but they're also unpredictable. However, with the right amount of luck and strategy, you might just win big with this sizzling bonus round.
Exploring the Numerous Ways to Win in Blazing Goddess
Blazing Goddess is an online slot game that offers 1,024 innovative and exciting ways to win. With matching symbols on adjacent reels, you can easily cash-in on some big winning prizes. Don't worry about the paylines; they add no complexity to the game.
You'll also be thrilled to know that the selected value is multiplied 50 times to calculate the total bet, increasing the chances of winning big. Who doesn't like to see their money multiply and grow? Besides, with 1,024 ways to win, you have plenty of opportunities to hit it big!
Trust us, the combination of 1,024 ways to win, matching symbols on adjacent reels, and multiplied values ensures endless entertainment while you play Blazing Goddess. With a goddess-like experience on offer, this slot game takes you to new heights of excitement.
Payout Rates and Jackpots
Looking for a sizzling hot slot game with exciting payouts? Look no further than Blazing Goddess! The game offers a maximum payout of 1,000x, so there's potential for some big wins if you play your cards right.
Of course, betting is an essential part of any slot game, and Blazing Goddess offers a great variety of options to accommodate a range of betting styles. With bets starting at just $0.50 per spin, you can enjoy the game without breaking the bank. And if you're feeling particularly lucky, you can always up your bets and potentially hit it big!
But what about the all-important RTP? Blazing Goddess boasts a theoretical RTP of 95.39%, which is about average when compared to other games in the industry. So while you can't expect to win every time you play, you can at least feel confident that the odds are in your favor.
Overall, Blazing Goddess is a thrilling slot game with plenty of potential for exciting payouts. Whether you're a seasoned gambler or just looking for a bit of fun, this game is definitely worth checking out.
Target audience and player experience
Are you an experienced gambler who prefers frequent victories? Do you enjoy the potential for bigger wins from bonus features and extra wilds? If so, you're in luck because Blazing Goddess has got you covered. This tropical paradise on a Polynesian island boasts bright and beautiful graphics and sound effects that will transport you to a world of pure bliss.
Don't let the name fool you – Blazing Goddess may sound like a fiery challenge, but it offers a discreet range of features that make it very playable. Whether you're playing on a desktop, mobile device, or tablet, you'll find this game to be an exciting and engaging way to pass the time.
Of course, you don't have to be an experienced gambler to enjoy Blazing Goddess. Whether you're a casual player or a seasoned pro, this game is accessible to all. With its easy-to-use interface and straightforward gameplay, you'll find yourself winning in no time.
The only downside to Blazing Goddess is that you may find yourself spending hours playing – but can you really call that a downside? This game is so immersive and enjoyable that you'll forget all about the outside world.
So what are you waiting for? Give Blazing Goddess a spin and see for yourself why it's one of the most popular slot games around! Trust us, you won't regret it.
FAQ
How many reels does Blazing Goddess have?
Blazing Goddess has 5 reels.
Are there any paylines in Blazing Goddess?
No, Blazing Goddess does not have any paylines. It has 1,024 ways to win.
What is the minimum bet to play Blazing Goddess?
The minimum bet to play Blazing Goddess is $0.50 per spin.
What is the maximum bet to play Blazing Goddess?
The maximum bet to play Blazing Goddess is not specified.
What is the Blazing Goddess wild symbol?
The Blazing Goddess wild symbol is a powerful symbol that doubles the value of completed wins.
What is the bonus feature in Blazing Goddess?
The bonus feature in Blazing Goddess is triggered by the volcano scatter symbol. It awards 6 free spins and extra wilds.
What is the maximum number of free spins to be won in Blazing Goddess?
The maximum number of free spins to be won in Blazing Goddess is 60.
What are some similar slot machines to Blazing Goddess?
Some similar slot machines to Blazing Goddess are Fire Queen by WMS and other slots based on powerful female figures.
What we like
1,024 ways to win
Beautiful graphics and theme
Exciting free spins and bonus rounds
Playable on all devices
What we don't like
Average RTP of 95.39%
Limited range of features