Bear Money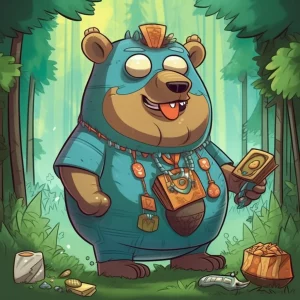 Bear Money by Inspired Gaming is a fantastic online slot game that promises a unique experience to all its players. This game is guaranteed to take you on a wild ride through the forest with its interesting respin feature and other amazing features that promises many opportunities to win big. It comes with five reels, three rows, and a total of ten lucrative paylines.
The forest landscape that is showcased in the game is truly one of a kind. It's a serene, calm, and pleasing visual, the perfect setting for a relaxing weekend picnic. The trees and foliage are so lifelike, it almost feels like you are actually in the middle of the forest, which is sure to take your gaming experience to the next level. As you spin the reels, you'll come across different symbols, including the Bear, which is the game's main character.
One interesting feature that sets this game apart from the rest is the respin feature. This feature allows you to select any of the five reels and respin it in the hopes of triggering a winning combination. However, keep in mind that respinning will come at a small cost, so use this feature carefully.
Overall, Bear Money is an amazing online slot game that guarantees an incredible gaming experience. So pack your picnic basket, get ready to immerse yourself in the forest's beauty, and hopefully, hit the jackpot while you're at it! Don't be a 'grizzly' bear and miss this game; it's a roaring good time!
Graphics and Symbols
Bear Money is not just a fun slot game, it's a chance to experience the great outdoors from the comfort of your own home. The graphics are top-notch, with amazing attention to detail paid to every aspect of the game. The wooden frame gives it a rustic feel, but the symbols make it clear this game is all about food – the most important thing when you're out camping.
One thing I love about Bear Money is the fact that the designer didn't skimp on the symbols. Even the lower-value symbols are unique and fit perfectly with the theme. Who knew a sandwich or a piece of cheese could be so entertaining? Some slot games just use boring old numbers and letters, but not Bear Money!
And let's not forget about the honey bonus jar. It's not every day that you get a bonus jar filled with delicious honey! Plus, it's on the fifth reel, making it that much more exciting when you finally get it. So, don't worry about missing out on the traditional wild symbol, because this bonus jar will keep you busy.
In conclusion, if you are looking for a new and exciting slot game that is sure to keep you entertained, give Bear Money a shot! Its unique symbols, gorgeous graphics, and fun bonus jar make it a great choice for anyone who loves nature and food (which is everyone, right?).
Gameplay
If you're like me and constantly forget to spin the reels, the autoplay button is a lifesaver. I can finally catch up on my favorite Netflix series while still raking in the cash. And speaking of cash, the bet button allows you to adjust your wager to your heart's content. Feeling lucky? Go big or go home.
Feeling impatient? Check out the Turbo setting and watch those reels spin like a hummingbird on caffeine. And if you're a history buff, don't worry, Bear Money has got your back. The game history option allows you to see all the juicy details of your past games. It's like a personal episode of 'Behind the Slots'.
All in all, the gameplay of Bear Money is easy, fun, and adaptable to any type of player. Whether you're a seasoned gambler or a newbie, you'll definitely have a blast.
Get Your Game On with Autoplay and Betting!
Looking for a slot game with easy-to-use features? Bear Money has got you covered! The Autoplay and Betting options are straightforward and user-friendly, making it easy to focus on enjoying the game.
Want to change things up? No problem! The Autoplay button allows you to play Bear Money however you please. Whether you're sipping your morning coffee or taking your dog for a walk, just hit the Autoplay button and let the game do its thing.
And if you're in a hurry to win big, why not try out the Turbo setting? Your heart will race as the game speeds up and the anticipation builds. If you're a more cautious player, the viewable game history feature is also available, so you can bet with confidence and strategy.
So go ahead and indulge in your love of slot games with Bear Money's simple and entertaining betting features. You never know, your lucky streak could be just a few clicks away!
Bonus bonanza: The Many Benefits of Bear Money's Bonus Features
Bear Money certainly knows how to keep things interesting. Sure, it may not have typical free spin rounds, but it makes up for it with its Multi Cash Collector Bonus feature.
Once you hit six or more picnic symbols on reels 1 to 4, and a honey pot appears on reel 5, the Collection Bonus feature will be triggered. And boy, is it delightful! Not only are there bear symbols acting as multipliers, but you can also earn fantastic cash bonuses throughout gameplay.
With this feature, the possibilities are endless. You could win big, or you could walk away with just a little something. Who knows? It's like a box of chocolates; you never know what you're going to get.
Get Ready for the Multi Cash Collector Bonus!
Get your picnic baskets ready and start playing Bear Money, the online slot game that is both fun and profitable! Bear Money has some awesome features that will keep you entertained for hours, and one of its main highlights is the Multi Cash Collector Bonus.
This bonus is not just grandiose in name, but also in action. To trigger it, you'll need to land six or more picnic baskets on reels one, two, three, and four plus a bonus symbol on reel number five. Once activated, bear symbols appear, and players receive picnic baskets overflowing with cash goodies! And the best part is that during this bonus feature, when the basket and bear symbols are aligned, the rest of the reels repeat up to 5 times, giving you a shot at even more winnings. You just cannot bear to miss out on this!
Landing a picnic basket is your ticket to more cash. Whether you've been looking for a way to get more money for your next picnic or just love bears – this game has you covered. So grab your favorite picnic snacks, head to Bear Money and get ready to have a 'beary fun' time!
Beary Exciting Wilds
Well, well, well. Look who decided not to have a wild symbol. Bear Money, you rebel, you! But fear not, my fellow gamblers, because this game has something even better than just a plain old wild. It has a HONEY BONUS JAR on reel five! That's right – a jar of sticky, sweet goodness that can award you additional cash bonuses during play.
And let's be honest – who needs a wild symbol when you can have a bonus jar filled with honey? I mean, sure, a wild can substitute for any other symbol and potentially increase your chances of winning, but can a wild give you delicious honey? I don't think so.
So, if you're like me and a lover of all things sweet and sticky, then keep your eyes peeled for that honey bonus jar. It just might be the key to unlocking some beary exciting wins in Bear Money.
Comparable Games
If you're looking for other slot games that offer similar features and excitement to Bear Money, then you should check out Big Bear by Playtech. This 5-reel, 243 ways-to-win slot machine takes you on a journey to a mysterious world filled with big surprises. You'll join a big bear and other creatures in a search for big wins.
Big Bear is all about free games, and players get to choose from three different options. You can go for more free spins with wild multipliers up to 4x, or fewer free spins with higher wild multipliers up to 16x. And if that wasn't exciting enough, there's also a Hold and Extra Spin feature where you'll get an extra spin with a locked-in wild symbol. This allows for another wild to land, giving you a multiplier of up to 36x!
Overall, Big Bear is a great option for anyone who enjoys slot games as it offers both excitement and big winning potential. However, if you're looking for more of a comical experience, then Bear Money might just be the perfect fit for you.
FAQ
How many paylines does Bear Money have?
Bear Money has 10 paylines
Are there any wild symbols in Bear Money?
No, there are no wild symbols in Bear Money
Is there an autoplay feature in Bear Money?
Yes, Bear Money features an autoplay button
Is there a Turbo setting in Bear Money?
Yes, there is a Turbo setting in Bear Money
Is there a game history feature in Bear Money?
Yes, you can view your game history in Bear Money
Does Bear Money have a free spins feature?
No, Bear Money doesn't have a free spins feature
What is the Multi Cash Collector Bonus in Bear Money?
It is a bonus feature where players can win overflowing cash goodies
What other slot machines are similar to Bear Money?
Big Bear by Playtech is a similar slot machine
What we like
Interesting respin feature
Play in autoplay or adjust bets
Turbo setting for faster gameplay
Viewable game history
What we don't like
No free spins option
No wild symbol