Astronaut
In this Astronaut review, we'll be exploring Red Tiger's unique slot offering. Whether you dreamed of becoming an astronaut as a kid or simply enjoy exploring innovative slot games, Astronaut might just be your ticket to an out-of-this-world gaming experience. Read on to learn more.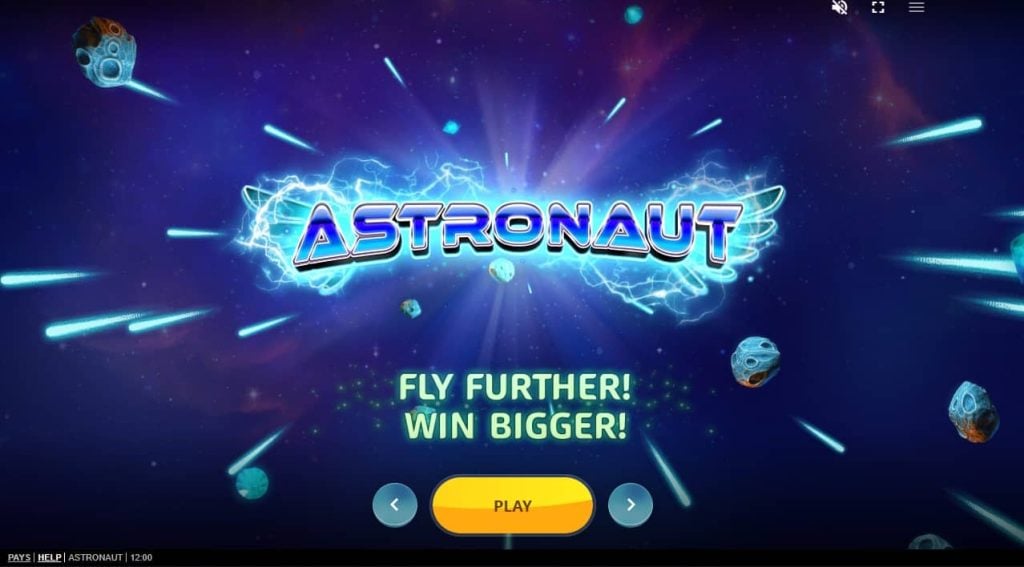 Introduction to Astronaut
Astronaut, developed by Red Tiger Gaming, takes players on a cosmic journey with a layout that deviates from the norm. Instead of the traditional grid layout, Astronaut features a single reel and one payline. The game is set against a backdrop of the vast galaxy, complete with twinkling stars, celestial meteors, and mesmerising nebulas. It's a theme that appeals to both space enthusiasts and slot aficionados.
One of the key aspects of Astronaut is its unique gameplay mechanic. Players collect Green Crystals to progress through prize levels, all while avoiding the ominous Red Crystals that can end the round.
Limits and Layout
While exploring this title for our Astronaut review, we noticed that the layout is a remarkable departure from traditional slot games. Featuring just one reel and a single payline, it stands out with its minimalist design. This unconventional setup immediately captures players' attention, offering a unique gaming experience.
The game's theme revolves around space exploration, and this theme is vividly reflected in its design. The backdrop of Astronaut is adorned with celestial elements, including stars, meteors, and nebulas, immersing players in the cosmic environment. The colour palette is dominated by deep blues and rich purples, effectively creating an ambience that transports players into the vastness of outer space.
In terms of gameplay, Astronaut offers high volatility, promising an exhilarating and potentially rewarding experience. Players have the opportunity to reach for the stars with a remarkable maximum win potential of 48,000 times their initial stake. The betting range is accommodating, starting at just 10p and reaching a maximum wager of £2. To enhance player convenience, Astronaut also includes an Auto Spin function, allowing for hands-free gameplay.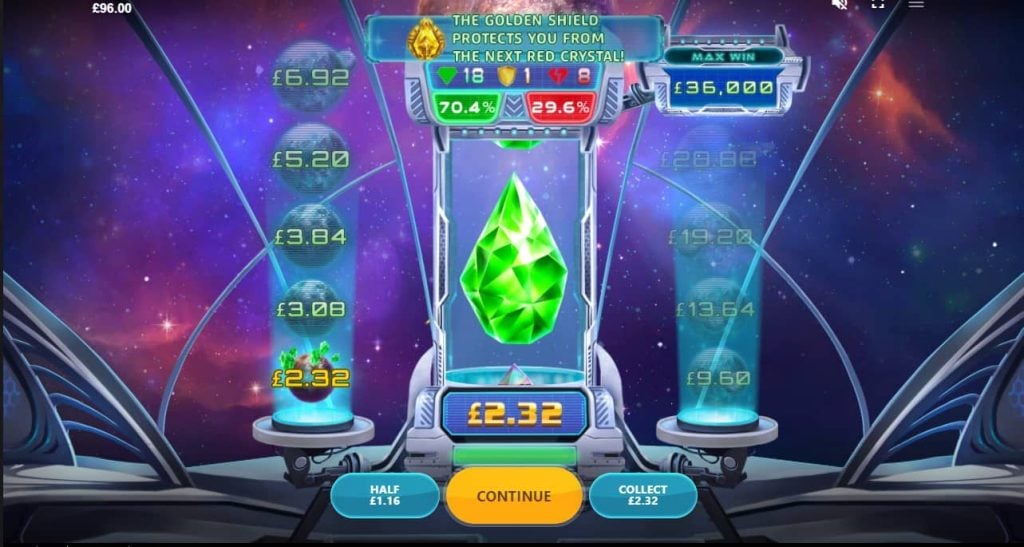 Gameplay and Features
Astronaut's gameplay is marked by its unique features, making it a standout title in the slot world. The central element is collecting Green Crystals to progress through prize levels. Landing a Red Crystal, however, brings your journey to a halt. What we really liked while compiling this Astronaut review were the Golden Shields. These come to your rescue, protecting your progress and allowing you to keep ascending towards bigger wins.
The game's symbols play a crucial role in this cosmic adventure. Green Crystals are your allies, helping you climb the prize ladder. The Gold Shield symbol acts as a bonus symbol, providing protection from losses.
Regular Symbols
Regular symbols play a crucial role in the cosmic adventure. Green Crystals act as your allies, serving as the key to climbing the prize ladder and potentially unlocking significant rewards. As you collect these Green Crystals, you advance through the game's prize levels, each offering a chance at more substantial payouts. The progression mechanic adds depth and excitement to the gameplay, keeping players engaged as they aim for those elusive top-tier prizes.
Scatter Symbols
Astronaut doesn't feature traditional scatter symbols commonly found in slot games. Instead, the game relies on its unique mechanic of Green and Red Crystals, along with the Golden Shield, to drive the gameplay.
Wild Symbols
While Astronaut focuses on its unique Crystal collection mechanic, it doesn't include traditional wild symbols commonly found in slot games. Instead, the game's dynamics rely on the interplay between Green Crystals, Red Crystals, and the protective Golden Shields, providing a fresh and innovative take on slot gaming.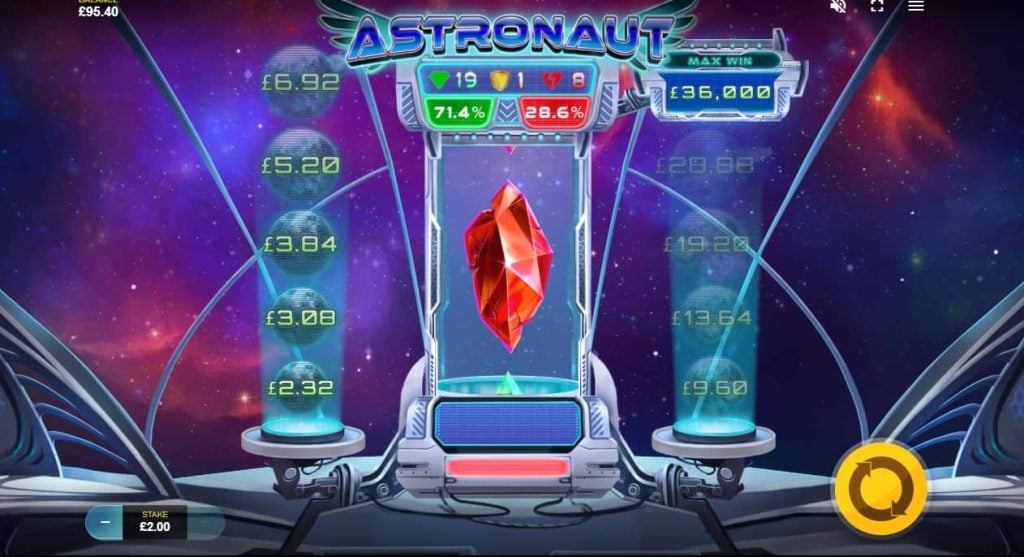 Jackpots
Astronaut doesn't offer any progressive jackpots or linked games. The focus here is on the innovative gameplay and the potential for substantial wins through the prize levels.
Expert Opinion on the Astronaut Slot
This Astronaut review has shown that this title is one of the more visually appealing and innovative online slot games that breaks away from traditional slot layouts. It offers a unique gameplay experience where players must collect Green Crystals to progress through prize levels. The addition of Golden Shields adds an exciting twist and protection against losses. With a high volatility and a maximum win potential of 48,000 times your stake, Astronaut is a game that will undoubtedly appeal to thrill-seekers.
In our experience, Astronaut's gameplay can be both thrilling and challenging. It requires persistence and strategy to make the most of the prize levels and reach the maximum win. The game may not be for everyone, but it's worth trying the free demo to see if it suits your style.
Play Astronaut Free
If you're at the stage where you want to give this game a try, why not give the Astronaut free demo a go? Playing these free slots allows you to explore all that's on offer before you commit to playing with real money.
Slots Similar to Astronaut
If you find the space-themed slot adventure of Astronaut appealing and are seeking similar alternatives, here are three titles to explore:
Cyberslot Megaclusters by Big Time Gaming: This slot introduces an innovative cluster pays mechanic that diverges from traditional slot setups. Symbols can split into smaller ones, leading to cascading wins and exciting chain reactions. This game boasts generous maximum win potential, dynamic roaming wild multipliers, and a truly unique gameplay experience.
Starburst: A creation by NetEnt, this is a classic in the slot world. It features a dazzling cosmic theme with vibrant, gem-like symbols set against a backdrop of stars and galaxies. With its straightforward gameplay and expanding wilds, Starburst remains a favourite for many players.
Galactic Girls: An offering from Eyecon, this combines a space theme with a unique twist—empowering female characters as the main symbols. The game features a 5×3 grid with free spins and multipliers, providing players with a chance to explore the cosmos with these formidable galactic heroines.
Astronaut - FAQ
Does Astronaut have free spins?
No, there aren't any Astronaut free spins in the traditional sense. Instead, it offers a unique gameplay mechanic centred around collecting crystals and progressing through prize levels.
Can I play Astronaut on mobile?
Yes, Astronaut is optimised for mobile play, thanks to its HTML5 technology. You can enjoy the game on your smartphone or tablet, as well as on desktop and laptop computers. This tech means that you can play Astronaut with no download just by heading to your browser.
Where can I play Astronaut?
If you're looking to play Astronaut online, you'll find that many of the top casinos feature this. This means that you can be selective about where you play and secure the best casino bonuses. 
What is the Astronaut RTP?
 Astronaut has an RTP of 95.69%, which is slightly lower than the average for online slots but still competitive, considering its high volatility.