ARRR! 10K Ways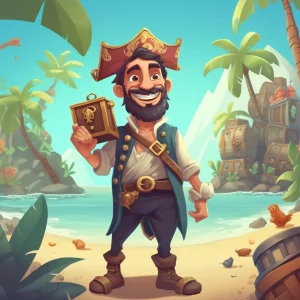 ARRR! 10K Ways, matey! Step aboard this pirate-themed slot game and prepare to plunder the high seas for treasures and gold. The slot boasts a slightly larger-than-usual game grid with 6 reels and 3 rows, and a horizontal reel at the top. They say size doesn't matter, but when it comes to winning possibilities, it sure does!
With 10,000 ways to win and a low volatility with frequent payouts, you'll feel like you've got a parrot on your shoulder cheering you on. And speaking of cheering, the game uses the cascade mechanism, where the symbols involved in a winning combo are removed and the rest slides into their empty spaces creating more chances for players to win. Watch out for the cannon blasts and the Jolly Roger flag waving in the wind!
The minimum bet is a mere $0.20, so even if you're down on your luck, you can still give it a spin. However, if you've got a hefty crew and are feeling lucky, you can raise your bets up to $25.00. And with a theoretical return to player (RTP) of 96.12%, you're bound to find some buried treasure. Don't forget to use the menu to access most game functions and settings.
ARRR! 10K Ways is a rip-roaring good time that will keep you entertained and searching for treasure for hours on end. And if you're lucky enough to strike it rich, you may be able to retire to your own tropical island and live like a true pirate king!
Graphics and Sound Effects
ARRR! 10K Ways is the perfect game for all you sea-loving landlubbers out there. With graphics that look like they were drawn by Captain Hook himself, it provides a mesmerizing gaming experience.
The design of the game is truly excellent – the wooden-framed game grid is central to the screen, with a deserted pirate-themed island on the beach, and clear blue water lapping at the shore. In the background, there's a mysterious mountain that looks like it has plenty of hidden treasures, ready for you to claim as your own. You'll also spot that there are green palm trees with some oversized exotic fruits. Yarrr, maybe it's time to get that fruit salad ready for the next round of pirate volley.
As for the sound effects, they're not just fitting and appropriate, they'll make you feel as if you're right there on the ship with the pirate crew. The classic, insistent melody typical of movies like Pirates of the Caribbean will have you nodding your head and tapping your feet in time with the game. But beware, you don't want to attract the attention of the crew with your impromptu dance party.
Yo Ho Ho – Get Ready for the Maximum Payout!!
When it comes to online slot games, nothing can beat the thrill and excitement that comes with hitting the maximum payout. And in the game of ARRR! 10K Ways, the excitement level is high as the maximum payout equals 20,000 times the initial bet!
Now that's what we call serious booty, matey! With such a sizeable jackpot on offer, you'll definitely feel like a pirate who's just hit the jackpot and struck gold – or rather, booty! Who knows, with that kind of payout, you could even buy yourself a real pirate ship, complete with a parrot and an eye patch (if that's your thing).
ARRR! 10K Ways also offers low volatility gameplay, meaning players can expect frequent payouts. This feature is a blessing for players who want to play for extended periods without risking a huge loss.
So what are you waiting for? Get ready to set sail on the high seas and join the crew of ARRR! 10K Ways. With a maximum payout like that, you might just end up finding the treasure that has eluded you for so long.
Bonuses
Ahoy there! Ye be looking for some extra booty? Look no further than ARRR! 10K Ways! This game offers several bonus features that will make ye feel like a pirate with a pocket full of gold.
The Jolly Roberts crest is the Wild symbol that replaces all other symbols, except the Scatter. It's like having your own trusty parrot by your side, guiding you towards the treasure trove. And speaking of parrots, did ye hear the one about the pirate who had a talking bird? It kept saying "pieces of eight, pieces of eight" – turns out it was just trying to order a pizza.
Cannon Wilds is another feature that activates randomly after a losing spin. During this feature, cannon shots transform from 1 to 3 regular symbols into Wild with a multiplier ranging from 1x to 5x. It's like having your own pirate crew, ready to demolish anything that stands in your way! Just be sure to keep them away from the rum.
The Scatter is represented by the treasure chest. At least four of these symbols landing on the reels trigger 3 Respins. During these spins, only the treasure chest, Kraken, and captain symbols appear. That's right, mateys. It's time to grab your cutlass and fight off the Kraken for a chance to win big! And if ye need some inspiration, just remember: Why don't pirates take baths before they walk the plank? Because they'll just wash up on shore later.
After the bonus game, the Gamble feature allows players to increase their winnings with the risk of losing everything. Aye, the life of a pirate is never easy. But with great risk comes great reward! Just be sure to keep one eye on the prize, and the other on the lookout for any mutinous scallywags.
Compatibility
Yo ho ho and a bottle of HTML5! That's right, me hearties — ARRR! 10K Ways is fully compatible with the latest web standards, so you can play it on any device ye like. Whether you prefer to plunder the high seas on yer smartphone, yer trusty tablet, or yer trusty ol' desktop, this game's got ye covered.
No matter how ye choose to play, ye won't lose an ounce o' functionality or gaming experience. That means more time for pillaging treasure and less time fiddling with settings that should have been fixed years ago.
FAQ
What is the RTP of ARRR! 10K Ways?
The theoretical return to player (RTP) is 96.12%.
What is the minimum bet in ARRR! 10K Ways?
The minimum bet is $0.20.
Are there any bonus features in ARRR! 10K Ways?
Yes, there are bonus features including Cannon Wilds and Respins.
What is the Wild symbol in ARRR! 10K Ways?
The Wild symbol is the Jolly Roberts crest.
Can I play ARRR! 10K Ways on my mobile device?
Yes, the game is HTML5 compatible and can be played on all mobile devices.
What is the maximum bet in ARRR! 10K Ways?
The maximum bet is $25.00.
What is the maximum payout in ARRR! 10K Ways?
The maximum payout is 20,000 times the initial bet.
Is there a Gamble feature in ARRR! 10K Ways?
Yes, after the bonus game, the possibility to increase winnings is offered through the Gamble feature.
What we like
10,000 ways to win
Low volatility with frequent payouts
Multiple bonus features
HTML5 compatibility for mobile and desktop
What we don't like
Minimum bet may be too high for some players
Gamble feature may be too risky for some players